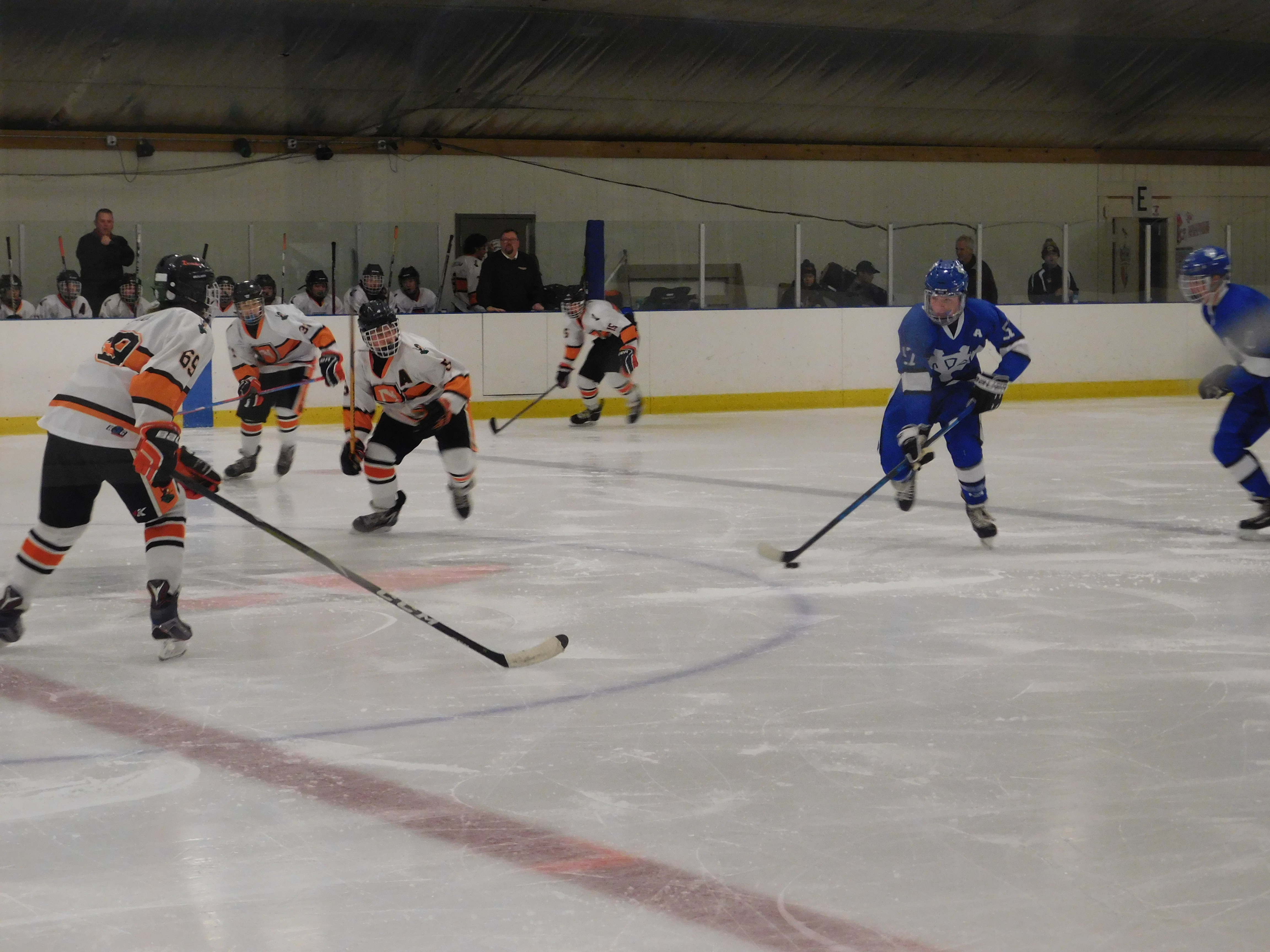 PARMA, OHIO– The Normandy Invaders earlier this week fell to the CVCA Royals in the championship game of the CVCA Christmas Tournament 6-3.
Sunday on their home ice at Ries Rink, they got a little measure of revenge, topping the Royals 8-1 to improve to 6-2 in league play, 15-3 overall.
The Royals, who lost their first league game on Saturday night at home against the Parma Redmen, drop to 12-5 overall, 6-2 in the GCHSHL Blue North Division.
Invaders goalie Derek Billiter played an excellent game in net along with the rest of the Invaders defense, holding in check the high powered Royals offense to just one goal on the afternoon.
Billiter stopped 22 of 23 shots he faced on the day to collect the win, moving his league mark to 6-2 on the year.
The Normandy offense was paced by Lukas George, who scored three goals for the hat trick, and also assisted on the second Normandy goal which at the time made it 2-0.
George now has 12 goals on the season, and it's his second hat trick of the 2018-19 campaign.
His first goal got the Invaders going in the first period, as he scored unassisted with 7:10 to play to make it 1-0.
Invaders forward Jason Pierzchala scored the next goal of the game, making it 2-0 Normandy with just :44 seconds into the second period.
George made it a three-goal lead with 9:55 to play in the second, with Justin Pierzchala collecting the assist.
Logan George scored the next pair of Invaders goals, one with 8:02 to play and the next with 7:21 to play in the second period to put the Invaders up 5-0.
The Royals were finally able to get on the board with their only goal of the day, this coming from Jack Perrotta with 6:45 left in the second to make it a 5-1 affair.
That was it for CVCA, as Normandy scored the final three goals, Lukas George getting his third goal with 5:34 left in the second to make it 6-1, and then the Invaders put up two final third period goals.
The first goal of the final period went to Cody Tintelnot to make it 7-1, and the final goal to Ethan Corlett with 8:13 left making the final 8-1.
Normandy won the shots on goal battle 27-23, as CVCA goalie JT Nichols took the setback in net, making 19 saves of the 27 Invaders shots.
Tuesday night at Ries Rink in Parma the Invaders will be back at it at 7pm as they play host to the Mayfield Wildcats (2-7, 3-11-1).
The Royals will host the Lakewood Rangers (3-5, 7-13) on Friday night January 11th at home in Kent with a face-off set for 7pm.