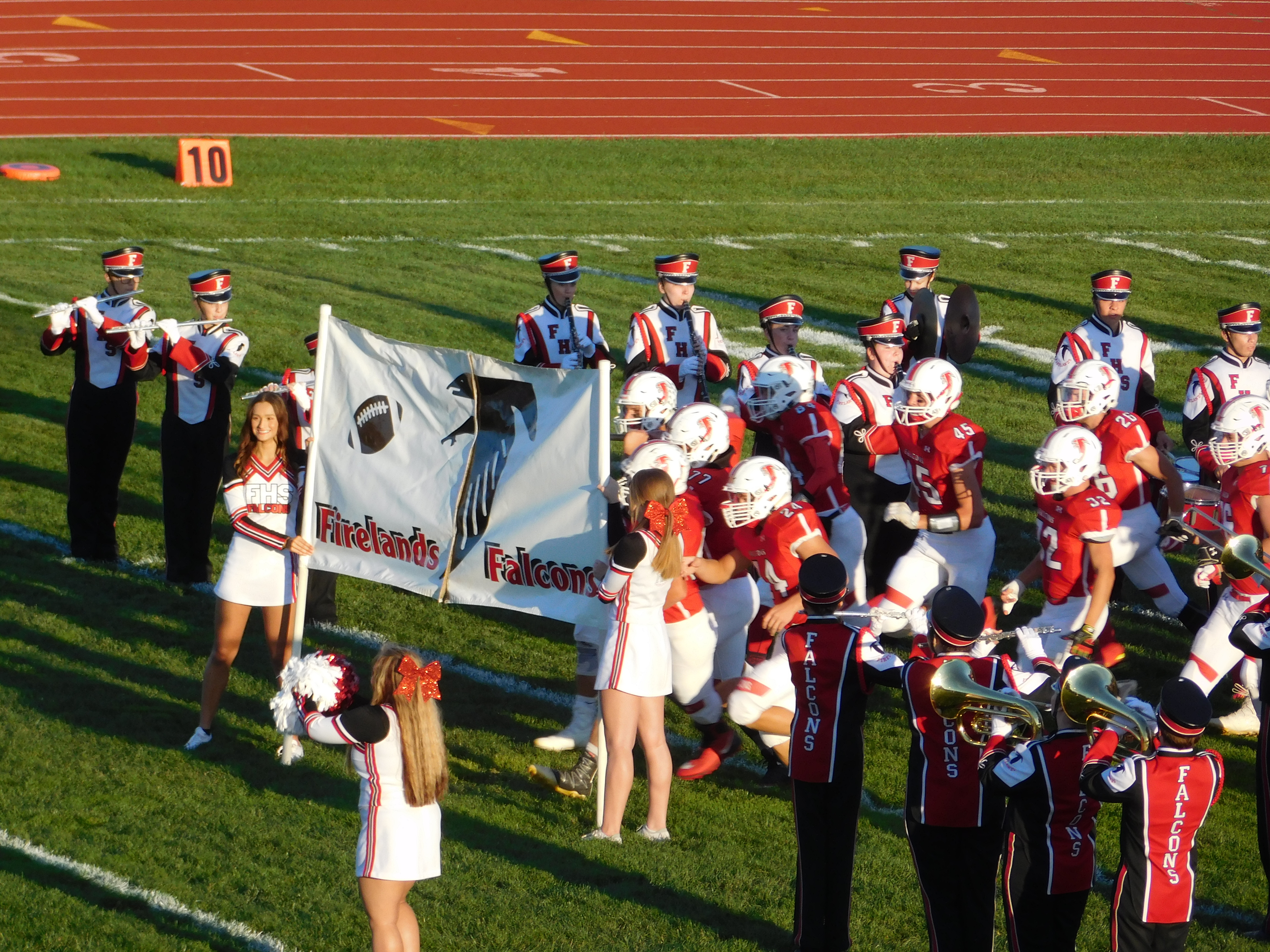 The Firelands Falcons may have won only four of 10 games in 2018, but things the signs for a better 2019 are pointing upwards due to a strong returning class of players.
Head coach Ryan O'Rourke will have a lot of returning players to use to try and get wins this season, 17 to be exact, which is a number that should eliminate some of the growing pains of mistakes he's seen his young team make.
"We're excited for what the kids have done and what we can see them doing, we have about 17 starters returning, most of them were sophomores last year," O'Rourke told AM 930 WEOL last week at their annual coaches show.
"At times we had a lot of growing that we had to do, but I'm excited about what I have seen so far in camp, and I've told them we've got to keep progressing and keep improving day by day, and I know that's coach speak but the kids have really embraced that we've got to get better."
Last year was about not only getting young kids playing time, but also seeing what those young players could do at key moments against other teams senior squads.
At times the results might have been tough to swallow, but this year might be more about the Falcons getting some revenge for those growing pains.
"We needed to mature last year," O'Rourke said.
"When you have nine sophomores on offense, sometimes it's going to look like JV football, they would tell you the same thing and they knew it was going to take some time, once we got into summer camp this year, we saw some leadership take over."
There's a number of leaders on the Falcons that should get them to the next level in 2019.
O'Rourke seems excited about the prospect of seeing those young players who have turned into leaders helping Firelands turn around some of those tough losses from a year ago like a week 10 loss to Keystone 29-25 to end the season.
"I think we're really deep in the skill positions," O'Rourke said. "We have two returning receivers in Alex Angle on the outside and Caden Bomback in the slot, up front we're returning our entire offensive line, I'm excited to see them keep working and keep progressing."
The Falcons will start 2019 on the road in Milan against Edison, and then in week two will have another tough game at Steele as they play Amherst.
Their home opener in week three against Vermilion could go a long way in telling just how good this Falcons team can be in 2019.
"When you're a 4-6 football team you have a lot to prove," O'Rourke said. "We've got a tough schedule and a lot of great opponents we are going to be facing, we just have to be ready to go."
2019 Schedule
8/30 7:00p @ Edison (Milan, OH)
Location: Edison High School
9/6 7:00p @ Steele (Amherst, OH)
Location: Amherst High School
9/13 7:00p Vermilion (Vermilion, OH)
Location: Firelands High School
9/20 7:00p Columbia (Columbia Stattion, OH)
Location: Firelands High School
9/27 7:00p Black River (Sullivan, OH)
Location: Firelands High School
10/4 7:00p @ Brookside (Brookside, OH)
Location: Brookside High School
10/11 7:00p Clearview (Lorain, OH)
Location: Firelands High School
10/18 7:00p @ Keystone (La Grange, OH)
Location: Keystone High School
10/25 7:00p @ Oberlin (Oberlin, OH)
Location: Oberlin Falls High School
11/1 7:00p @ Wellington (Wellington, OH)
Location: Wellington High School