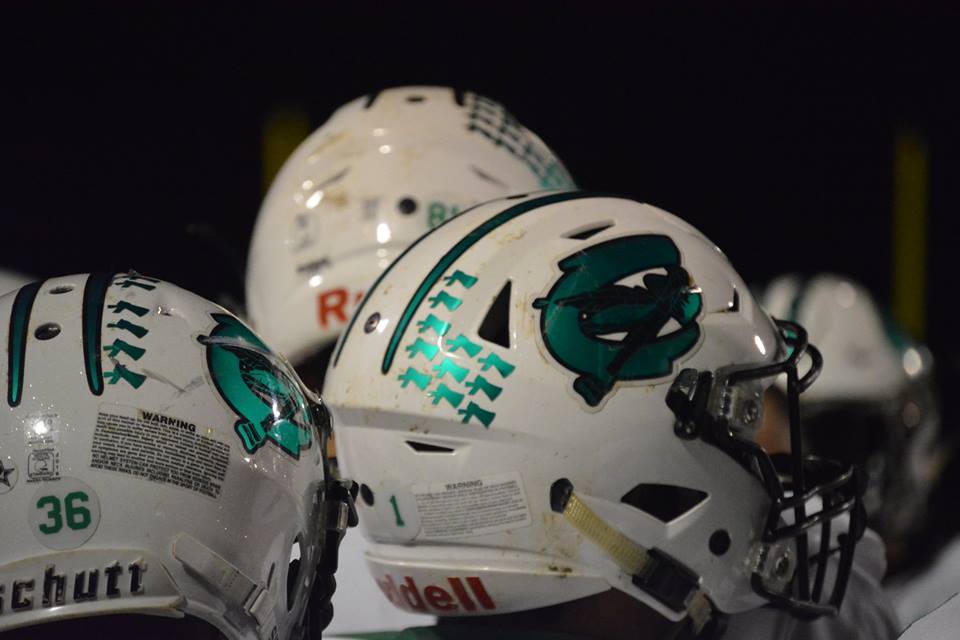 2018 was a return to glory for the Columbia Raiders and head coach Jason Ward, as the team located in Columbia Station got into the postseason on the last night of the regular season, ending the year with a record of 7-3, 4-1 in conference play.
The Raiders will be pressed to reach the ranks of 2018, as they lost one of the best players in Lorain County in running back Brandon Coleman, who will be playing this fall for Kent State.
That wasn't all, as overall the heavily laden veteran team lost a total of 17 seniors, putting coach Jason Ward and his staff to the test to get young players ready to carry the tradition this year.
"We've been blessed," Ward said Thursday at the annual AM 930 WEOL Coaches Show in Amherst.
"Was at practice the other day and Brandon was in visiting, and I've been blessed with some awesome talent, and you just wait to see who is going to come through the door next.
"We're kind of like the 'lost and found,' we've lost a lot but we've found a lot and we're excited."
Coleman's loss will put pressure on the run game to find new legs, but also there will be a new signal caller in 2019, as sophomore Andrew Champagne will get a chance to run the offense, taking over for departed senior Jared Bycznski.
"We've got a lot of guys that have waited their turn, and have waited behind a lot of seniors," Ward said. "We graduated 17 seniors, a guy like Andrew Champagne who as a sophomore is going to come in and play quarterback, (senior OT) Carson Heidecker really is the anchor of our football team, just one of the best lineman that I've ever coached
"You're not going to look at him and tell him we're rebuilding, he's here to win, it's that feel and that type of kid that we have at Columbia that hopefully will carry that tradition further."
Winning seven of 10 last season means that despite the senior losses no one in Lorain County is going to take the Raiders lightly.
Ward says a strong offseason with youth on their side should make for an exciting season as Columbia looks to build with a new group of players who are hungry to prove they can carry on the tradition of strong play on the field.
"You get a young group, an inexperienced group, and you're not going to tell them that they are not going to win," Ward said. "We're going to keep getting better, and hopefully win."
"We've got a lot of guys that know they haven't been under those lights, they understand the experience that last group had, I really don't believe it matters what you did the year before, you're going to wipe the slate clean no matter what."
One thing that will be different for Ward and the Raiders in 2019 is the conference they play in. The Raiders will be a part of new 'Lorain County League,' which will be fun to watch with the likes of Black River, Brookside, Clearview, Firelands, Keystone, Oberlin and Wellington.
"It is truly a Lorain county league," Ward said.
"I love this new league, I'll miss our rivalry with Lutheran West, especially on the basketball court, but we'll be playing Lorain county schools every week which is awesome, I think this league has serious staying power."
While it will be fun to watch rivalry games week in and week out, it will be just as fun to see if the Raiders can continue their stretch of recent strong play with the turnover to their roster.
"What you've put out there and what you've done in the offseason is what's going to show up at Friday night, and we've worked hard this offseason," Ward said.
2019 Schedule
8/30 7:00p @ Independence (Independence, OH)
Location: Columbia High School
9/6 7:00p @ Northwestern (West Salem, OH)
Location: Northwestern High School
9/13 7:00p Waynedale
Location: Columbia High School
9/20 7:00p @ Firelands
Location: Firelands High School
9/27 7:00p @ Keystone (La Grange, OH)
Location: Keystone High School
10/4 7:00p Oberlin (Oberlin, OH)
Location: Columbia High School
10/11 7:00p @ Wellington (Wellington, OH)
Location: Wellington High School
10/18 7:00p Clearview (Lorain, OH)
Location: Columbia High School
10/25 7:00p Brookside (Sheffield, OH)
Location: Columbia High School
11/1 7:00p @ Black River (Sullivan, OH)
Location: Black River High School

NEO Sports Insiders Newsletter
Sign up to receive our NEOSI newsletter, and keep up to date with all the latest Cleveland sports news.