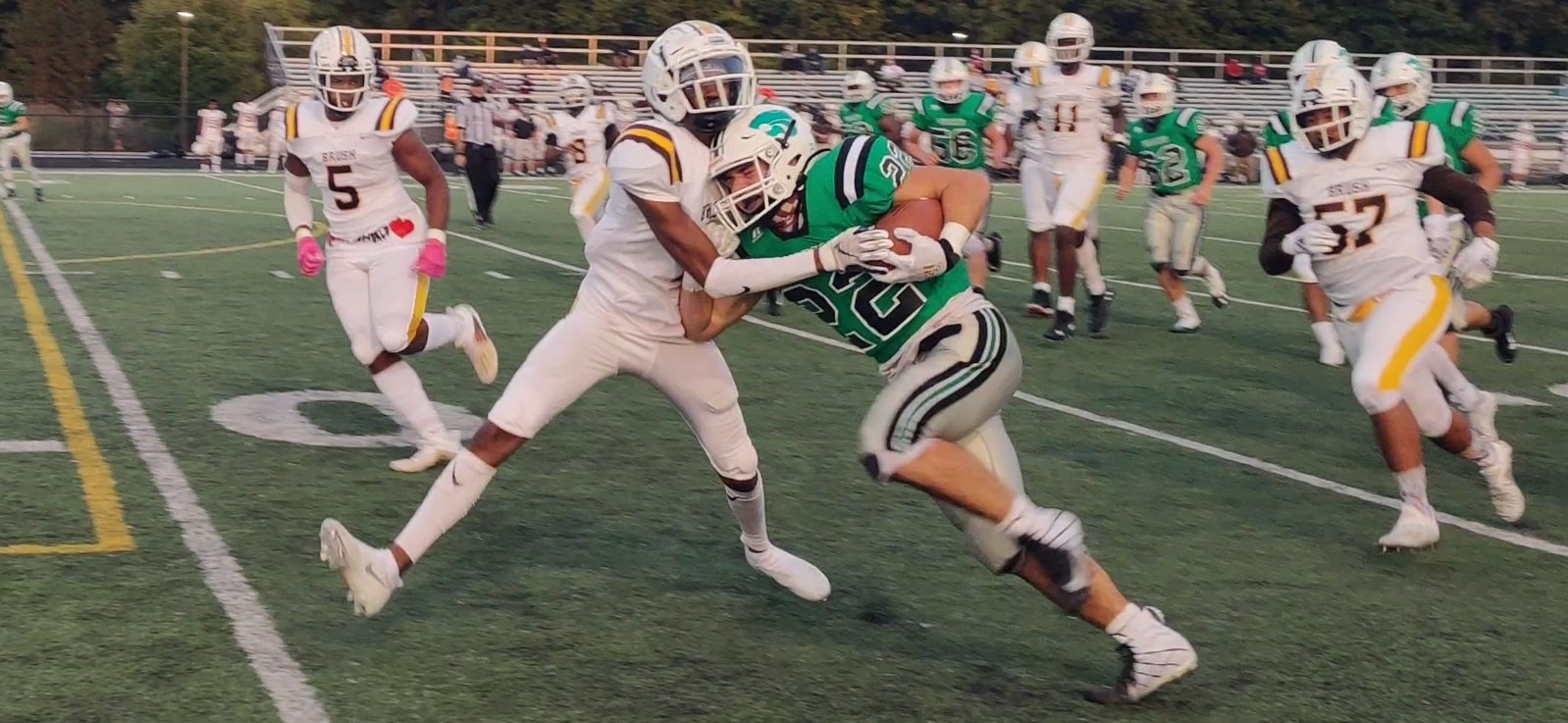 MAYFIELD, OHIO – As the snowball rolls down the hill, it gets bigger and becomes harder to stop.
In Mayfield's 100th matchup against Western Reserve Conference rival Brush, nothing could stop the Wildcats in their 44-7 win over the Arcs on their Senior Night.
The momentum started on the kickoff. Mayfield's (2-0, 2-0) Kicker Ryan Miller's squib kick, pinned Brush (2-2, 0-1) to their 3-yard line, which led to a fumble recovery by defensive lineman Matt Snider to give Mayfield the 7-0 lead in the first eight seconds of the game.
Here was the kickoff by Mayfield @BrushAthletics @MayfieldSports pic.twitter.com/oXQuS2wktd

— Mark Perez-Krywany (@MarkPerezK10) September 17, 2020
Great kickoff by Mayfield leads to defensive TD

Mayfield leads brush 7-0 11:52 in Q1. @BrushAthletics @MayfieldSports pic.twitter.com/uFNblyzpdo

— Mark Perez-Krywany (@MarkPerezK10) September 17, 2020
"Things snowballed for (Brush) tonight," Mayfield's coach Ross Bandiera said after their win.
"Our kickoff team did a great job kicking the ball deep in their zone and pinning them deep in their zone… That first play of the game was a fumble for a touchdown and it kind of snowballed after that."
For Snider, that was his first touchdown of this high school career.
"When the ball was snapped, Cam Smith No. 1 on the defensive end. He did a great job getting outside, pushing (Marshawn Taylor) back (inside). Me and Smith were both there. He ripped [the ball]; I recovered it in the endzone," Snider said.
While on the bench after the touchdown, Mayfield noticed the body language of Brush's players on the field.
"All of us [noticed Brush's body language]." Snider said.
"Once we saw what had happened in the film, we knew we had them right there. Right then and there we knew we had them."
The momentum didn't stop there. The defense forced a Arcs' 3-and-out right after.
A highly pressured punt gave the Wildcats great field position and propelled a 1-yard Joey Dostal touchdown.
Wildcats lead 14-0 from this TD from Joey Dostal. 7:35 left in Q1. pic.twitter.com/HpIKki7Vdd

— Mark Perez-Krywany (@MarkPerezK10) September 17, 2020
Senior quarterback Michael Huss described the win as a perfect win. All three sides of the ball played well, but the defense was the most dominant.
The first half ended with Mayfield leading 44-0. In that half, Brush had -5 yards of total offense. The Wildcats forced six turnovers, a safety, and two defensive touchdowns.
Brush conceded a safety. Wildcats lead 23-0 in Q1. 4:52 remaining @BrushAthletics @MayfieldSports pic.twitter.com/0ky3Rvw7d2

— Mark Perez-Krywany (@MarkPerezK10) September 17, 2020
Snider had the first touchdown on defense and the other went to Tim Steffens, who had a 33-yard pick-6 for the 21-0 lead in the first quarter.
Touchdown Mayfield

Tim Steffens returns a 33-yd Pick-6

Wildcats lead Arcs 21-0, 7:06 Q1. @BrushAthletics @MayfieldSports pic.twitter.com/2qrkoOR1go

— Mark Perez-Krywany (@MarkPerezK10) September 17, 2020
As soon as (Arcs' quarterback Isaiah Fox) threw the ball, I knew he overthrew it," Steffens describes the interception.
"The (Brush) wide receiver wasn't even paying attention. I easily got around him [caught the ball]. The linemen were too slow to catch up."
Steffens recorded a second interception at the end of the first quarter with the score 30-0.
On offense all of Mayfield's scoring plays were on the ground with Jack Klika (two touchdowns), Joey Dostal (one touchdown) and Anthony Santoro (one touchdown).
"(The offense) all starts with the offensive line," Huss said.
"We have a bunch of Seniors upfront. They did a great job of punching the ball straight up the middle."
The Mayfield and Brush rivalry started in 1929. Mayfield's win has tied the series 48-48-2. This was the first time the rivalry has been tied since 1933. In recent history, Mayfield has dominated the rivalry with a now 32-5 record since 1984.
Next week, Brush will host Green on Sept. 25 and Mayfield will play Chardon on the 25th as well.

NEO Sports Insiders Newsletter
Sign up to receive our NEOSI newsletter, and keep up to date with all the latest Cleveland sports news.