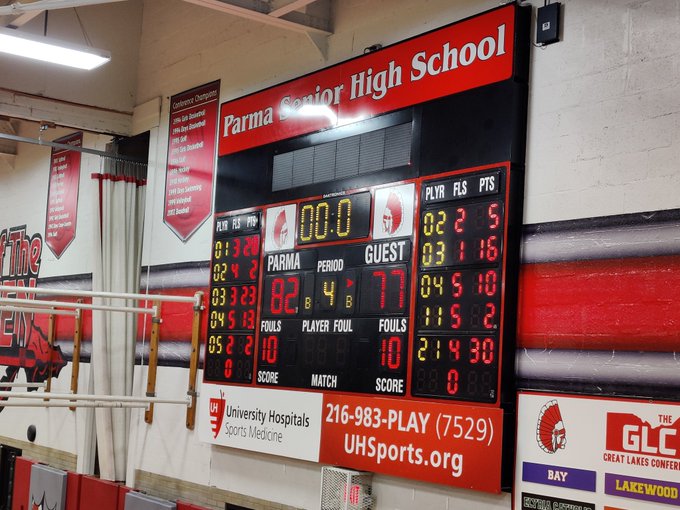 PARMA, OHIO – The Parma basketball team is young with the exception of Senior Allan Eason. In fact, many of them played in their first varsity game.
The Redmen struggled in the first half against Great Lakes Conference foe Holy Name, but came together to defeat the Green Wave 82-77 in double-overtime of their season opener.
"I thought a lot of guys were nervous in the first half," Parma's coach Mike Durkin said after the win.
"There were a lot of jitters… For most of (the players), it was their first game (on varsity). Allan (Eason) kept us in the game, until they got over their nerves and were making plays for us."
Eason, the lone guy from last year's Parma (1-0, 1-0 in GLC) squad, was their go-to guy for points. He scored 17 of their 22 first half points with two rebounds. He finished with 28 points.
"Eason can score," Burkin said.
"In the next few games, he'll get his 1,000th point (as a Redman). It doesn't matter who we are playing against, he is gonna score the ball. He's a great shooter, he gets to the rim. He has a great feel for the game. He was huge for us."
Parma's defense in the first and second quarters were complete opposites as they allowed 21 first quarter points, trailing by 12 points and allowed five points and cut the Holy Name (0-1, 0-1 in GLC) lead to 4 points at halftime with the score 22-26.
In the first quarter, our defense was really bad," Durkin said.
"(Holy Name) was getting anything they wanted. We had to make a couple of adjustments, we did and we held them to five points in the second quarter."
From the second half to the final whistle, a battle took place on the hardwood in Parma High School.
The Redmen took their first lead of the night early in the third quarter as a variety of players stepped up in the scoring column. They also found an answer for their rebounding problem in the first half.
Parma cut down the Holy Name offensive rebounds from 12 in the first half to five in the second half and the overtime periods, which also gave the Green Wave less possessions.
The Green Wave went on a 10-2 run in the third quarter and Parma answered back with a 7-0 run just before they entered the fourth quarter with the score tied 42-42
In the fourth quarter and the overtimes, Sophomore Darius Davis became the hot hand as he scored 22 points (27 total points).
"(Davis) is young," Durkin said.
"He is talented. Once he gets going, he is hard to stop. He scored 22 points in the fourth quarter and the overtimes."
He made key baskets and made hustle plays like grabbing two offensive rebounds of his own missed free-throws within 10 seconds to get fouled and get sent back to the line and make the next two.
"Davis is a quick jumper. He anticipates (the rebound) very well," Durkin said.
The sequence of events by Davis changed a 3-point deficit to a 1-point lead for Parma.
His aggression put sophomore big-man Alejandro Castro, who played in his first varsity game, in position to send the game to a second overtime as he made a put-back off a Davis miss as time with seconds remaining.
DOUBLE OVERTIME!@NamerAthletics @ParmaHighSports @HolyNameHoops pic.twitter.com/BOdRoQsJtn

— Mark Perez-Krywany (@MarkPerezK10) December 5, 2020
The leading scorers for Holy Name were Senior Logan O'Brien (31 points), Junior Michael Lechler (16), Junior Tommy DeJesus (10), and Sophomore Joseph Abraham with nine points.
Other Parma scoring contributors included Keith Reed with 13 points and Castro with four points.
Scorebook for Parma's 82-77 2OT win over Holy Name. pic.twitter.com/mNji1OKZId

— Mark Perez-Krywany (@MarkPerezK10) December 5, 2020
Both teams will play on Tuesday, Dec. 8, as Parma will face Rocky River on the road and Holy Name will be up against Bay on the road.

NEO Sports Insiders Newsletter
Sign up to receive our NEOSI newsletter, and keep up to date with all the latest Cleveland sports news.