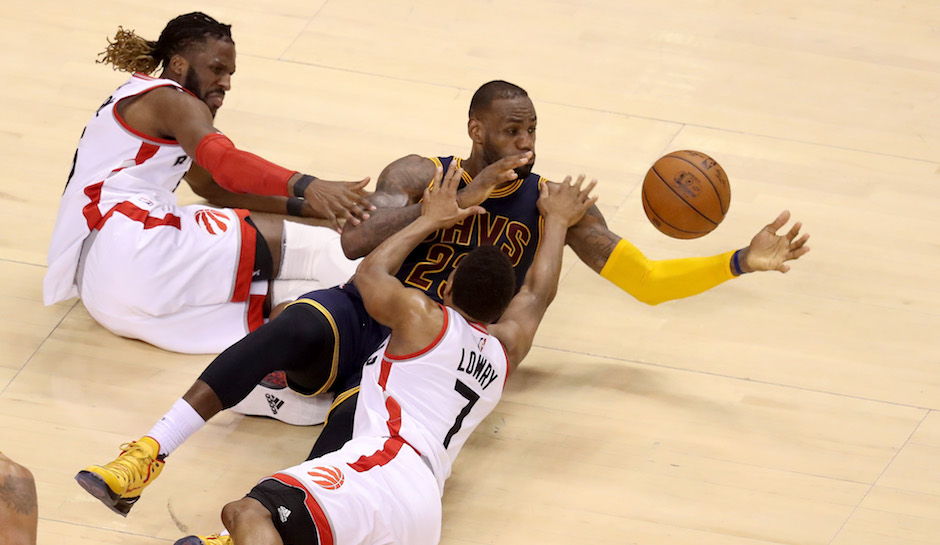 The 2015-2016 battle between the Cavs and Raptors has been every bit as great as one could expect from two teams who finished one game apart in the Eastern Conference standings.
This battle has not only been hard-fought during the Conference Finals, but even during the regular season.
The two teams have played each other eight times in the 2015-2016 campaign and the home team has won all eight games.
The Cavs won four in Cleveland. The Raptors won four in Toronto.
Game 6 on Friday night will be Toronto's chance to defend home court once again and stay alive in the series.
From a Cleveland perspective, the Cavs have dominated in all four wins at Quicken Loans Arena, but in the four games up north, three were close contests.
Kyle Lowry has been a completely different player at home. Lowry has averaged 31 points per game against the Cavs in Toronto during the regular season and playoffs combined.
When Lowry plays in Cleveland, he is averaging just 12 points per game, shooting just 37 percent from the field.
Taking away the one regular season game in January, Lowry's numbers in Cleveland in the playoffs are even more atrocious, averaging just 10.3 points per game, shooting 32 percent.
Toronto's other All-Star, DeMar DeRozan, has been a bit more consistent whether it's home or away.
The formula to beat the Raptors all season has been to limit those two from having great games, but it's worth noting that the Cavs aren't the only team who has struggled up north. The Raptors went 32-9 at home in the regular season, just one win less than the Cavs home record.
The Raptor are 8-2 at home in the playoffs and surprisingly both of their home losses came in Game 1 of the Conference Quarterfinals and Semi-Finals.
Toronto has faced elimination two times in this postseason, both of which came at home, in Game 7 of each series.
For the Cavs, aside from containing Lowry and DeRozan, one of the biggest keys to victory has been how they handle Bismack Biyombo.
In Toronto's two wins, Biyombo hauled in 26 rebounds in Game 3 and 14 in Game 4. Compare that to the three losses in Cleveland, where he grabbed five or fewer rebounds in each game, finishing with 13 total rebounds in the three games.
That is largely due to Tristan Thompson playing much better in the three home games, but perhaps the home crowd has a lot to do with both of their performances.
Another factor to consider is the return of Jonas Valanciunas.
Valanciunas was a huge component to why the Raptors were able to hold their ground in the first two rounds even though their two All-Stars, especially Lowry, were struggling.
In Wednesday night's Game 5 blowout, Valanciunas played 18 minutes and shot 4-for-4 from the field. It's possible we see him with a bigger role in Game 6.
On the Cavaliers side, one of the keys to this playoff run, whether it's in victory or defeat, is Kevin Love.
Love has been outstanding in the playoffs in all but two games. Those were the two games up north of course, where he went 5-for-23 shooting. There's a definite correlation between the Cavs having only lost two games in the playoffs, and Love playing poorly in only two games.
The Cavs Big Three of LeBron James, Kyrie Irving, and Love has to be playing at a high level for Cleveland to win against a tough team like Toronto.
If Love or Irving both go cold, they're virtually guaranteed to lose. If one of the two go cold, they might be able to get by if J.R. Smith or Channing Frye has a big game.
For both of these teams, Game 6 is going to come down first and foremost to how their star players perform.
Howver, Toronto's role players, like Cory Joseph, Patrick Patterson, and Terrence Ross, can make a big impact off the bench, too.
Joseph can give Irving fits on defense and attack the rim to provide extra scoring. Ross can provide a scoring lift if his shots are falling; and Patterson's versatility allows him to match up with Love or LeBron at times in the game.
For the Cavs, Richard Jefferson, Iman Shumpert, and Matthew Dellavedova have seen significant playing time in this series, along with Frye, who might be the biggest X-factor in the game.
Jefferson has been aggressive, throwing down dunks and taking it to the hole throughout the series, as well as knocking down some open jumpers.
Shumpert is mostly on the court for his defense, but occasionally gets a shot to fall in or uses his athleticism to throw down a dunk.
Dellavedova has not had a stellar postseason, but still can run the point, hit open three-pointers, and play solid defense.
But the one aspect we have not seen of this Cavaliers team in the series is the possibility of LeBron taking over a game and dominating.
He's been more of a facilitator in this series and in the entire playoffs for the most part.
Game 6 is a closeout game, and if Love or Irving are not playing as well as they did at home, perhaps we see the version of LeBron that wills his team to victory on his shoulders, like he did in the 2015 playoffs and has done at times throughout his career.
If Game 6 goes anything like Games 3 and 4 did in Toronto, where the Cavs found themselves down by 18 in both games, we may see that LeBron on the court sooner rather than later.

NEO Sports Insiders Newsletter
Sign up to receive our NEOSI newsletter, and keep up to date with all the latest Cleveland sports news.