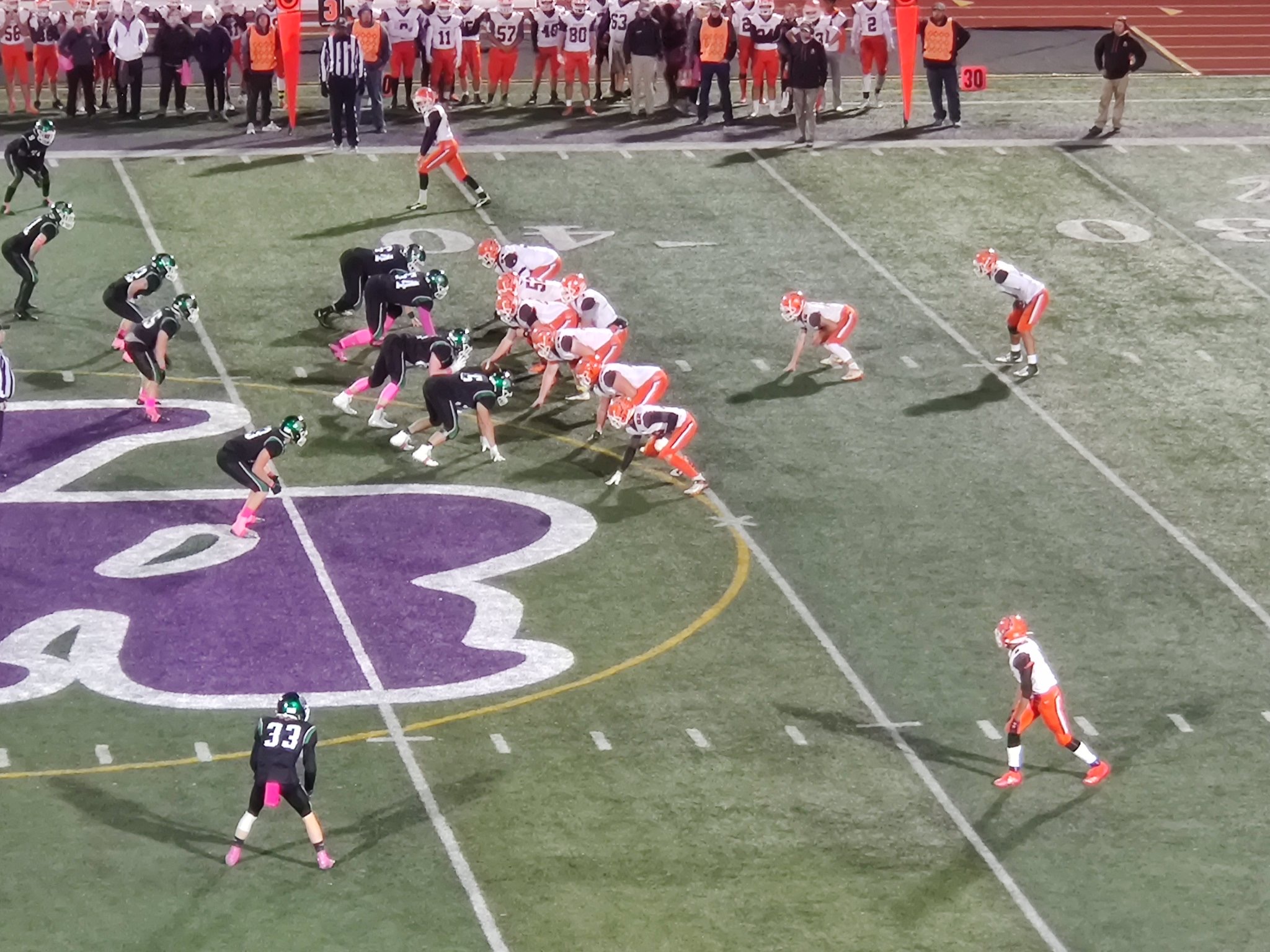 By Mark Perez
NORTH ROYALTON, OHIO – After throwing an interception in the Holy Names' first drive, the Green Waves' Nicholas Mercuri recovered by scoring three touchdowns as they defeated the Buckeye Bucks 28-19 to stand alone at the top of the Great Lakes Conference.
"(Leading in the conference) is amazing," He said after the win.
"It's the first time for me and you can't have a better feeling ever."
Holy Name (6-1, 5-0) started to pull away from Buckeye (5-2, 4-1) in the second half as they led 14-13 at halftime on Senior Night.
The Green Wave stripped the game from the Bucks, figuratively and literally in the second half with a fumble from Bucks' quarterback Jacob Doerge on the first play from scrimmage. Andrew Shiban recovered it for Holy Name on Buckeye's 30-yard line.
Holy name capitalized with their running game to place the ball at the two-yard line after a Mercuri 19-yard run. He scored the rushing touchdown the next play to extend their lead 21-13.
Special teams can sometimes be overlooked, but Holy Name used their punt return unit to put points on the board courtesy of a blocked punt by Joshua Tait.
This was the second consecutive week in which Tait blocked a punt that turned into six points for the Green Wave. Instead of Sean Ehrbar recovering the ball in the endzone, Colin Phillips recovered it and ran crossed the goal line. They led 28-13.
Holy Names' head coach Dan Wondowlowski credits former Ohio State coach Jim Tressel for his attention to detail on special team.
"(Special teams) is a third of the game," he said.
"We take pride in special teams. We have really put an emphasis on it and it's starting to show."
According to Mercuri, they practice special teams for 80 minutes a week.
Buckeye kept fighting and scored on the following drive with an 8-yard rushing touchdown in the third quarter, but a 2-point conversion that could have made it an 8-point game didn't happen for the Bucks.
That was the Bucks' last score of the game as Holy Name shut them out in the fourth quarter.
"It comes down to tackling," Wondolowski said.
"I spoke to the team at halftime. We had to tackle better and it comes down to us preaching all year long tackling; multiple guys to the ball and that's what happened tonight."
After a defensive first quarter, the Green Wave scored their first points of the game with a seven-yard touchdown pass to David Boll to take a 7-3 lead in the first 31 seconds of the quarter.
From that point on, the momentum shifted back and forth, which included an 11-play, 77-yard drive for the Bucks. The drive resulted in a 15-yard touchdown run up the gut for Ben Barnes to take a 10-7 lead.
The lead didn't hold for long as a personal foul penalty placed Holy Name with a fresh set of downs on the 42-yard line.
There, Mercuri executed a criminally smooth halfback fake toss that he kept himself, fooling a large part of the Buckeye defense as he galloped all 42 yards to the endzone. They reclaimed the 14-10 lead with 4:17 remaining in the half and didn't look back.
"I thought I was going to go out of bounds,.." Mercuri said.
"I thought they were going to push me, but, I kept driving; running and ended up in the endzone."
Mercuri doubled his season rushing touchdown with his performance from two to four.
Along with catching two passes for 36 yards, Buckeye's wide receiver is also their place-kicker who made all of his field goal attempts from 39 yards to score the game's first points.
His next field goal was from 25 yards with 30 seconds remaining in the first half to enter halftime trailing by one point.
Going into this game, Buckeye was placed in third seed, two spots ahead of Holy Name in the Division III, Region 10 standings. This will certainly change heading into next week.

NEO Sports Insiders Newsletter
Sign up to receive our NEOSI newsletter, and keep up to date with all the latest Cleveland sports news.