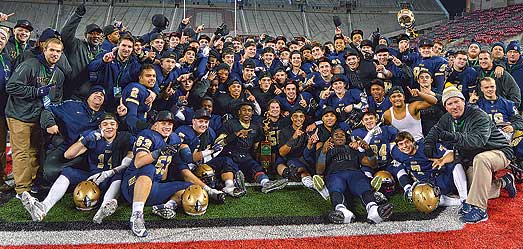 Early today The Ohio High School Athletic Association announced penalties against the Akron Archbishop Hoban Football Program for recruiting violations.
The OHSAA states there are still allegations ongoing, but the penalties handed down today come from head football Coach Tim Tyrrell initiating contact in the fall of 2015 with a student at St. Hilary Elementary School.
"As a veteran coach and the current athletic administrator at Archbishop Hoban, we believe that Tim Tyrrell was aware his actions were in violation of the OHSAA's recruiting bylaw," Dave Gray, OHSAA interim commissioner, said in a release. "Rather than wait until the investigation concluded, which could be toward the end of the season, we felt compelled to announce these penalties now so the team and school have time to make the appropriate accommodations. We appreciate the cooperation of Hoban administrators and hope to conclude this investigation soon."
The penalties for the program include a coaching suspension for Tyrrell if Hoban makes the playoffs this season, and also Hoban is also on probation for the remainder of this school year and all of next school year.
Tyrrell himself will be limited to a total of five days of contact with the Hoban football team during the summer of 2017.
This season Hoban is 3-1, with their only loss coming at the hands of powerhouse St.Ed's 10-7 back on September 2nd at home. This week the Knights take on St.Vincent-St.Mary at home.