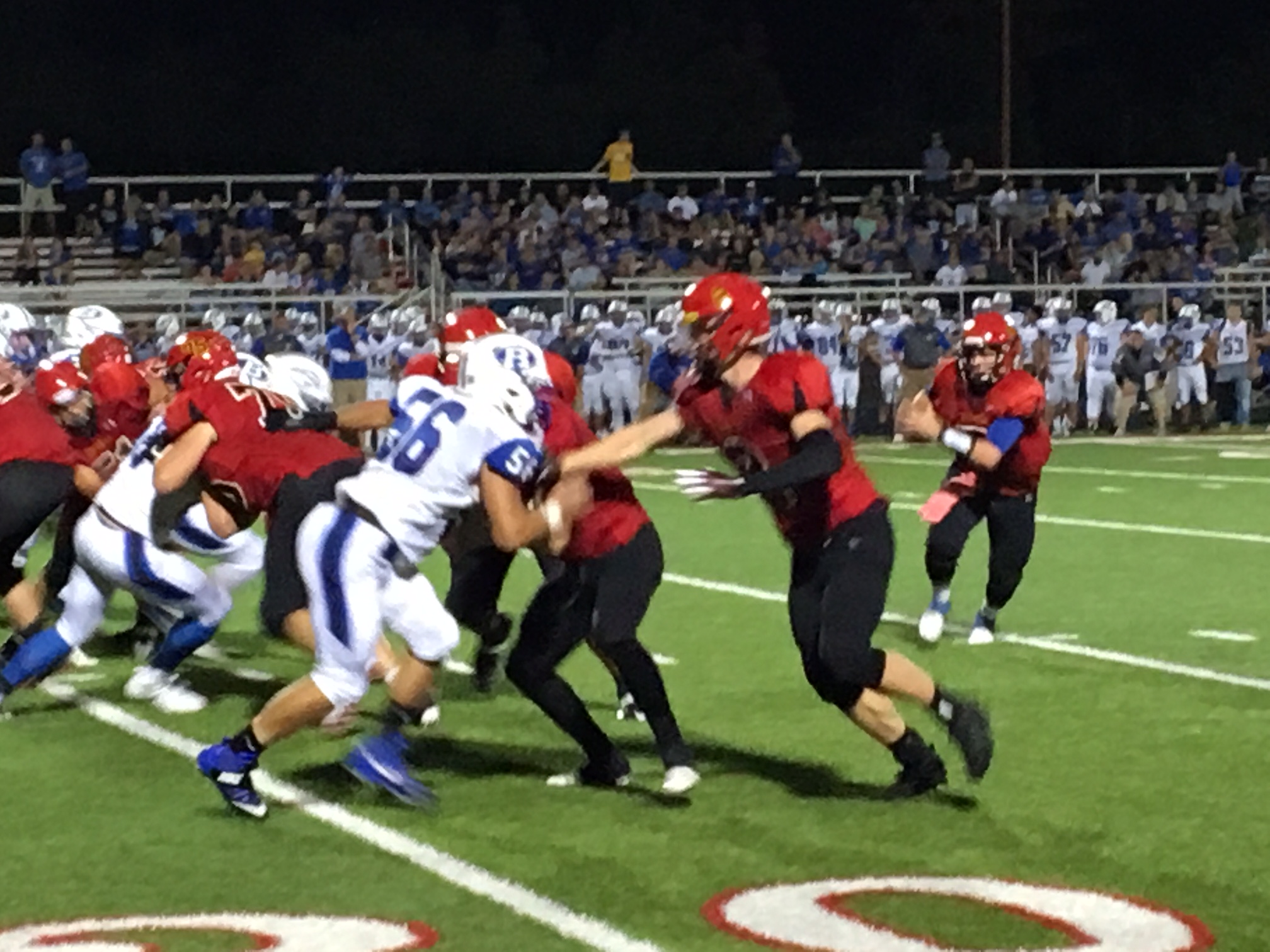 BROADVIEW HEIGHTS, Ohio
The Brecksville-Broadview Heights community was shaken and saddened by the sudden loss of one of the High School's Senior class members on Friday. Billy Franks, a Senior at Brecksville passed away unexpectedly on Friday morning. With heavy hearts, the Bees showed a lot of it Friday night at The Bee Hive, in a thrilling come-from-behind victory over the visiting Brunswick Blue Devils, 42-35.
In a matchup that featured two polar opposites offensively, with Brecksville deploying a spread offense, and Brunswick running the option. The Blue Devils got on the board first, with a 39 yard touchdown run by Senior running back Jake Martin in the first quarter, which gave Brunswick an early 7-0 lead. Brecksville then marched 70 yards down the field on their first drive, which was capped off by a 10 yard touchdown pass to Senior wide receiver Steve Klaus from Senior quarterback Luke Strnad, which tied the score at 7. Brunswick then responded with a drive of it's own, scoring on a 8 yard touchdown run by Senior running back Alex Gillespie. Brunswick held a 14-7 lead after quarter number one.
In the second quarter, after stopping the Bees offense, the Blue Devils starting quarterback, Sophomore Josh Stacho on their next offensive series was injured and did not return. The very next play, Junior quarterback Cole Zamiska fumbled the snap, but fortunately did not cost Brunswick. After sniffing out Brecksville on offense yet again, Brunswick drove 72 yards to close out the half, which lead to another Gillespie touchdown, this of the 3 yard variety, making the score 21-7 going into halftime.
With Brecksville set to receive the second half kick off, Junior running back Jordan Shaheen scampered 78 yards down the left sideline, getting tripped up at the 5 yard line. Junior running back Alec Buckley capped off the drive, running 5 yards to paydirt, making the score 21-13. The point after attempt was wide right. After kicking off to the Blue Devils, Brunswick's Junior wide receiver Seth Clark fumbled and the ball was recovered by the Bees at the Blue Devils' 36 yard line. After a big pass from Strnad to Junior wide receiver Sam Wiglusz for 30 yards, the drive was then capped off by Wiglusz catching another pass from Strnad for the touchdown, making the score 21-19. The two point conversion attempt failed. Brunswick then responded with a drive of their own, using the option offense yet again to move on down the field. The 6-1, 230 bullbozer Gillespie bulldozed his way yet again into the endzone, this time from 26 yards out, making it his third rushing touchdown on the game. Brunswick led 28-19 after the extra point by Senior kicker Tim Dick. After stuffing Brecksville's offense, Brunswick would then finish the scoring in the quarter, with Gillespie victimizing the Bees defense for a 54 yard touchdown,his fourth one on the evening, making the score 35-19.
The Bees would then drive right back down the field, with Strnad finding Wiglusz for another touchdown. Wiglusz would then catch the two-point conversion from Strnad, making the score 35-27. After Brunswick's option offense was finally stopped, the Bees drove down the field yet again, this time capping off the drive  with Strnad diving into the endzone, bringing the Bees to within 2 at 35-33. On a razzle-dazzle try for two, Senior wide receiver Joey McGonegal took the reverse and threw a pass to Junior Michael Rose for the two points, to tie the score, 35-35.
The game went into overtime, as Brecksville scored on their first possession, with Wiglusz catching a five yard pass from Strnad yet again. Brunswick ran their workhorse Gillepsie down to the Bees 7 yard line. Then, a big stick from Bees 6-5 270 Senior defensive end Nick Zakelj dropped Brunswick for a 5 yard loss on the next play. After stuffing Gillespie on second down, Zamiska's third down pass was tipped and intercepted by Junior linebacker Michael Graham to seal the miraculous come-from-behind victory for the Bees.
Brecksville Head Coach Jason Black summed up tonight's game perfectly. "I am proud of our kids and how hard they fought. I know I will say this about 20 times over the next couple of days,..athletics doesn't build character, it reveals it. And the character our football team showed fighting back from whatever deficit it was to win a football game,….amazing." Coach Black went on to say "This game was one of the most enjoyable since being here at Brecksville. I'll tell you what, Brunswick played one hell of a football game tonight. This was just a great football game from two good teams".
Senior quarterback Luke Strnad had this to say about tonight effort;"We just didn't quit, didn't stop fighting. Everybody made great plays, it's not an individual effort, it's a whole team effort. We're gonna celebrate a little bit tonight, and get back to it next week and get another win".
Stars of the Game:
Brunswick Senior running back Alex Gillespie wound up with 30 carries for 219 yards and 4 touchdowns.
Brecksville-Broadview Heights Senior quarterback Luke Strnad was 20-38 passing, for 245 yards and 4 touchdown passes, and another one on the ground.
Next Week:
Brunswick hosts Solon
Brecksville-Broadview Heights is at Cuyahoga Falls