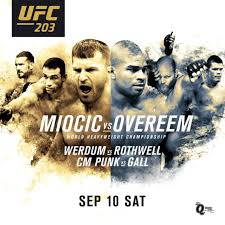 CLEVELAND, Ohio – The City of Champions, otherwise known as Cleveland Ohio, has awaited a very long time for the UFC to come to town. This Saturday night, fights fans will finally get their wish as UFC 203 is set to take place at Quicken Loans Arena.
While the main event features our own Stipe Miocic, who is the current UFC Heavyweight Champion defending his belt against Alistair Overreem. The undercard is also loaded and cannot be missed.
To me, and many, this card has seven matches that will truly jump off the page and capture the headlines in front of a raucous Cleveland crowd. Let's takes a look from the pre-show undercard bouts on up!
The undercard on UFC Fight Pass will feature former UFC Ultimate Fighter Standout CB Dollaway as he takes on Francimar Barroso at Light Heavyweight. For Dollaway, this is his first go around at that weight class and he hopes it can turnaround his once promising career.
As mentioned, Dollaway was a standout on Season 7 of The Ultimate Fighter in June 2008, but was upset in the finals by Amir Sadollah. It was the first loss of his career in his seventh pro fight. He rebounded strongly from the defeat by winning two straight over the likes over Jesse Taylor and Mike Massenzio.
Since that mini win streak, is career has been up and down however, with some very big wins over the likes of Jason Miller and Franic Carmont but also some devastating losses to major names such as Mark Munoz, Lyoto Machida and Michael Bisping.
Dollaway has spent his entire career at Middleweight, but hopes the move to Light Heavyweight might be just the thing to get things pushed back in the right direction for him. He had lost three straight at Middleweight before this move.
Few people have ever heard of Francimar Barroso, but he has been a professional MMA competitor since 2004. He has a record of 18 – 5 and 3-2 in the UFC. He is looking for a signature win to get his name on the horizon of bigger things, CB Dollaway prevents that exact opportunity for him.
Official Pick – Dollaway makes a triumphant debut at Light Heavyweight with a decision victory.

The undercard will feature two former top contenders in the Womens Bantamweight Division when hometown girl Jessica Eye takes on Beth Correia. It is now or never for Eye as she is on the verge of being cut loose from the UFC after what has been a miserable stay. Her sole UFC win was against Leslie Smith.
Her losses in the UFC are aplenty, both in and outside of the cage. She has lost 4 times, including three straight. Decision losses to Miesha Tate, Julianna Pena and Sara McMann. It has been a rocky stint in the UFC from her fist night with them as in her first fight with the promotion, Eye faced Sarah Kaufman at UFC 166 on October 19, 2013.
She won the fight via split decision.
However, in February 2014, the Texas Department of Licensing and Regulation changed the result to "no decision" with no reason initially given for the change. It was later revealed that Eye had failed her post-fight drug test after testing positive for marijuana and was subsequently fined $1,875 and put on probationary suspension for a year.
I realize Cleveland wants to get behind the hometown girl, but the track record and personality of Eye makes it hard to do so. She has been quoted on the radio (92.3 Morning Show) saying, "I just do this for money". Not exactly a role model.
Beth Correia was 9-0 before she ran into the buzzsaw champion that was Ronda Rousey at the time, in August of 2015. She was destroyed in under a minute in her home country of Brazil. Since then, she has only fought once and lost, a split decision defeat in April to Raquel Pennington.
I look for her to get back on track with a convincing decision win over Eye on Saturday.

Nik Lentz has been around the UFC Since 2009 and has fought 16 times, yet the casual MMA fan may have no idea who he is? With wins over Rob Emerson, Rafaello Oliveira, Diego Nunes and Manvel Gamburyan, Lentz is not to be taken lightly.
If few people know who Nik Lentz is, then even less people have heard of his opponent Michael McBride. It's not to say McBride can't pull off the upset however, we here at NEO Sports prefer to think that he won't however, and we are going with Lentz by first round knockout.
Up next we have Urijah Faber vs Jimmie Rivera. What can you say about Urijah Faber that hasn't already been said.
The man is a living legend and one of the most popular fighters in MMA history. His record in the UFC has been less then great, but it was what he did before getting there that made him a legend. He is widely regarded as one of the sport's pioneers for establishing legitimacy to lighter weight classes in MMA.
Faber is the former KOTC Bantamweight champion, as well as the former WEC Featherweight champion. He won 21 of his first 22 fights to establish his dominance in the sport. He beat some of the biggest names in the industry at those weight classes, including, Dominic Cruz, Jens Pulver, Eddie Wineland and others.
However, he has been rocky as of late, losing three of his last six fights. Since his move to the UFC, he is a record 0-4 in UFC Title matches. Odds are, he may not seen many more chances at UFC gold.
His opponent Jimmie Rivera is an outstanding 19-1, and 2-0 in the UFC. This will be Riveras toughest test and first against a big name opponent. I do not see this ending well for Rivera, and I'm predicting Faber in 2 by submission.

Phil ( Cm Punk) Brooks will attempt to shock the world with a successful transition from the world of Pro Wrestling to the very competitive world of MMA. His first opponent will be Mickey Gall this Saturday Night in Cleveland on the main card of UFC 203.
Little is known about Gall, other than he is 2-0 in two professional fights and finished both opponents quickly and impressively. All signs point to Punk losing his pro debut as he has little to no training before the last 18 months, and still lingering injuries from his wrestling career.
While there is little in the books on the pro career of Mickey gall, there is clearly less on CM Punk. The WWE fan in me wants to see Punk succeed, but the intelligent and trained MMA expert in me does not see it happening.
The comparisons to other pro wrestlers who were successful at MMA such as Brock Lesnar and Bobby Lashley simply don't compute. Both men had extremely successful amateur wrestling careers in high school and college. Lashley even performed well in the military while he still wrestled.
Pro wrestling to them, was simply the next step to get paid. All logical thinking would have anyone believe that a person who starts with Pro Wrestling, then tries to make the transition to MMA will fail.
One would have to also believe that Punk has done everything he can to get ready for this, with so much on the line, he must have taken it serious.
In January 2015, Brooks began training under Duke Roufus at Roufusport MMA Academy, alongside former UFC Lightweight Champion Anthony Pettis and ONE FC Welterweight Champion Ben Askren. In June 2015, Punk moved to Milwaukee to be closer to the Roufusport gym, further showing his commitment to the sport. His heart and head are both in it, but will he have the skill enough to pul off the miracle?
This reporter says no, and predicts Gall by first round knockout.

Fabricio Werdum will always be remembered as the guy who ended Fedor Emelianenko's extremely long winning streak. He was seen as the guy who busted in his first run with the UFC, only to be christened the next big thing after the stunning upset in June 2010. He promptly folded under the pressure with a crushing loss to Alistair Overeem.
Almost exactly 5 years later, the same thing would happen again. This time June 2015, saw Werdum cap off a 6 fight winning streak back in the UFC, as he took the Heavyweight Title from the seemingly unbeatable Cain Velasquez at UFC 188. Once again he was seen as the future of the division before promptly losing his next match and his title, this time to Cleveland native Stipe Miocic.
His opponent, Travis Browne is coming off of a devastating loss to Cain Velasquez at UFC 200. A first round stoppage that embarrassed Browne. He is just 2-3 in his last 5 fights, one of which was a loss to Werdum. It was a decision loss to Werdum back in 2014.
I see this one ending the same way, a decision victory for Werdum, and him putting himself back in the title picture.

UFC Heavyweight Champion Stipe Miocic vs Alistair Overeem will headline the show. The crowd will be strong behind Miocic but I don't see it being enough. They say styles make fights, Stipe does not protect his chin well enough when he comes in and has had issues with fighters in the past who had long reaches, such as Struve and Dos Santos.
Overeem is one of the most dangerous strikers this sports has ever seen and he will be waiting for Miocic to charge in.
While the crowd may be behind Stipe, the styles and odds are not, I will have to go with my head over my heart with this one, and take Alistair Overeem by knockout in two rounds.

NEO Sports Insiders Newsletter
Sign up to receive our NEOSI newsletter, and keep up to date with all the latest Cleveland sports news.