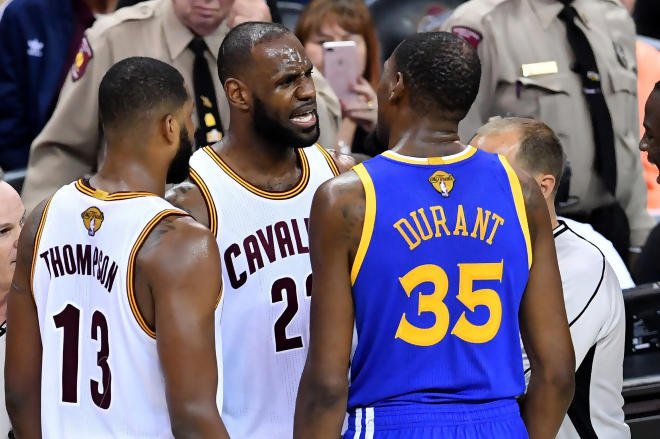 As the 2016 NBA Finals were underway, and the Cavs were down 3-1 in the series to the Golden State Warriors, Klay Thompson was asked about LeBron James jawing with Draymond Green in Game 4.
Green was suspended in Game 5 of last season's Finals for picking up one too many flagrant fouls after hitting James in the groin.
Thompson responded to the incident by saying, "I guess [James] feelings just got hurt."
What followed next was James' laugh heard around the world, and a 41-point performance in Game 5.
Of course, the Cavs would go on to win the next three games in the series to claim the franchise's first title.
Throughout last year's finals, when Green got suspended, when Thompson used the media to essentially talk trash to the Cavs, and when Curry threw his mouth guard and got ejected, the Warriors showed a lack of composure down the stretch.
Ultimately, it cost them a championship.
Now, Cavs fans should not get ahead of themselves as far as comparing last year to this year. It's likely better to be cautiously optimistic, since as of right now, no key players for the Warriors are in danger of being suspended.
There's also the fact that the small addition of Kevin Durant changed the entire makeup of Golden State.
The Warriors are a different team than last year, but after last night's Game 4, it's clear that a lack of composure still looms large within that team from the Bay Area.
Just some of the incidents that happened last night, from both sides:
A Cavs fan was ejected for jawing with Matt Barnes (who opted to pay attention to the fan, rather than to his own team's huddle).
Zaza Pachulia and Iman Shumpert got into it going after a jump-ball that ended in Pachulia taking a swing at Shumpert's groin (no flagrant was issued).
Durant and James received double technicals for jawing at mid-court.
Dahntay Jones received a technical while on the bench in the second quarter for going back and forth with Durant.
As chants of "Draymond sucks" filled The Q throughout the night, Green at times bobbed his head to the beat of the chants, acknowledging the crowd.
While the Cavs received technical fouls as well, they didn't affect their composure down the stretch.
Following the game, Green made it clear just how he felt about the fans in Cleveland
"I don't pay that much attention to anybody in Cleveland, honestly," Green said. "They don't seem to be the sharpest people around."
You can see the video of his response, courtesy of ESPN:
After the game, Irving made it clear, the chatter coming from Golden State was a factor in the Cavs' performance.
"You add, of course, some chatter in there, and that adds some extra motivation," Irving said, referencing an interview answer that Green gave on what it would be like to win Game 4.
"I didn't hear it, but some of the other guys heard it and told me that that they wanted to celebrate on our floor once again, and they wanted to spray champagne in our locker rooms," said James.
"I think it came from Draymond, which is OK. That's Dray anyway."
Tristan Thompson also referenced the trash-talking in his post-game comments.
"Guys are going to talk. We're going to respond, but they aren't going to punk us. Not me. They're not about to punk Tristan Thompson," he said.
"You got the game f—ed up with that one. You can talk all you want, but I'm definitely going to bark back. That's just how I'm built."
If the Warriors needed any more indication, these are the kinds of comments and behavior that just push the Cavs even more.
It is quite literally what won them a championship last June.
Nothing in the series is for certain. Winning four games in a row against this team is a tall order for the Cavs.
The Warriors may have more all-stars. But right now, the Cavs' best chance to win the next three games is to make each contest as chippy as possible, and hope the Warriors struggle to manage their emotions.
If they can do that, the fans in Cleveland might just have a chance to get what they are hoping for.
Cavs in seven.

NEO Sports Insiders Newsletter
Sign up to receive our NEOSI newsletter, and keep up to date with all the latest Cleveland sports news.