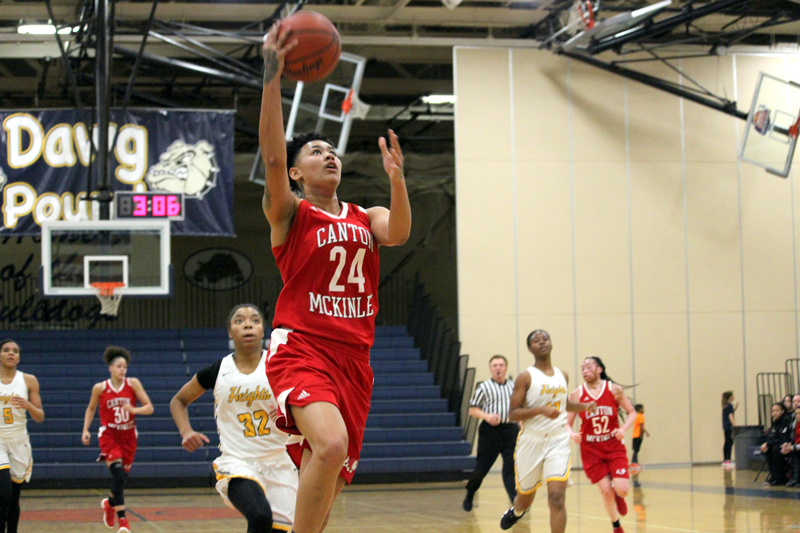 By Paul Ross/Opique Photo
William "Sonny" Johnson has created one of the hottest properties in youth basketball with his annual Summer NEO Youth Elite showcase. Top youth players from the midwest and all over the country have come out each summer to showcase their skills and generate a buzz on camera with the premier basketball mixtapes in attendance, capturing the best plays on display during the weekend.
Also with his summer showcase, Mr. Johnson has created a yearly Boys Basketball Christmas Classic. This has become a staple on the holiday calendar each season with match-ups between some of the best boys teams in Northeast Ohio.
In speaking with Mr. Johnson, he said he felt there was something missing and it was having a true girls showcase. He talked about some of the great girls teams of the 90's and 2000's, like Trinity and South Euclid Regina. He felt he needed to create a platform that was equal to any boys event, but was all about the girls. So in year two he went from one day to two days just like the boys showcase.
In addition, he has made sure that the girls get introduced to the media by having the winning team speak to the media after each game. Lastly, he has invited local media to come out and watch some of the best teams in Northeast Ohio. Mr. Johnson's goal is to provide a high level girls event that rivals any boys event, but he wants it to stay true to its roots – highlighting teams from Northeast Ohio, with one or two teams from around the state coming out to play.
In the end, Mr. Johnson wants to continue growing the event and making it a showcase piece for players, teams, and college coaches to come to during the Holiday Season to see some of the best girls basketball teams from Northeast Ohio.
Girls NEO Youth Elite Christmas Classic Schedule
Day 1 – 12/21
12:00p Garfield Heights vs Shaw
1:45p Hathaway Brown vs East Tech
3:15p Buchtel vs Brush
5:15p (USA Today #15) Africentric EC vs Solon
7:00p Gilmour Vs (NEO #16) Perry
8:30p CCC Vs Warrensville Heights
Day 2 – 12/22
10:15p Bay Vs (NEO # 7) West Geauga
12:00p (NEO #12) Aurora Vs (NEO #17) Cleveland Heights
1:45p Beaumont Vs (NEO #11) Eastlake North
3:15p (NEO #5) Elyria Catholic vs STVM
5:15p (NEO #3) Stow vs (NEO #2) Medina
7:00p (NEO #1) Laurel vs (NEO #13) Cornerstone
8:30p McKinley (Canton) vs Euclid

NEO Sports Insiders Newsletter
Sign up to receive our NEOSI newsletter, and keep up to date with all the latest Cleveland sports news.