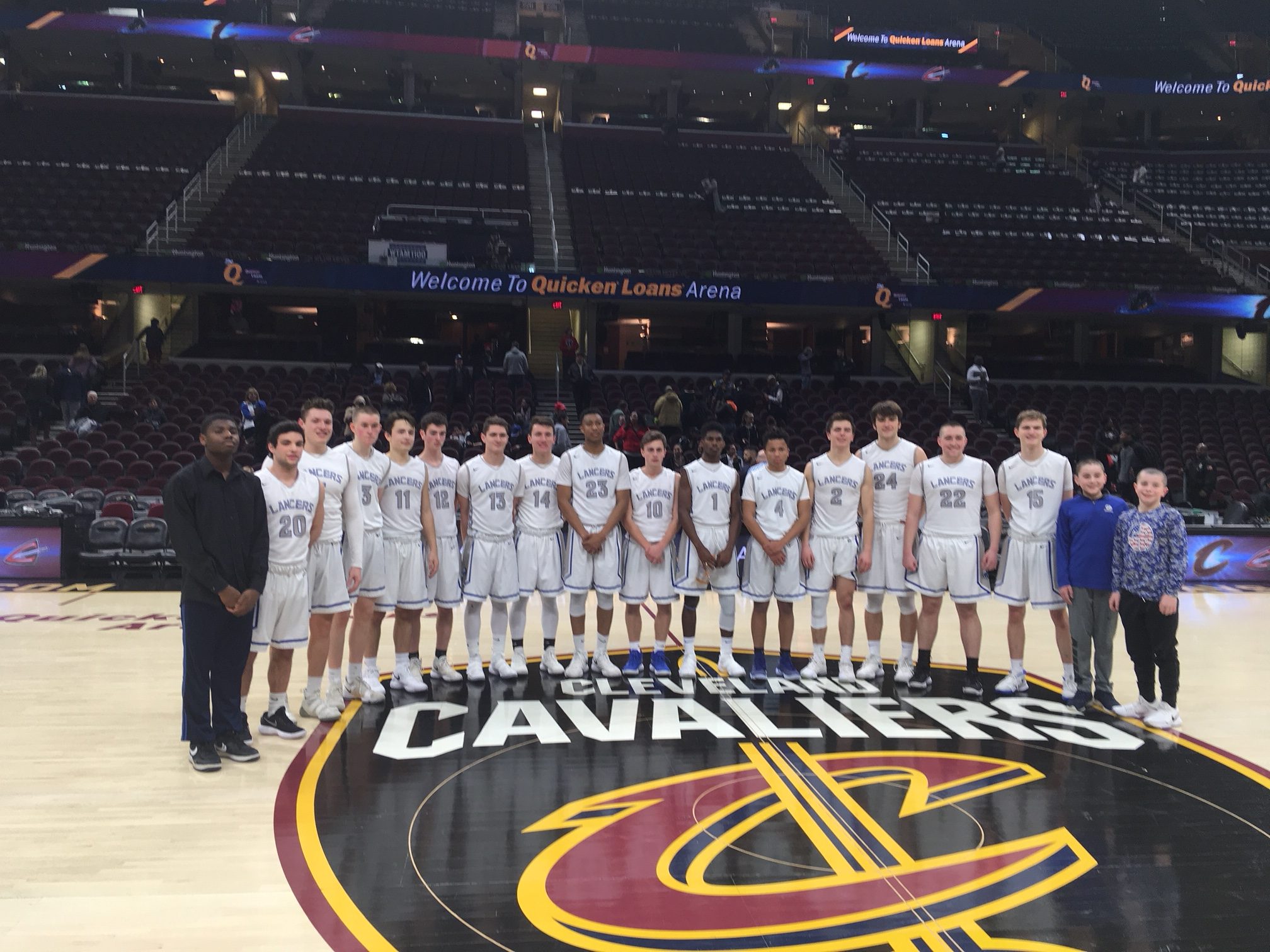 CLEVELAND – In a Thursday afternoon non-conference tilt, Gilmour Academy led wire-to-wire, defeating John Marshall, 54-38.
The Lancers got things started with an early bucket from senior forward Mario Grk, and would pad their lead with contributions from senior Dechlan Kirincic and junior guard CJ Charleston, who scored over 1,000 points in their respective careers at Gilmour Academy. Kirincic had 14 first-half points to help Gilmour end the first-half with a 28-15 lead over John Marshall.
Kirincic is having a game right now, with 14 points. Gilmour leads 23-12 with 4:10 left in the half. pic.twitter.com/yGhWkD46j8

— Tony Bogan (@TBoges2010) February 22, 2018
After trailing by as much as 16 late in the first half, John Marshall cut the Gilmour lead to 11 early in the third quarter with a basket from Quentin Williams, but could get no closer as the Lancers pulled away, continuing to attack the inside on offense, and forcing turnovers on defense.
Senior forward and Marion commit Dechlan Kirincic scored 14 of his 19 points in the first half to pace the Lancers. Junior guard CJ Charleston added 12 to aid the winning effort.
"It feels great to play on the big court. It's a different enviornment, so we have to adjust." said Charleston. "I think that sharing the ball and finding the open man and executing our plays will help us moving forward."
"It's a time for us to respect the game, realize what we have and have a fun time with our teammates." said Kirincic. "Executing our offense and defense getting up and down the floor will really help us come postseason play.
"It was a great atmosphere. It's always nice to come down to the Q to play and it was nice that everyone got the opportunity to play today. It's a big adjustment, so we had to make some adjustments and get some easy buckets to get the going. All in all, we did what we needed to do and had a good time with it." said Gilmour head coach David Pfundstein, who also gave his thoughts about the upcoming postseason.
"We're real excited. The postseason is the best time of the year in high school basketball. There are some things we're looking to get better at and sharpen up on. We're looking forward to it and looking to get back to work tomorrow night."
Gilmour improves to 15-6 and travels to Holy Name to conclude the regular season before beginning tournament play. They will go into postseason play as the #1 seed in the Division II Stow District, and hosts the winner of Streetsboro-Akron East on Friday, March 2.
Senior guard Quentin Williams, senior forward Armand Finney, and Keyshaun Hall each had six points to pace the Lawyers.
Quentin Williams with six for John Marshall, including this second-chance basket. pic.twitter.com/GgKqoCBj7d

— Tony Bogan (@TBoges2010) February 22, 2018
"This is my second year playing at the Q. It's good to play where Lebron and all the other professionals play get the feeling of the big court." said Williams.
"I just played for my teammates. It felt good playing at the Q. I feel like we're gonna come out strong for postseason play." said Finney.
"It's a good experience for our guys to play on a court the pros play on. It's a dream come true for some of them." said John Marshall first-year head coach Rich Austin. "We've had a lot of adversity through our team, but we're hitting a time where we have to be strong through that adversity. We have guys that want to keep learning, and I'm greatful for that." he added.
John Marshall concludes the regular season at 13-9 and will go into postseason play as the #7 seed in the Division I Elyria District. They host #10 Berea-Midpark on Wednesday, February 28th. The winner of that game will take on #2 Olmsted Falls on Saturday, March 3.

NEO Sports Insiders Newsletter
Sign up to receive our NEOSI newsletter, and keep up to date with all the latest Cleveland sports news.