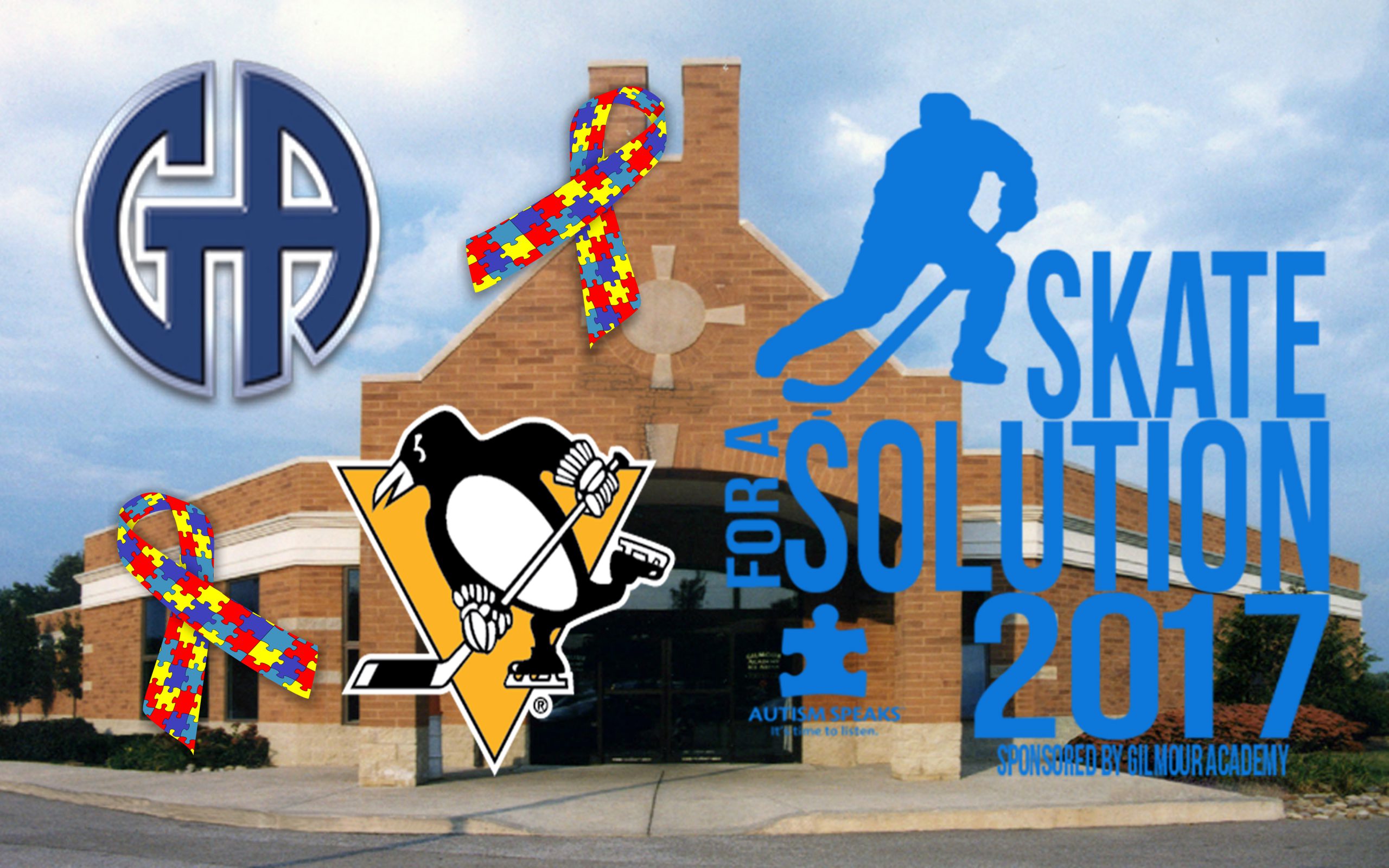 Gates Mills, Ohio – The Gilmour Academy Lancers will be hosting a "Skate for a Solution" game this Friday night to raise awareness for autism. The GA Boys Prep hockey team will face off against the defending 18-U AAA National Champions Pittsburgh Penguins Elite at 7:50 p.m. at the Gilmour Academy Ice Arena.
Below is the official Press Release:
                                        Gilmour Academy to Host Skate for a Solution Game
GATES MILLS, Ohio, January 31, 2017 —The Gilmour Academy Athletic Department is hosting a Skate for a Solution game to raise awareness for autism on Friday, Feb. 3 as the Lancer boys prep hockey team hosts defending 18-U AAA national champion Pittsburgh Pens Elite at 7:50 p.m. at the Gilmour Academy Ice Arena.
The night will also welcome the Cleveland Suburban Youth Hockey League as special guests for Youth Hockey Night.
Admission to the event is donation-based, so all fans in attendance are encouraged to make a donation of their choosing to be given to the non-profit organization Autism Speaks to help the funding of research to find a cure for autism. A number of prizes will be given away throughout the evening. An honorary puck drop will take place at the start of the game and will feature Joey Nook, student from KidsLink and son of boys prep hockey assistant coach Joe Nook. There will also be an honorary Zamboni rider in between periods, Michael Hansen, student at Mayfield Middle School, brother of Gilmour eighth grader Mark Hansen '21 and son of Lancer assistant softball coach Mandy Hansen.
The Skate for a Solution game is the first for hockey however, Gilmour has hosted seven Swing for a Solution events in which the Lancer softball program raised money for Autism Speaks. This concept was the brainchild of Gilmour associate athletic director Kristy Booher Angelo, who saw an opportunity to show support for fellow softball coach Mandy Hansen and her autistic son.
"Mandy and I have been best friends since we were 7-years old. We actually met playing softball and continue to play the sport on the same summer team to this day," said Angelo. "What better way to show my support of her and her son through something we've shared together our entire lives."
As Angelo spread the word about the Swing for a Solution event, she and head boys prep coach Mike Chiellino got to talking about taking the concept to the ice. Prior to Gilmour, Chiellino worked for the Tradewinds Education Center in Rome, N.Y., which was a school for autistic children and students with special needs.
"I had seen first-hand how underfunded the autism programs were while I was in New York," said Chiellino. "So I understand the importance of not only raising money but also making others aware of this illness and all of the amazing kids who are working through this challenge."
Angelo and Chiellino both agree this is a great event for all involved.
"We're very blessed to have the opportunity to work and coach at a place where the students, staff, faculty and administration are so supportive of this cause, which is near-and-dear to us," said Angelo. "Gilmour believes in serving others, and because of that, the community here has really embraced all of the events thus far. We're hoping this one will be just as successful as the other games we've held on campus."
"I'm excited for our players to get involved with a cause and to learn they have the ability to make a difference using their passion," said Chiellino.
For the game, the Lancers will be donning stick tape with the traditional autism logo of the puzzle piece. Fans are encouraged to wear puzzle piece clothing or the color blue, which is commonly associated with autism.
For fans unable to attend the game, but wishing to make a tax-deductible donation in honor of this event, please contact Kristy Booher Angelo at: booherk@gilmour.org.
To find out more about  Autism Speaks, log on to: www.autismspeaks.org.
To watch the game live online, go to www.gilmourlancers.com and click on the boys prep hockey schedule for a video link to the Feb. 3 Skate for a Solution Game.
Gilmour Academy is a Catholic, independent, coeducational, college-preparatory school.  It is sponsored by the Congregation of Holy Cross, Notre Dame, Ind., and offers a Montessori program beginning at 18-months-old and a Lower School, Middle School and Upper School. A boarding program is offered to students in Grades 7 through 12. It is located at 34001 Cedar Road in Gates Mills, Ohio.

NEO Sports Insiders Newsletter
Sign up to receive our NEOSI newsletter, and keep up to date with all the latest Cleveland sports news.