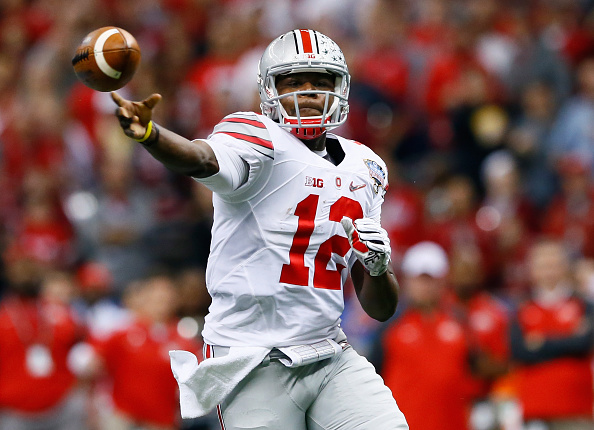 The Loyola-Chicago Ramblers have become America's team throughout the NCAA Tournament, as their improbable Final Four run has been headlined by buzzer-beaters, blowouts, and a whole lot of Sister Jean. And like most of the nation, a former Buckeye has publicly stated that he's pulling for the Ramblers to finish the job and bring home the championship.
That would be former Buckeyes quarterback Cardale Jones, who took to Twitter last night to show some love for the eleven-seed.
Pulling for Loyola-Chicago to win it all since the Buckeyes are out. Gotta love the underdog story.

— Cardale Jones (@Cardale7_) March 28, 2018
Jones is no stranger to being the underdog story, as he stepped in for an injured J.T. Barrett late in the 2015 college campaign and strung together three-straight victories to lift Ohio State to the 2015 National Championship victory over the Oregon Ducks. The Buckeyes also had to go through Wisconsin and Alabama, two tough opponents.
Of course, it's not too hard for Jones to choose who'd he prefer to win the National Championship due to the fact that the Michigan Wolverines are also one of the last squads remaining. Loyola- Chicago takes on the Big Ten Champion this Saturday from San Antonio, Texas.