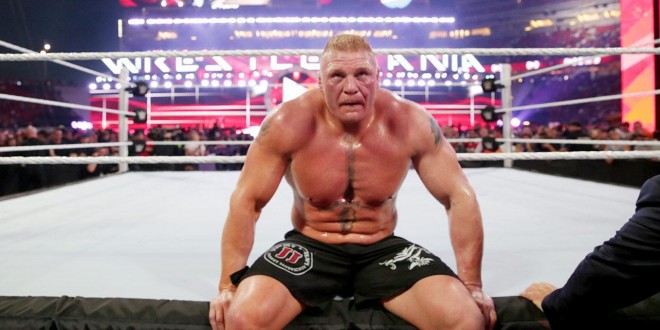 Part 10 of 10 in the series
King of the Ring (2002) was the tenth annual King of the Ring. It took place on June 23, 2002, at the Nationwide Arena in Columbus, Ohio. It was the final King of the Ring pay-per-view event.
It featured the traditional tournament that saw WWE newcomer and unstoppable beast Brock Lesnar walk away with the crown. He stormed through Test in the semis, and then RVD in the finals in less than 15 minutes combined to win it. It was the official beginning of his ascent to the main event picture.
Another giant match on the card pitted Kurt Angle against Hollywood Hulk Hogan. Angle dominated most of the match by using his amateur wrestling style. Angle applied an ankle lock on Hogan and forced Hogan to tap out.
It would be the last time we saw on Hogan on WWE PPV for nearly a year. The King of the Rings were never good to him.
The main event match was for the WWE Undisputed Championship. The Undertaker defended the title against Triple H. The Rock got involved late in the match, but it wasn't enough to throw the Undertaker off of his game, as the Dead Man walked away retaining the belt.
It came as a shock to myself and others the following year when the WWE did away with this being a pay per view, and didn't even bring the concept back for several years. When they finally did, it was a one night rushed show on Monday Night Raw.
The winners of those one night tournaments were
2006 Booker T
2008 William Regal
2010 Shameus
2015 Wade Barrett
Overall I really enjoyed doing this 10 part series on the King of the Ring. It was a great pay per view that I wish they would bring back. Perhaps now with MITB filling June's slot, they don't have the room. However, I can see them moving MITB to December, and using June for KOTR again.
There is no doubt, becoming the King of the Ring helped launch the careers of Edge, Kurt Angle, Brock Lesnar, Owen Hart, Steve Austin and HHH. While, not so much for guys like Billy Gunn, Mabel and Ken Shamrock.
It gave us several matches that will forever stand the test of time, such as Owen Hart vs 123 Kid (94), Mankind vs Undertaker (98), Angle vs Shane McMahon (01) and several more.
Feel free to stop back on the previous 9 pieces of this series and let us know what you think, and what WWE Pay Per View you would want to come back next?
For part 9 of this series. Please click below.

NEO Sports Insiders Newsletter
Sign up to receive our NEOSI newsletter, and keep up to date with all the latest Cleveland sports news.