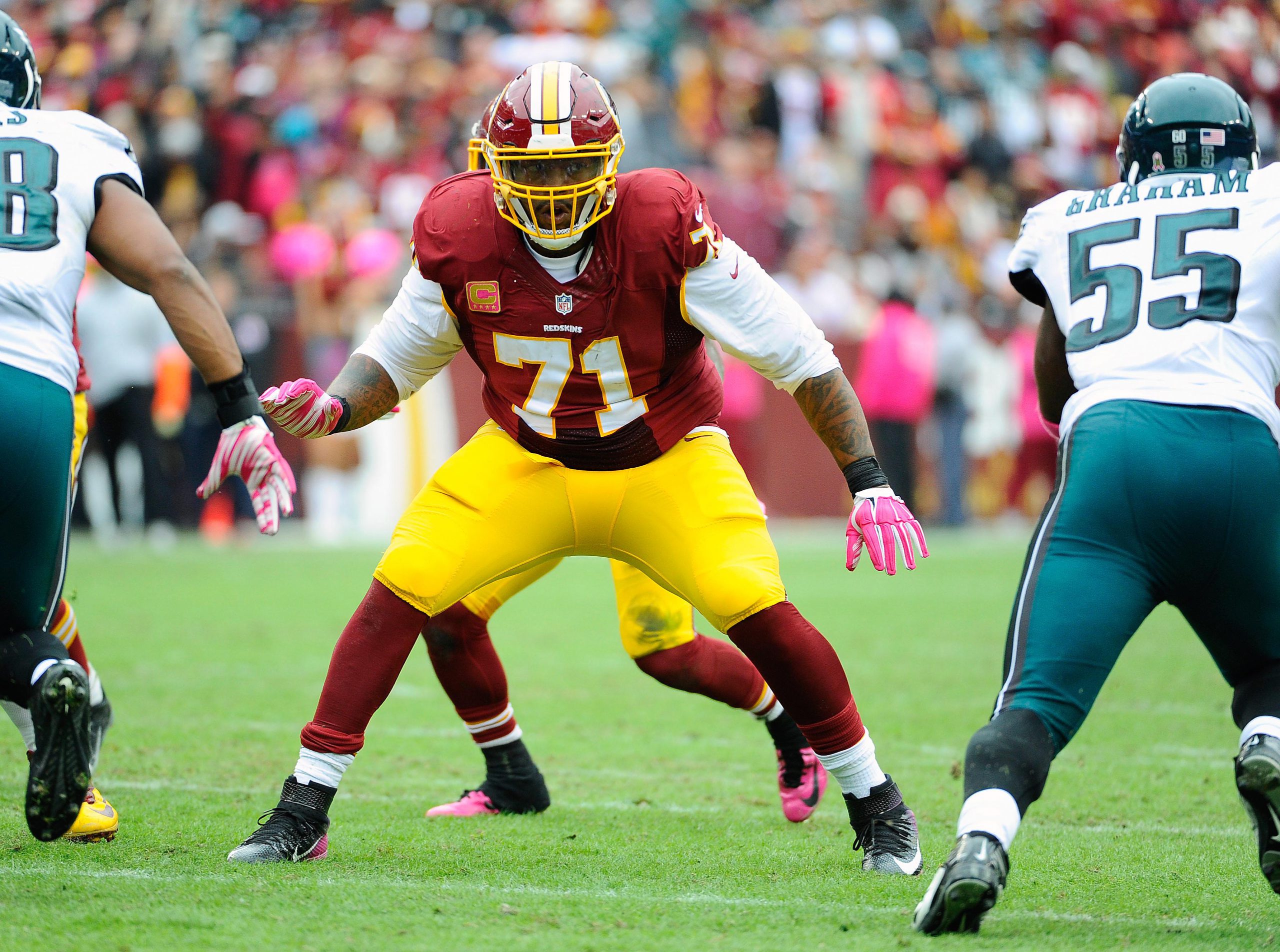 In recent years the NFL trade deadline has really gained some momentum in terms of teams actually swinging deals. Expect more of the same this season as the trade deadline fireworks already got started last week for a few teams, highlighted by the Rams blockbuster deal to acquire Jalen Ramsey from the Jaguars.
The Browns are sure to be active ahead of Tuesday's trade deadline looking to improve their weakest area: the offensive line. In fact they've already been linked to several O-lineman targets, most notably Redskins left tackle Trent Williams who is currently in a standoff with Washington and hasn't played a down this season. Browns GM John Dorsey confirmed last week that he has reached out to Redskins GM Bruce Allen (likely about Williams) emphasizing that it "takes two to tango," which implies that Allen is in no rush to deal the 31-year-old.
For now at least it appears the Redskins are unwilling to part with Williams despite his extend absence from the team. And because Williams is under contract for another year they may wait until the offseason to deal him. That means Dorsey and the Browns maybe forced to look elsewhere for an in-season fix along the O-line.
Here are five players they could pursue via trade.
1) T Nate Solder – Giants
Solder emerged as another target of the Browns earlier this week as CBS Sports.com's Jason La Canfora reported that Cleveland has shown interest in Solder if a trade for Trent Williams is impossible. While Solder, 31, may not be the dominant left tackle he was during his seven years with the Patriots, he would be an upgrade at the position for the Browns. For the Giants, as they look to build around rookie quarterback Daniel Jones and stellar running back Saquon Barkley the move would make a ton of sense from a cap saving standpoint. Solder's base salary jumps by more than $4 million next season and beyond and his total cap hit by more than $7 million, money the Giants would certainly like to have back as Solder approaches his mid-20s in the later years of his current contract. The Browns have ample space right now to absorb that money as they look to maximize this window where Baker Mayfield is still on his rookie contract. The irony of a Browns, Giants trade for Solder is that the Browns weakened their O-line back in March by sending guard Kevin Zeitler to New York as part of the Odell Beckham Jr., Olivier Vernon trade. Now they'd be looking to the Giants to help fix that position.
2) T Cordy Glenn – Bengals
After serving a one-game suspension last week for an incident between himself and a staff member Glenn returned to the practice field this week. It's unlikely that just because Glenn is back, all is well between him and the organization. Not to mention the Bengals are in the midst of an 0-7 campaign, which just perpetuates problems inside locker rooms. As the trade deadline approaches Cincinnati will be hard pressed to hang onto the 30-year-old. The question is if they deal him, would they be willing to send him to a division rival? It's unlikely but Dorsey wouldn't be doing his job if he didn't at least inquire about the possibility of a trade with their Ohio rivals. The biggest concern with Glenn is injuries. He's been plagued by everything from foot and back ailments to most recently a concussion over the last few seasons. Glenn hasn't played a full 16 games since 2015. Regardless, when healthy he's generally a solid left tackle and with his contract expiring after the 2020 season he'd be a short-term commitment for the Browns if they were able to pull something off.
3) OL Daryl Williams – Panthers
He's not Trent Williams, but Panthers tackle Daryl Williams could be an interesting trial acquisition for the Browns to pursue. I say trial because Williams has had some struggles at left tackle this season but has done enough to remain a starter along the O-line. Still, there are some players behind him breathing down his neck that the Panthers could decide to give a shot coming out of the bye week. He may not fit best at tackle but the Browns could even use Williams as a guard if they wanted to. Acquiring Williams also comes with minimal financial and contractual commitment as he's playing on a one-year deal that would allow the Browns to easily move on if he doesn't provide the stability they're looking for by seasons end. It's a move that would show Dorsey is at least trying to improve an area of need but doesn't necessarily handicap the team into retaining a player if he doesn't pan out.
4) T Garrett Bolles – Broncos 
A 2017 first-round pick, Bolles has been a holding machine out in Denver. Those struggles have continued in 2019 as he's failed to meet expectations throughout this early portion of his career. That is the key here for Bolles though, that it is still relatively early in his career – granted by year three teams generally like to be seeing some consistency and the only thing he does consistently is hold. Still, as the old adage goes: maybe a change of scenery will be good for him. The Browns could certainly provide that if the Broncos decide enough is enough and commit to the rebuild they're trending toward. Whether or not Denver moves on from Bolles remains to be seen. For now he's still a starter at left tackle and given their lack of offensive line depth they may opt for keeping him until at least the offseason.
5) T Brandon Shell – Jets 
Shell was recently jumped on the depth chart by rookie third-round pick Chuma Edoga, who has immense potential for the Jets o-line. That had as much if not more to do with Shell's benching than his play. Don't get it twisted, Shell isn't going to emerge as a Pro Bowl talent anytime soon but he might offer a nice change of pace at tackle from Greg Robinson or Chris Hubbard if the Browns wanted to acquire him. For now, the 27-year-old is just burning a hole in the Jets pocket as a formidable tackle on an expiring contract that New York is unlikely to re-up. Their best bet is to trade him. There's a reason Shell is fifth on the list. He shouldn't be the Browns first choice but he's an option for them if the market for offensive line talent grows thin and stingy.

NEO Sports Insiders Newsletter
Sign up to receive our NEOSI newsletter, and keep up to date with all the latest Cleveland sports news.