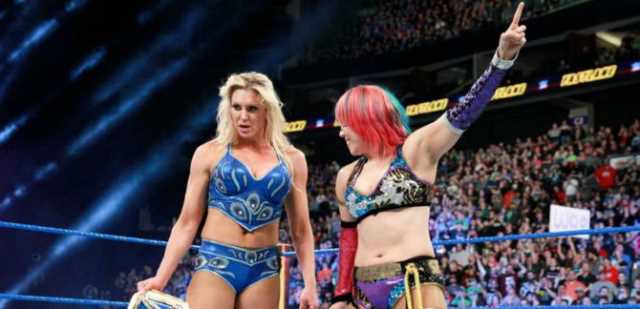 NOLA hosted WWE WrestleMania for the second time in Five years last night.  It was another good show, and only a few late blunders kept it from being great!  Those blunders being a flat match between Shinsuke Nakamura and AJ Styles that simply went on way too late.  Had it been on earlier, the result may have been better.  Still a solid match, but it became clear it wasn't going to live up to the hype.
As well as a bizarre turn of events that saw Braun Strowman choose a random little kid from the crowd, to be his partner.  With the exception of those two disappointments,  the WWE creative team absolutely delivered!
Here below are the match by match grades.  Enjoy!
They get an A
Hard to argue Charlotte vs Asuka being voted best match of the night.  It was set up perfectly to be good, and sure did deliver!  Charlotte winning was also the correct booking decision as she now looks to be untouchable a the top, and will more the likely dominate for the next year before facing Ronda Rousey at WrestleMania 35.
Speaking of Rousey, to the shock of many her match alongside Kurt Angle versus HHH & Stephanie also earns an A.  The match was booked perfectly, not exposing Rousey and keeping her in her comfort zone.  Having true pro's like Kurt Angle and HHH dictate the tempo and high spots of this match, was brilliant!  What could have been horrible, turned out to be incredible.
It is a tough spot to open WrestleMania, but the Miz, Seth Rollins and Finn Balor lived up to the hype.  All three men brought their best and got the main card portion of the show off to a great start! Rollins going over was a bit of a shock, as I had believed he would be the next contender to the Universal Title.
John Cena in the crowd reacting to matches was great.  His time in the ring with The Undertaker was even better.  This was another angle that was perfectly done.  It happened at the exact right time, with Cena getting the news as the crowd was already in peak form following the dramatic Asuka vs Charlotte clash.  Also, the booking of the match was also perfectly done.  Expect career vs career to be set up on RAW tonight.
The once floundering 205 Live show now has a decent chance at a rebirth.  Cedric Alexander and Mustafa Ali had nothing to lose and put on a classic! While this continues to be the bathroom segment of most RAW's, there is no denying that this match at Mania continues to be good.  Two years in a row, it was banished to the preshow, but two years in a row, it delivered.
They get a B
This card had no shortage of dramatic matches, while not all of them were A+ plus, many of them were a solid B+.  Daniel Bryan & Shane McMahon defeating Kevin Owens & Sami Zayn wasn't the booking decision I would have went with, but there was no denying the dramatic climax of this match.
Daniel Bryan coming up huge once again in the Super Dome.  The match was laid out very well, only thing keeping it from being an A was the decision to have Owens and Zayn lose (again). This should have been their time to go over.
People are going to poo poo on the Shinsuke Nakamura vs AJ Styles match because it wasn't the dream match everyone thought it would be.  However, both men still entertained us, and the ending will forever be memorable.
The same can be said about Brock Lesnar vs Roman Reigns.  While Roman kicking out of Five finishing moves, including one through a table seem hardly believable, the right guy still won.  It was a good match with plenty of suspense and a surprise ending no one can complain about.
Listen, say what you want about Fabalous Moolah and how this match was "supposed" to honor her before it all got switched.  None of that matters, the women once again shined when given the chance to do so.  Much like they did in the Elimination Chamber.  The "Women's Battle Royal" was multiple times better then the Andre The Giant Battle Royal.
Alex Bliss, even in defeat to Nia Jax was the star of the B rated match.  She did a great job putting the non athletic Nia Jax over.  I understand to an extent, the tears of Jax after the match, but quite honestly she should be thanking Bliss profusely for making her look somewhat decent.  Bliss was incredible once again in carrying the match.
They get a C
While I agree with Jinder Mahal winning the United States Championship, does anyone really remember anything from the United States Fatal Four Way match?  It wasn't bad, but it was far from good.  Yet another WrestleMania clunker in a match that included Randy Orton.
While The Uso's versus The New Day is magic, anytime you add a third team to the mix, it seems to flounder.  It was cool however to see The Bludgeon Brothers win the Smackdown Tag Titles. 
They get a D
Despite the cool finish of Bray Wyatt helping Matt Hardy, The Andre The Giant Battle Royal has lost its luster.
They get a F
Braun Stowman and random 10 year old kid named Nicholas defeat The Bar for the Raw Tag Team Championship.  Do I really need to type anything else?
The Entire Card gets a grade of A
With 10 of 14 matches either getting an A or B, it is not hard to see why this Mania will be remembered as one of the better ones for a very long time to come.  It had multiple shocking endings, and matches that electrified the crowd.  While you may not agree with every booking decision, you have to agree that this night didn't disappoint

NEO Sports Insiders Newsletter
Sign up to receive our NEOSI newsletter, and keep up to date with all the latest Cleveland sports news.