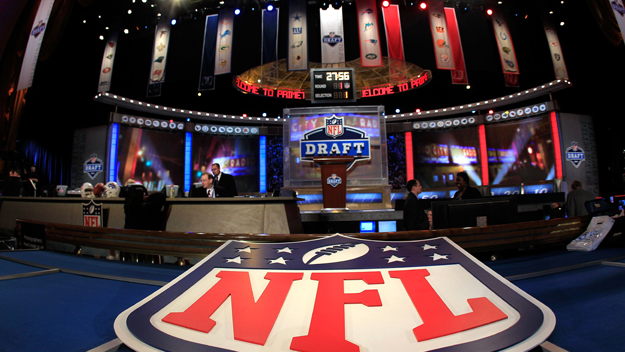 By Mike Holzheimer
Once again, the Cleveland Browns are in the spotlight.
Last year, the team had its most successful season since 1994 by finishing 11-5 and earned its first playoff win in 26 years by defeating the Pittsburgh Steelers, 48-37, in a first round wild-card game. Tonight, the 2021 NFL Draft will take place under the bright lights in Cleveland, which seems fitting that one of the most talked about football franchises with its "rags to riches" story would play host to this annual event.
And unlike past seasons, the Browns have very few questions coming into a draft, and are clearly sitting in a much more comfortable seat. This team couldn't be in a better position heading into its first round pick (No. 26).
Cleveland fans everywhere will also be sitting in their recliners or on their couches during a draft not ready to jump up or fall off in amazement as to the selections made by what could only be described as a "fundamentally challenged" front office from days gone by.
Those worries are gone, which is what happens when you finally have solid football people making football decisions about your team. Enter head coach Kevin Stefanski, the 2020 NFL "Coach f the Year" recipient, and Executive Vice President of Football Operations/General Manager Andrew Berry. Was there a more efficient or effective NFL GM than Berry this past off-season?
Berry, with Stefanski, addressed the Browns major needs on defense, and signed free agents to come to Cleveland and fill the gaps. Former strong safety from the Los Angeles Rams John Johnson was a major find, and one who significantly improves a secondary that demonstrated much difficulty in both pass coverage and tackling.
Defensive end Takkarist McKinley (Las Vegas Raiders) and cornerback Troy Hill, Johnson's former teammate from LA, are also quality pickups. But the best move, in terms of defensive signings, may have come when Berry inked top defensive end and former first round pick of the Houston Texans Jadeveon Clowney to a contract.
And while injuries may have slowed the pass rusher down a bit during his times with Tennessee and Seattle, there is no denying Clowney's fierce defensive presence. And if healthy, Clowney, rushing from the edge along with Myles Garrett, could give the Browns a very dangerous and lethal pass rush.
Still, with these defensive improvements, I see the Browns looking towards the defensive side of the football to begin tonight's draft. As I see it, the top 3 needs for Cleveland are linebacker, cornerback and wide receiver.
Given that, with the Browns' first pick at No. 26, I see them selecting Tulsa's outside linebacker Zaven Collins. Cleveland could really hit this pick right out of the park as Collins possesses both size and speed allowing him to fight off the blockers and cover receivers out of the backfield. He is the reigning "Dick Butkus Award" winner-enough said!
Collins is 6-3, 241 pounds with a 4.63 time in the 40-yard dash. He shows much athleticism and can pursue the football like no other from the line, and as an off-ball linebacker. Many see him as an "impact player" in the NFL, and so do I. Cleveland's next pick is at No. 59 in the second round. Here is where I might look at another secondary player.
Denzell Ward has played well since his arrival in Cleveland, but those injuries has to be a concern for the coaching staff. I might look in the directions of Georgia cornerback Eric Stokes, or USC strong safety Talanoa Hufanga.
Stokes brings that old quality known as having tremendous "upside" to his position, and one who can cover an offensive deep threat, while Hufanga is an instinctive and physical player. The Browns wouldn't come up empty with either pick at this position in the draft.
Finally, why not try to "steal" or find that "diamond in the rough" at wide receiver in the deeper rounds? Cleveland, like most of its offensive positions, seem to be just fine here. In Nick Chubb and Kareem Hunt, the Browns have the best running game in the league. And yes, Browns fans, for the first time in many a draft, the team knows exactly who its quarterback is heading into a season. Baker Mayfield is "the man," and is ready to just get better and better with the offensive line in front of him, and the scoring weapons around him.
I might also look into strengthening that offensive line. Cincinnati's James Hudson, a 6-5, 310-pound tackle, can be found late in the draft. He is projected to be a "true find" with the physicality that NFL teams demand for an offensive lineman.
As always, draft night/weekend seemingly brings just as much excitement to the fan as does opening day or a playoff game. Tonight, everybody starts from scratch with visions of getting to the Super Bowl no more of a stretch than it is for the team up next on the selection board.
And as far as that climatic game in February to crown a NFL champion, many members of the national media speak of 4 teams that can certainly earn victory in the AFC championship game in 2021-Kansas City, Buffalo, Indianapolis and Cleveland.
Yes, Browns fans, your team can now be mentioned in the same breath with some of the elite squads in professional football. The journey continues tonight as Cleveland can only make what is a good situation now, even better with its picks.
The difference now is unlike past seasons or drafts, people want to come here and be a part of the transformation and a return to the glory days of this proud franchise.
And again with quality, proven football people making these key football decisions, the sky is the limit, And everyone in "Browns Nation" couldn't be happier. Enjoy the draft, everyone!
My "Top 10" Picks in the 1st Round:
1. Jacksonville Jaguars – Trevor Lawrence-QB, Clemson
2. New York Jets – Zach Wilson-QB, BYU
3. San Francisco 49ers (trade from Miami via Houston) – Mac Jones-QB, Alabama
4. Atlanta Falcons -Ja'Marr Chase-WR, LSU
5. Cincinnati Bengals – Penei Sewell-OT, Oregon
6. Miami Dolphins (trade from Philadelphia)- DeVonta Smith-WR, Alabama
7. Detroit Lions – Jaylen Waddle-WR, Alabama
8. Carolina Panthers – Gregory Rousseau-DE, Miami
9. Denver Broncos – Kwity Paye-DE, Michigan
10 Dallas Cowboys – Patrick Surtain III-CB, Alabama
*And for the Ohio State fans, I'll extend my list to No. 15 where I see the New England Patriots taking Buckeye QB Justin Fields.

NEO Sports Insiders Newsletter
Sign up to receive our NEOSI newsletter, and keep up to date with all the latest Cleveland sports news.