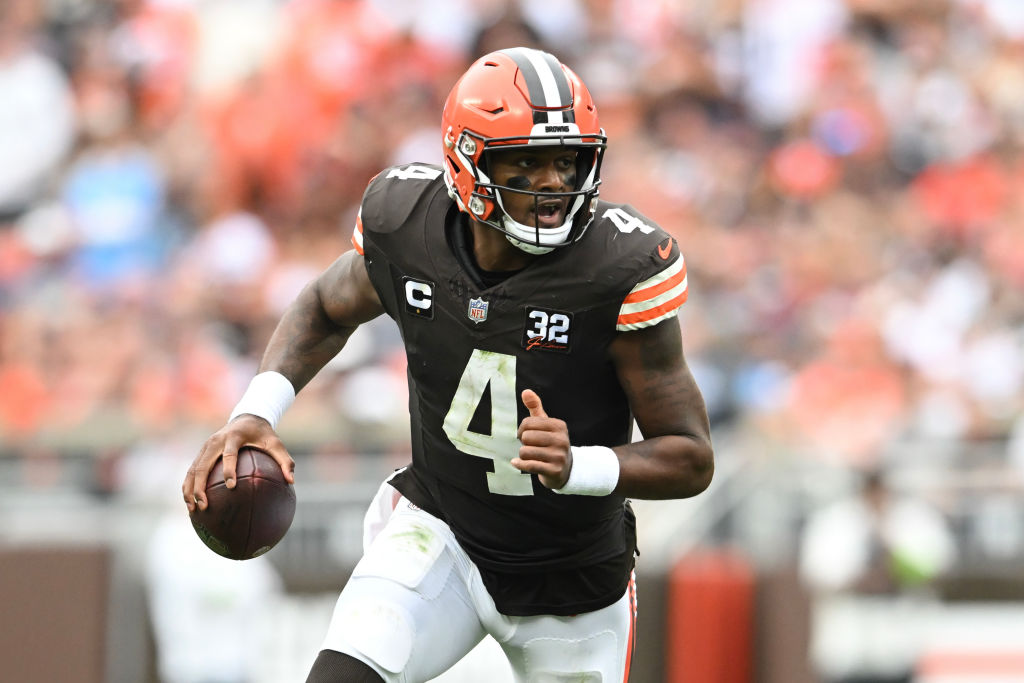 Cleveland- When the Browns signed Deshaun Watson, they took the biggest gamble in franchise history. The former Texans quarterback hadn't taken the field in over a year sitting out the 2021 season awaiting a trade from Houston. The reason he didn't play is quite a story in itself, however I am focusing on the gamble Watson is as a player. Many fans touted his passing stats – which in reality were achieved in garbage time with a losing record of 4-12 in his last season with Houston.
Time to call it what it is
As soon he signed I was told by fans that he was elite and would catapult the Cleveland Browns to heights unseen. Fast forward to his second season with the Browns and Watson is an epic failure. The gamble the Browns took on their "franchise quarterback" can now officially be considered a loss.
In his first season Watson's supporters made excuses for his poor play saying he needed time to "knock the rust off." I spoke to so many fans disputing the theory that he was an elite quarterback. I was mostly met with this standard comment: "you don't know ball." That response was given to me hundreds of times and I was told "just wait til next season he's going to drop 50+ points on teams." That certainly has not been the case. Not even close.
Questions swirl around Watson's shoulder
Watson has one decent game this season which was against Tennessee. After that is when the soap opera that I like to call "Days of Deshaun" started to get interesting. Watson hasn't looked comfortable under center since he joined the Browns. Cleveland's stellar defense is mainly responsible for putting the team at 4-2. Watson was a surprise scratch against the Ravens in Week Four. Stefanski spoke on it here:
Stefanski's remarks were viewed by many as throwing Watson under the bus. However, it appears more like a coach who was blindsided by his diva quarterback. A diva who didn't want to face the Ravens. How would Watson compare to Lamar Jackson? We won't know as he choose to sit out and leave rookie quarterback DTR unprepared to take his place.
After that fiasco many different stories began to come from the Browns organization. They reported that Watson was "medically cleared" yet he just didn't feel "functionally able." The $230M quarterback was silent. He wasn't speaking to the media. This left fans scratching their heads.
Enter PJ Walker
Next up was San Francisco. If Watson was intimidated by Lamar Jackson, he surely wouldn't suit up against the 49ers – the best team in the league. Of course, as the soap opera goes his shoulder injury was just too much to face such a team. The Browns called up PJ Walker and Cleveland ended up winning by a missed 49ers field goal with a few seconds left on the clock.
Next up on the schedule was Indianapolis. Coincidently Watson spoke on October 18 for the first time since September 27. He said he had a tear in his shoulder but felt he would face the Colts.
Deshaun Watson explains his shoulder injury as a strained rotator cuff. Said he has a "micro tear." pic.twitter.com/3oCD9Lr7hi

— cdotcombrowns (@cdotcombrowns) October 18, 2023
He practiced and seemed to be ready to go against Indianapolis. Until he was pulled from the game in the first quarter exiting with an underwhelming 5 yards and one interception. Watson was checked after landing his head on the turf during a hit by the Colt's defensive end Dayo Odeyingbo. He was cleared through concussion protocols however he didn't return to the game.
Further disconnect
Walker couldn't provide much relief for Cleveland, yet the defense led by Myles Garrett – along with the referees giving two outrageous penalties against the Colts – would give the Browns the victory. Watson appeared to attempt high fives with a few teammates after the game and they walked by him. There seems to be a lack of respect for QB1 who doesn't act the role of team leader. Both Stefanski and Watson spoke after the win fueling only more doubt into the minds of fans. Stefanski stated Watson would be the starter this week against Seattle while the quarterback said he was "not sure, we'll see."
Excuses, excuses
To break it down, Watson was never an elite quarterback. He has struggled and doesn't have the talent of a true top quarterback. You'd be hard pressed to name a hall of fame quarterback who'd sit out games with a bruise or a "micro tear." The argument that the organization has learned from their mishandling of Baker's injury is just another excuse. It's simple Watson is checked out. He has been exposed for what he really is on the field – a below average quarterback. It's not news to the organization or his teammates. Watson has a built-in excuse now with his shoulder. He can use that when he doesn't feel like playing. Or if he plays poorly, as he did against Indianapolis, he'll get a pass because of the "injury."
He may not be an elite quarterback however he is an elite narrative creator. The bad news for Watson is that many are starting to see through his smoke and mirrors act. It's not all bad news for the highly paid quarterback as he can basically play as he chooses because the Browns guaranteed his contract. If he's "injured" well then of course they must "protect their investment." There's always some sort of dysfunction swirling around the Browns. It's now in the form of a quarterback lacking the heart and skill that he was so highly paid for. Some will point to the Browns record and say, "who cares?" that non-caring mentality is exactly what created this mess.

NEO Sports Insiders Newsletter
Sign up to receive our NEOSI newsletter, and keep up to date with all the latest Cleveland sports news.