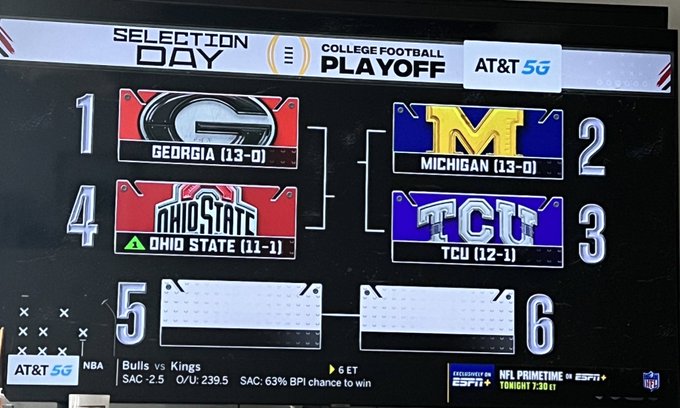 What in the world just happened this weekend with the College Football Playoff (CFP)? We went from Ohio State out to maybe Ohio State in! USC guaranteed in then not. TCU in, then out then in again? Oh, and Georgia and Michigan? Both still #1 and #2 respectively. Let's recap!
Friday night: Utah 47 vs USC 24
Utah just DISMANTLED USC, eliminating them from playoff contention! 😱

Looks like Ohio State will get the #4 spot. 👀 pic.twitter.com/Owu7A5e9ZJ

— College Football (@elitecfbnow) December 3, 2022
Cameron Rising had 3 TD passes, Utah ran for 223 yards and three TDs as Utah pounded Lincoln Riley's USC Trojans. The Utah TD at the end of the first half gave the Utes all the momentum they needed to crush their rival. Caleb Williams, the QB for the Trojans, was 28 for 41 but saw his Heisman chances take a huge hit with the loss.
That's two wins for Utah over USC in the PAC 12 this year. For all the USC bravada they couldn't beat the only team they lost to in the regular season! USC will not be in the college football playoff after this loss.
ohio state fans seeing utah just beat usc pic.twitter.com/zYyWA6QLRJ

— Christian 👑 (@chri2tiannn) December 3, 2022
Of course, Ohio State fans were in a happy, smiling mood, right? Oklahoma fans warned USC fans about Riley.
A letter to USC fans:
It goes without saying that we warned you. We told you what would happen under Riley & Grinch, but you wouldn't listen. You mocked & laughed at Sooner Nation and now who's sitting at home crying 🤷‍♂️ get used to it USC, because it won't get any better!

— MR SOONER ⭕🙌🧬 (@MRSOONER75) December 3, 2022
Saturday: Kansas State 31 vs TCU 28 OT
KANSAS STATE SHOCKS TCU IN OT TO WIN THE BIG 12 💪 pic.twitter.com/1DIxbo9MQX

— CBS Sports (@CBSSports) December 3, 2022
Kansas State kicker Ty Zentner nailed a 31 yard FG in OT as #3 TCU suffered its first loss of the year in the Big 12 title game. The FG happened because Kendre Miller for TCU was stopped twice at the goal line. We won't bring up the potential officials' questionable calls.
Honestly, the USC loss helped TCU even before the first kickoff! But they wanted an undefeated season. First year Horned Frog coach Sonny Dykes deserves to be in the college football playoff just on what he has done with this program.
But again, Ohio State fans and Alabama fans started to wonder…can we sneak in?
Ohio State and Alabama football looking at TCU and USC today . WOW TCU and USC go down. pic.twitter.com/RSfD7q74Ta

— Lost in Tweets (@dellakwal) December 3, 2022
Saturday PM: Georgia 50 vs LSU 30
The game was over when LSU's field goal was blocked by Georgia in the first quarter. With the ball spinning madly at the four yard line, Christopher Smith, the senior cornerback from Atlanta, waited then picked up the ball and raced 96 yards for the opening TD. 
BLOCKED… and recovered by Georgia for a TD?! 😳

(via @CBSSports)pic.twitter.com/GhkkomZG2B

— Bleacher Report (@BleacherReport) December 3, 2022
And to really add to the game, Georgia coach Kirby Smart decided to go for 2 with the last Georgia score. A successful conversion put the point total to 50. When asked why, Smart responded:
"The books says you go for 2 there!"
Right, Kirby! 
Alabama and Buckeye fans had one last hope for chaos!
Late Saturday: Michigan 43 vs Purdue 22
.@finebaum is giving Jim Harbaugh PRAISE after @UMichFootball's win over Ohio State 👀

"This is one of the greatest, if not the greatest, transformation in college football history." pic.twitter.com/WBq39xHfpI

— Get Up (@GetUpESPN) November 28, 2022
Paul Finebaum, Jim Harbaugh's most harsh critic, picked an interesting time to sing the UM's coach's praises. He and a myriad of others have criticized Jim and the way he runs the program. But Michigan fans are a different breed and care not about Paul.
In the "game that would never end"(thanks to the largest collection of commercials ever for a football game), Michigan defeated a determined Purdue team with another amazing second half…just like this Wolverine team and Harbaugh's coaches have done all year! 
Second. Half. Team.#B1GFCG x @UMichFootball pic.twitter.com/j4FT2S9qv4

— Michigan On BTN (@MichiganOnBTN) December 4, 2022
JJ McCarthy was only 11 for 17 but had 3 TD passes. Kalel Mullings and Donovan Edwards led the fierce Wolverine running attack with a combined 3 TDs and over 200 yards rushing! Michigan scored 28 points in the second half to open the game wide!
Purdue and Aidan O'Connell
Aidan O'Connell, the Boilermaker 6 year QB, led his team on a comeback against Indiana for the Big Ten West crown and the right to battle Michigan for the Championship. He was magnificent all game, minus the two interceptions. He made some amazing throws. But he was playing with a heavy heart. He lost his older brother before the Indiana game. His status was unknown for the Big Ten Championship game, but played magnificently.
So what do Michigan fans do? Hearing his story, many of the Blue faithful donated $16 each for the fund set up by his family. The $16 represents Aidan's uniform number. The people who follow Michigan and sing Harbaugh's praises follow the lead of the former Wolverine QB. "It's all about the athletes" is one of Jim's signature phrases.
College Football is the Best!
It's stories like these that make college football the best thing to watch on a fall day!
And Ohio State fans got their wish. They are the #4 team in the CFP! Bye bye, Alabama!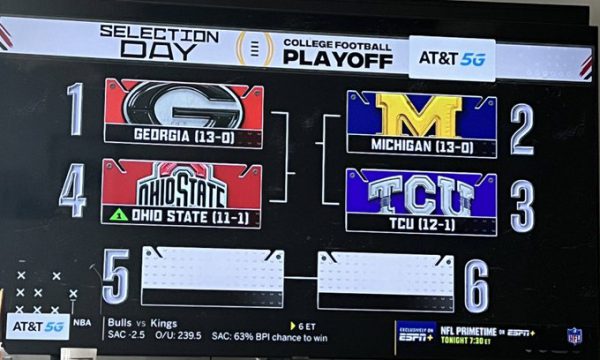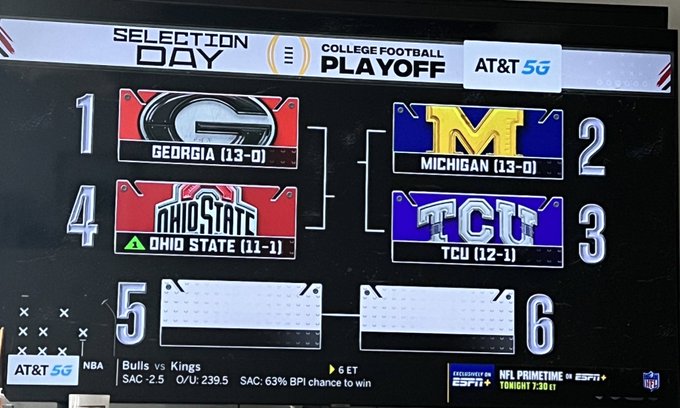 NEO Sports Insiders Newsletter
Sign up to receive our NEOSI newsletter, and keep up to date with all the latest Cleveland sports news.