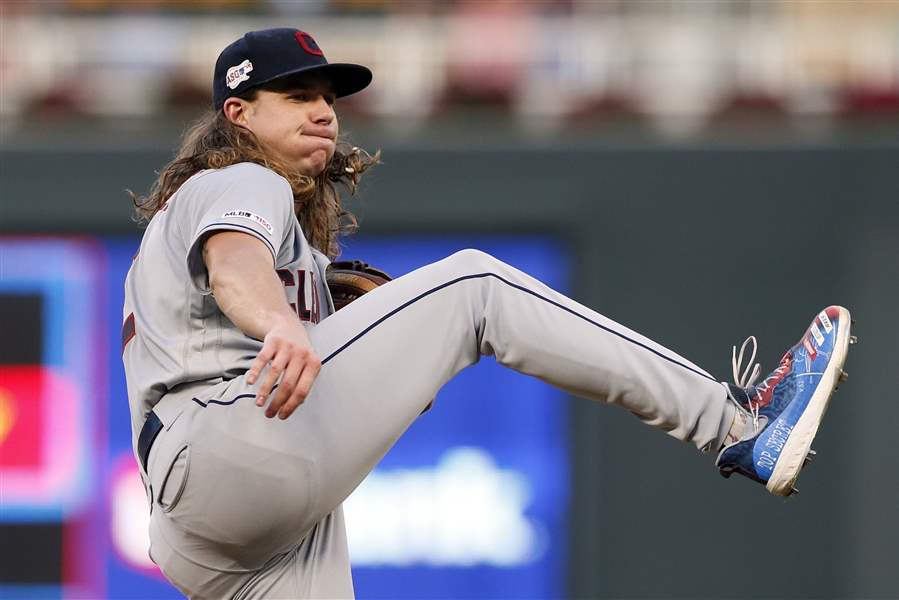 Despite the 2019 MLB Winter Meetings coming to a close, there's still plenty of rumors going around that the Indians and Los Angeles Dodgers are still connected when it comes to Indians All-Star shortstop Francisco Lindor.
But he might not be the only one heading out west.
The Dodgers were reportedly aggressive going after Gerrit Cole, Anthony Rendon and Stephen Strasburg, all of which signed for huge money elsewhere, so they now may turn up the heat in trying to get a couple of players off the Tribe roster.
Along with Lindor, there's been rumors in the past of the Dodgers having interest in pitcher Corey Kluber, and now there is reports of the Dodgers inquiring about fellow Tribe starter Mike Clevinger.
The 28-year-old Cleveinger had a stellar 2019 despite missing some time with injury, going 13-4 with a 2.71 ERA. He threw 126 innings with 169 strikeouts.
David Vassegh, a Dodgers reporter and host of 'Dodger Talk' at AM 570 LA Sports reported the news that Clevinger was a player mentioned along with Lindor in a deal between the Tribe and Dodgers
"The Dodgers have a lot of prospect capital and not just guys, but guys that can make a difference. Gavin Lux, from what I've been told, is a guy that the Indians would want in any deal for Francisco Lindor. From what I've found out the last 24 hours, there have been different versions of the trade discussed that would involve Lindor and not Corey Kluber, but Lindor and possibly Mike Clevinger."
Clevinger has been sensational over the last three seasons as part of the Indians rotation, winning 12 games in 2017, and 13 each in 2018 and 2019.
If the Indians were to dangle and actually offer both Lindor and Clevinger in a deal to the Dodgers, the loot they would get back would have to include the top two Dodgers prospects, Gavin Lux and Dustin May.
That wouldn't be just it, as along with Lux and May the team would likely demand at least a another pair of high level prospects and possibly even one or two players already with Major League experience.
Clevinger is set for his first year of arbitration, which means his price tag is going to start to rise, a reason the team was willing to deal Trevor Bauer, who would not ink a long term deal.
There's been no reports of the Indians and Clevinger discussing a long term deal, which is probably part of the reason they are willing to put his name out there.
Look for the rumors between the Indians and Dodgers to continue, as it sounds like the teams had plenty of talks at the Winter Meetings in San Diego.

NEO Sports Insiders Newsletter
Sign up to receive our NEOSI newsletter, and keep up to date with all the latest Cleveland sports news.