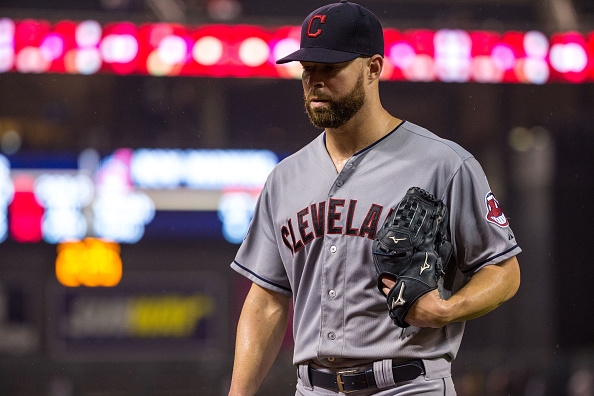 Cleveland Indians ace Corey Kluber hasn't exactly been lighting the world on fire with his first three starts and it has some questioning if the slow start is a reason for concern moving forward.
So far this season Kluber has started three games for the Tribe and the team is still searching for thier first victory when the 2014 Cy Young Award winner takes the mound.
Kluber has posted a 6.16 ERA while going 0-3 to start 2016.
So, what's wrong?
For one, according to Cleveland.com, Kluber's velocity has been down thus far.
During the first month of the 2015 season, Kluber's four seam fastball was averaging 94.0 mph with his two-seamer clocking in at an average of 93.7. Through his first two appearances this year, those same two pitches were averaging 93.0 mph and 92.6 mph respectively.
Sunday's numbers came in at 91.5 mph when he threw the four seamer and 91.9 mph for the two seam fastball.
Terry Francona was asked about the drop in velocity after Sunday's loss.
Francona told reporters, "I think there's times when, mechanically, he might swing open a bit."
That comment was then brought up to Kluber after the game.
The ace responded, "Yeah. I feel fine, so it's probably just a little mechanical adjustment."
The Tribe skipper doesn't seem very concerned about his ace moving forward as long as he can keep the early miscues to a minimum.
Francona talked some of the worriers off the ledge, saying, "He still has the ability when he gets going, you saw how many bats he missed. He just made some mistakes early and they made him pay for it."
For Francona, it's all about his ace finding a rhythm.
"I also think confidence plays a big part in it. We've all seen him as he gets into a game and he gets on a roll, it seems like it creeps up. I've always felt watching him pitch as he gets going into a game his velocity can really start to creep up," the Tribe manager explained.
Entering the new season, Kluber was looking to put last year's rough start behind him but so far it's been much of the same.
Unfortunately for the Indians, Kluber has yet to figure out a way to be effective in the early going. In his first seven starts of 2015 Kluber was 0-5 with a 5.04 ERA while the team failed to put a tally in the win column.
The good news is he was much better the remainder of the season.

NEO Sports Insiders Newsletter
Sign up to receive our NEOSI newsletter, and keep up to date with all the latest Cleveland sports news.