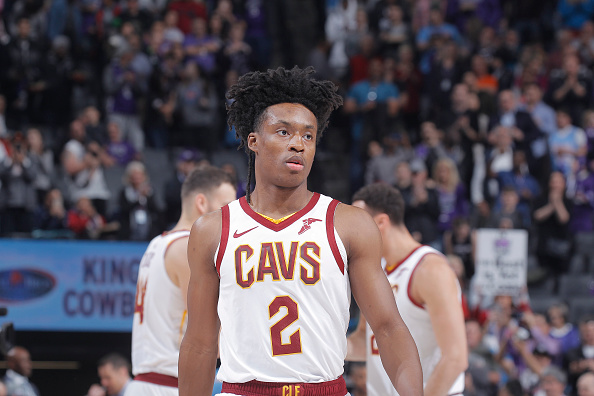 Thanks to their yet-to-be-determined order in the draft, we don't know who the Cleveland Cavaliers will be selecting with their lottery pick this summer. Should they land anything besides the first overall selection Tuesday night – thus taking them out of the Zion Williamson sweepstakes – who they select becomes a crap-shoot.
One player the Cavs could take with a high pick is Murray State point guard Ja Morant. Of course, should they do so, it'll complicate things for Collin Sexton, the point guard they drafted last summer.
Per Sam Vecenie of The Athletic, some NBA executives believe such a scenario would force the Cavs to consider trading Sexton. While this may make sense on paper, it's a situation I'd hope Cleveland avoids.
Personally, I believe Sexton should stay put, even if Cleveland ends up taking Morant.
Such a statement is sure to evoke some fairly obvious questions. Why would the Cavs even be in the market for Morant if they just took a point guard last year? Likewise, if Morant is the best player available when it's their time to draft, why wouldn't they see if they can get valuable returns for Sexton?
All that said, this situation isn't as clear-cut as it seems.
For one, we know Cleveland likes Sexton.
It may have taken longer than the team would've liked, but the rookie showed surprising growth after a rocky first few months. By the end of the season, Sexton was proving to be a reliable scorer, taking smarter shots and no longer looking like he was years away from reaching his potential.
Such a fast turnaround had owner Dan Gilbert going out of his way to voice support for the man they call "Young Bull," while also force-feeding some crow to those who were quick to label him a bust.
Remember those noisemakers (and beat writers) attacking the young teenager (at the time) during his first few weeks in the NBA? Couldn't be more proud of Collin. He grinds daily. Character, presence and talent. Kid is the real deal… https://t.co/XfrUeI161F

— Dan Gilbert (@cavsdan) March 13, 2019
At the same time, we also know the Cavs are intrigued by Morant.
The Murray State standout became a household name last season, averaging 24.5 PPG and an astounding 10 assists per game. He was one of the nation's most dynamic playmakers, something Cleveland's scouts witnessed first-hand on multiple occasions last year.
So, should the Cavs land the second or third overall pick Tuesday night, Morant is clearly a name they'd consider.
With that said, this shouldn't be an "either or" situation.
Cleveland shouldn't suddenly feel as though Sexton is expendable if Morant is the best prospect available. Likewise, the team also shouldn't pass on him because it already has Sexton on the roster.
I've long thought Morant would be a great fit with the Cavs, if only because of how the front office views Sexton. For as much as they've come around on last year's top pick, word is the higher-ups are unsure if point guard is really his true position. While Sexton has shown an ability to lead the offense, he's definitely lacking when it comes to the distribution aspect of his role.
Knowing this, and knowing how Morant has shown no hesitation when it comes to his love of getting teammates involved, he and Sexton could actually make a dynamic backcourt.
One would think Cleveland feels the same way. Why else would they put so much time in scouting Morant just months after drafting Sexton?
The Cavs are clearly excited about Sexton's turnaround. They're also still trying to determine his best fit on the court. As a result, drafting Morant wouldn't have to be considered a "swapping out for a better model" scenario.
Of course, it's all speculation until Tuesday. Cleveland may land another first overall pick and eliminate the mystery altogether. Or the pick could fall to sixth, forcing the team to focus on a completely different set of prospects.
One thing which shouldn't change, no matter where the Cavs' pick lands, is Sexton's status on the team.
There's no underselling it – Tuesday marks a make or break day for the Cavs' rebuild. In Sexton, they may already have one potential cornerstone player in place. As a result, it's difficult to believe they'd deal him away so quickly, regardless of who they end up drafting.

NEO Sports Insiders Newsletter
Sign up to receive our NEOSI newsletter, and keep up to date with all the latest Cleveland sports news.