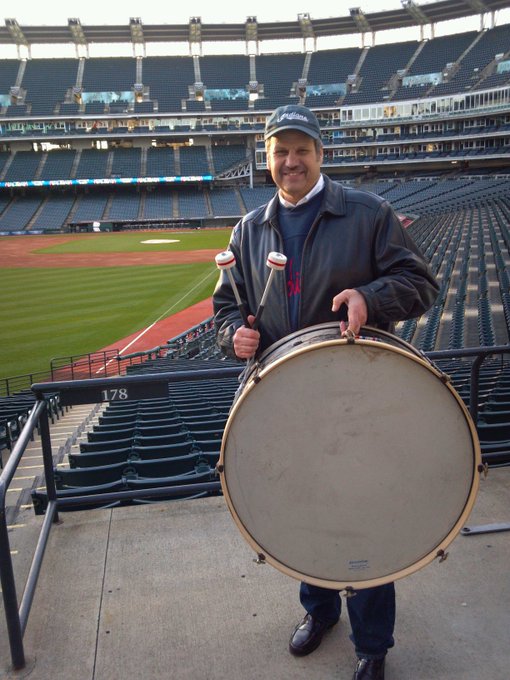 Cleveland-
It's one of baseball's greatest stories. A fan who brought a drum to a game one day in 1973 and continued to do so for more than 3,700 games.
If you know Cleveland Baseball, you know John Adams. You've heard that rhythmic drumbeat coming from the left field bleachers. Adams is a legend and on August 24 he was inducted into the team's Distinguished Hall of Fame. That day is monumental as in 1973 on that exact date Adams first brought his drum to the stadium.
How it began
Adams played bass drum in the band at both St. Ignatius and Parma high school until he graduated in 1969. He went on to graduate from Cleveland State University. Adams has been attending the team's home openers since 1955.
At Municipal Stadium fans would bang the seats of their chairs during intense moments of a game. It was a tradition. Adams preferred to sit in the bleachers but that meant there wasn't a seat for him to participate in the tradition. He took an unconventional route. On his way to the game on August 24, 1973, Adams stopped at a yard sale and purchased a drum. He even paid for an extra seat to bring the drum in.
Bob Sudyk, a reporter for the Cleveland Press, noticed Adams and his drum. Intrigued, Sudyk asked Adams if he planned to bring his drum to the next game. John said no. In an article that Sudyk wrote he indicated that Adams would bring the drum. Adams said as "not to make a liar out of Bob, I showed up with my drum, and then I came [with it] to the next game and the next game and the next…"
Love of the drum starts to grow
The front office even reached out to him in 1973 and asked if he planned to bring his drum to all the games. Adams' drum was starting to be a hit in the stadium's general admission seating. He declined as he didn't want it to be an obligation. Adams is a fan. He loves Cleveland baseball. It wasn't a job to him. He embodies everything the city stands for. He knows what it's like to live as a Cleveland sports fan. That's why people were drawn to him, Adams is one of them. He once said "I'll keep coming and I'll get my heart broken just like everyone else…I'll come back the next day. That's what baseball is about." Little did he know then how his love for the game would change his life.
A new home
Adams continued to play at Municipal Stadium until the end of the 1993 season when Cleveland played their last game there. The baseball icon carried his tradition into the new ballpark. At the corner of Carnegie and Ontario, Jacob's Field opened in 1994. Fans flocked to "The Jake" and began a record-breaking streak of sellouts. When the streak ended at 455 games, a commemorative sign was put up to honor the fans for the sellout run. The sign was a retirement of the number 455. The beloved drummer was asked to help unveil the sign.
Recognitions
Adams is the first fan to have his own bobblehead. The John J. Adams Rally Drum bobblehead celebrated his 45th year of drumming at Cleveland baseball games.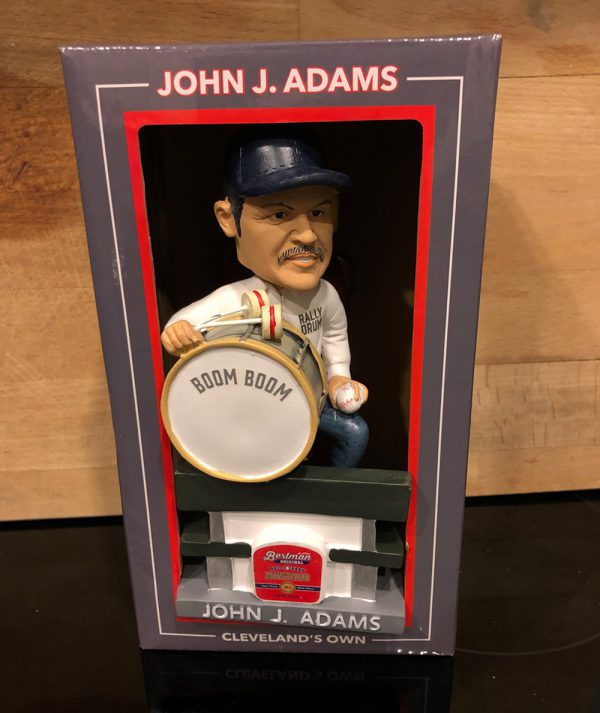 In 2008, he was awarded the annual Hilda award that's given by The Baseball Reliquary. The criteria for the award is to "recognize distinguished service to the game of by a baseball fan."
A local brewery, Great Lakes Brewing Company, released Rally Drum Red Ale in honor of Adams in 2012.
First pitch
The super fan participated in two ceremonial first pitches. Once he threw out the first pitch in typical fashion. Then Adams upped the ante when it comes to ceremonial first pitches in 2007. During the American League divisional series John used his drum as a bat. Yes, you read that right. While Adams was being honored for his 3,000 game, he switched it up. The drummer made contact with a pitch from former Cleveland player Joe Charboneau.
National notoriety
Adams isn't just known in Cleveland. He's traveled several times to away games with his drum in tow. One of his most memorable trips was to Oakland. He attended the three-game series on the West Coast. When Oakland announced to their fanbase that the legendary baseball drummer would be in the stands, ticket sales skyrocketed to an additional 35,000 for the series.
Many celebrities, athletes, politicians, and fans of all ages have made the trek up the bleachers to see John. They usually want to pound the drum that was a legendary summer sound. Adams would often get asked for an autograph. He would add "boom boom" to his signature. This nickname for the drum was given by the late Cleveland baseball player and radio announcer Herb Score.
Giving back to the community
As long as his health allowed Adams volunteered as an aquatics class instructor for students with disabilities at his alma mater. He also gave of himself by spending time with his local community response team and Kiwanis service club. Adams was known to give his two extra season tickets to charities and children.
Adams ultimate recognition
The Cleveland drummer's induction into the Distinguished Hall of Fame surprised and humbled the man who's given so much of himself. Heritage Park will now be home to a replica bronze drum affixed to his bleacher seat. A plaque will also be mounted next to his seat in the bleachers.
End of an era
Health issues have stopped Adams from attending any games since the 2019 season. In 2020, the pandemic caused fans to be unable to be present at baseball games. In 2021 Adams missed his first Opening Day since 1973. Patrick Carney, the drummer for The Black Keys (Grammy Award-winning rock duo from Akron), filled in for John that day.
Over the half of century that John has been attending home games he'd only missed 45 of them. A legend in the history of Cleveland baseball, fans and the team miss Adams. The beat of his drum with those in attendance clapping along was part of the home team advantage. The rhythm would start, and the crowd came alive.
In key moments of the game the drumbeat was heard throughout the ballpark. From when the players took the field at the start of the game, with runners in scoring position, or in the 9th inning of a close game, Adams' drum was a staple.
Heart and humility
Adams showed such grace to fans who approached him. John was often found outside of the ballpark with fans surrounding him like a celebrity. He was welcoming and humble, posing for photos with those who adored him. Adams could be found in line amongst other fans entering the game. He was one of them. He still is one of them. John may not be at the park, but he is still rooting for the team.
There have been requests for someone to take over his place as drummer. Even if that occurs, John J. Adams is irreplaceable. As a young man with his drum, Adams cemented himself in the hearts of countless people. The sound of the drumbeat in old videos still brings chills to those fans.
Thank you, John, for giving of yourself and giving joy to so many. Your legacy will live on forever. Not only in Heritage Park but in the people's lives you've touched.

NEO Sports Insiders Newsletter
Sign up to receive our NEOSI newsletter, and keep up to date with all the latest Cleveland sports news.