Baseballprospectus.com is constantly updating their projections of teams with the best chance to make the Playoffs and win the World Series.
As of Tuesday morning, the Tribe has the best chance to win it all according to their projections.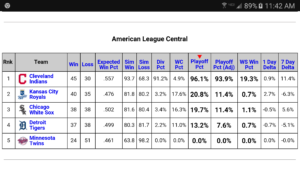 The Indians (96.1 %) probability of making the Playoffs is the best in the American League, just above the Texas Rangers (94.8 %).
Adjusted Playoff Percentage cuts it down to 93.9 %, which is still the highest in the American League. Aside from the Tribe and Rangers, no team in the American League has a higher percentage than 61.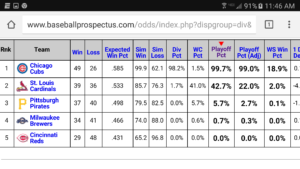 Baseball Prospectus' National League projections have the Cubs with a slightly better chance of making the Playoffs (99.7 %) but the Tribe actually has a higher chance of winning the World Series, as the Indians are at 19.3 %, while Chicago is at 18.9 %.
If you're asking me how they come to these conclusions, I could not tell you and by tomorrow the percentages could change a hair or two one way or the other.
But for now, enjoy it Tribe fans.
The stat geeks are on board with the Tribe. As everyone should be.