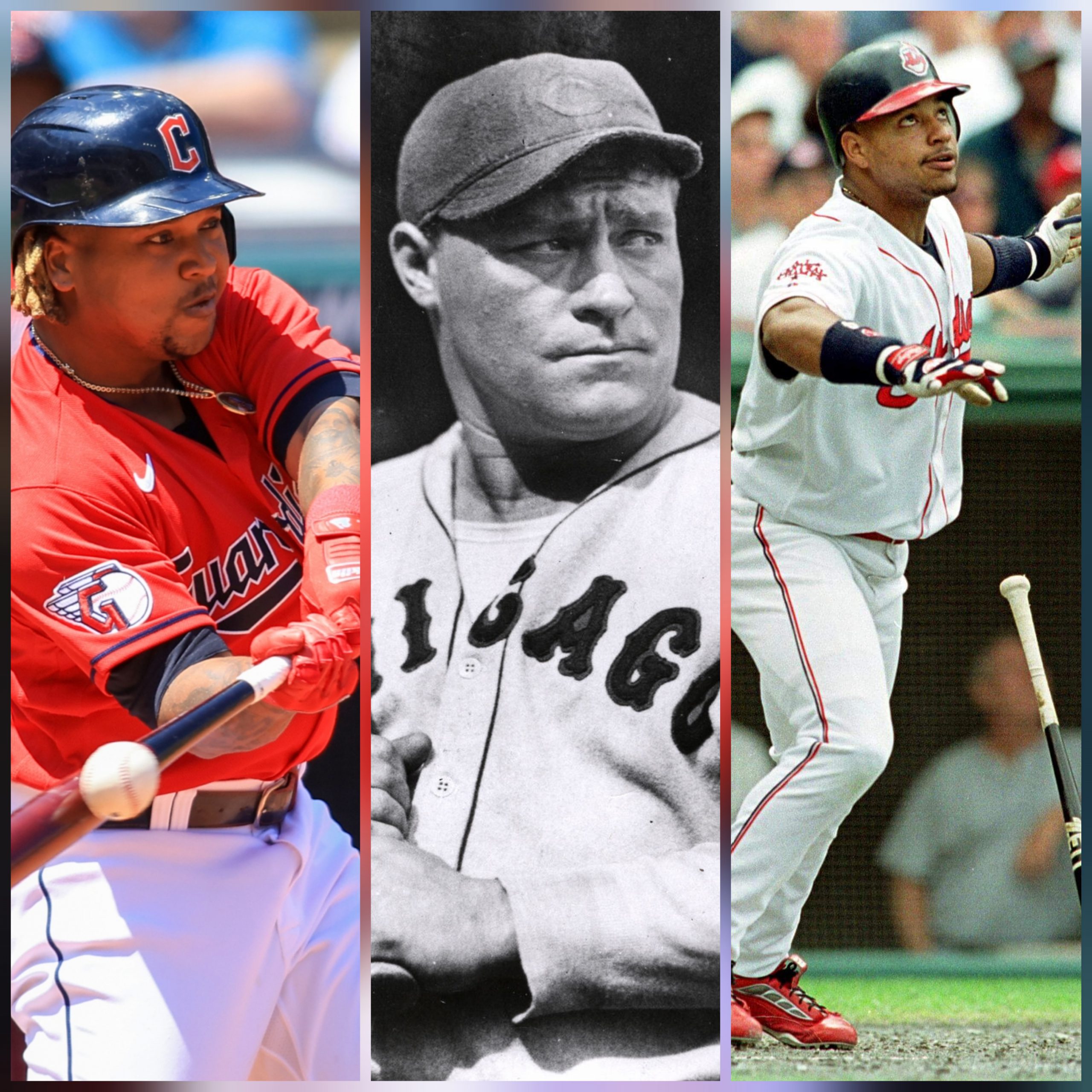 Cleveland, Ohio-
Through 61 games, Guardians' third baseman Jose Ramirez, has 62 RBI. That works out to 1.03 RBI per game. If he keeps up this pace, Ramirez will end the season with 167 RBI. He would fall 24 RBI short of breaking Hack Wilson's record of 191 RBI. The 167 RBI would set the single season record for the Cleveland Guardians organization.
For those unfamiliar with Hack Wilson, he was a 5'6″ 190lb, center fielder, and 12-year MLB veteran. He batted over .300 for his career, knocked in 1,063 runs, and hit 244 home runs. Wilson was elected to the Baseball Hall of Fame posthumously in 1979.
His best season was in 1930 while playing for the Chicago Cubs. Wilson's stats for that season are something we may never see again in baseball. Hack batted .356, hit 56 home runs, drove in 191 runs, slugged .723, and walked 105 times. The 56 home runs were a National League record for 68 years. His 191 RBI is a record to this day.
The other single season RBI record Jose Ramirez is chasing, is the team record set in 1999 by Manny Ramirez. In that year, Manny hit .333, 45HRS, and 165RBI. This record is, in my opinion, much more in play than Wilson's MLB record. You can tell by the stat line for Manny Ramirez and Hack Wilson, what it takes to drive in an absurd amount of runs: power, extra base hits, and a high average.
Jose Ramirez is currently hitting .306, with 16HR and 62RBI. We are a bit past the ⅓ mark in the season and you can see what Jose needs to do to make a run at the team and MLB records. To me, the most likely element that will derail Jose's pursuit of the aforementioned RBI records is something he can't control: he needs guys to get on base in front of him to provide enough opportunities to drive in runs. Unforeseen injuries could also play a role as the always can. Regardless of whether Jose gets to 165 or 191RBI, it will be a lot of fun to track throughout the summer.
Unbelievably, there is another aspect that may make this season one for the record books for Jose Ramirez. Jose has struck out just 20 times and has hit 16 home runs thus far. To put that in perspective, Franmil Reyes has had only 133 at bats this season and has struck out 57 times.
According to baseball-reference.com, a player ending the season with more home runs than strike outs has been achieved only 45 times in the history of baseball. The last time it happened was in 2004 when Barry Bonds did it. After 1956, only two players have had more home runs than strike outs: the aforementioned Bonds and George Brett in 1980. It's an incredible and rare accomplishment.
Jose Ramirez's desire to spend his career in Cleveland makes him a candidate to hold several team records by the time he hangs up his cleats, which is what he wants. Ramirez is a team player, above all, and expressed his desire to win a World Series in Cleveland.
To give you an idea of what Jose is chasing over the long-term, here is a list of team records for the Guardians:
BA (batting average): Shoeless Joe Jackson- .375
OBP (on base percentage): Tris Speaker- .444
SLG (slugging percentage): Manny Ramirez- .592
Games Played: Terry Turner- 1,619
At Bats: Nap Lajoie- 6,035
Runs: Earl Averill- 1,154
Hits: Nap Lajoie- 2,047
Total Bases: Earl Averill- 3,200
Doubles: Tris Speaker- 486
Triples: Earl Averill- 121
Home Runs: Jim Thome- 337
RBI: Earl Averill- 1,084
Extra Base Hits: Earl Averill- 724
Regardless of what the season holds for the team, watching Jose Ramirez chase history this season, and hopefully for the rest of his career, will be quite an experience. You're watching potential history Guardians fans, enjoy it. Jose Ramirez may be on the Mount Rushmore of Cleveland baseball when it's all said and done. Right now, he's not in the same conversation as players like Bob Feller, Jim Thome, Earl Averill, Manny Ramirez, Larry Doby, Nap Lajoie, Tris Speaker, Lou Boudreau, Joe Jackson, Stan Coveleski, Mel Harder, just to name a few. There is a rich history in Cleveland baseball as you can see. Jose has a chance to be among those names. Will he? Who knows? But it will be a blast to find out.

NEO Sports Insiders Newsletter
Sign up to receive our NEOSI newsletter, and keep up to date with all the latest Cleveland sports news.