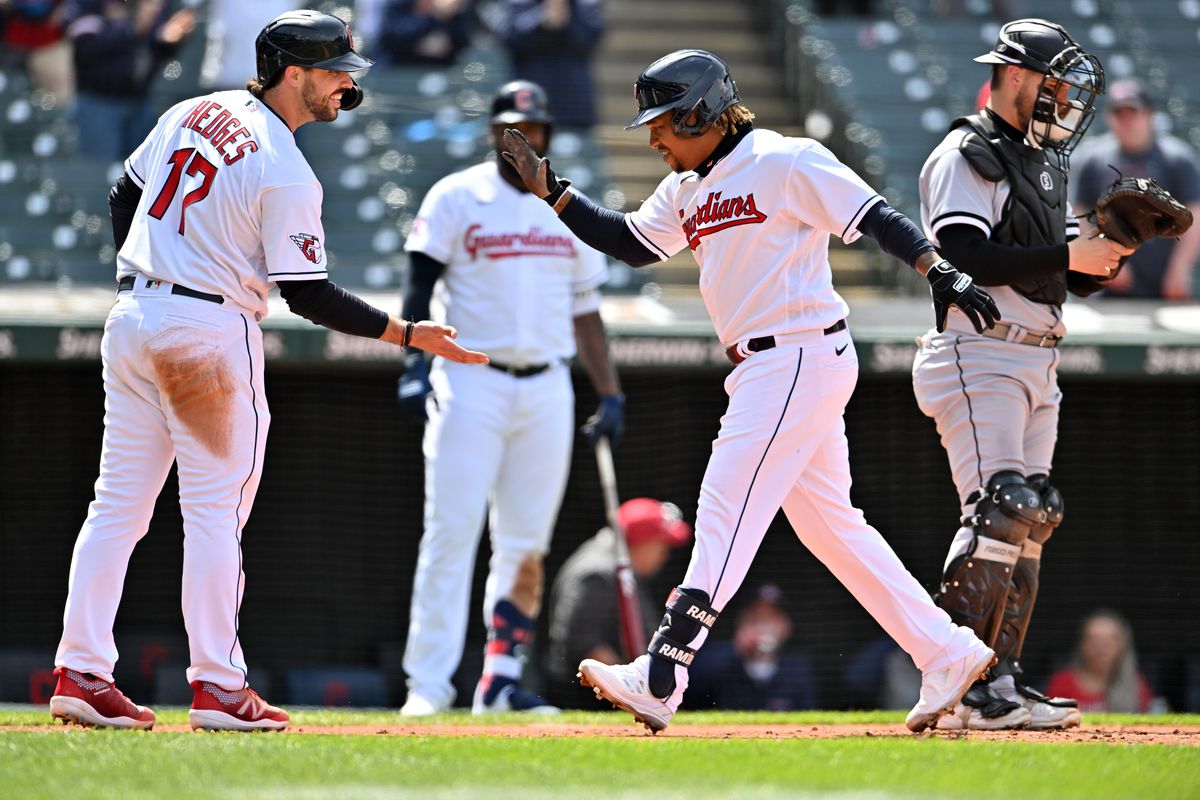 We are approaching ⅓ of the way through the 2022 baseball season. Right around the ¼ mark, there is a baseball adage that you know what you have for the year by that point. Who are the 2022 Cleveland Guardians? Let's take a look at the numbers as of 6/7/22:
Cleveland Guardians Batting Rankings in MLB:
OPS- 18th (.696)
AVG- 12th (.244)
HR- 25th (43)
RBI- 18th (223)
Runs- 19th (231)
Hits- 25th (417)
Strike Outs- 30th (343)
OBP- 17th (.311)
SLG- 19th (.385)
What do the above numbers mean? Nothing that I didn't expect. The Guardians don't hit much. When they do, it's usually in bunches. The line-up is young and inexperienced for the most part. Franmil Reyes has been highly disappointing. I'm not sure if there's an injury concern or if this is a confidence issue with him, but either way, he doesn't look like himself. Reyes is currently on the IL and hopefully he can find his stroke. This makes what Jose Ramirez is doing this year all the more impressive. He has no protection in the Guardians' line-up yet is hitting .286 14HR 53RBI. His OPS is 1.009. That is astounding. Ramirez will make the All-Star team and is a legitimate MVP contender, but unless the Guardians significantly turn their season around, Jose may not be mentioned in the conversation for MVP.

Guardians Pitching Rankings in MLB:
ERA- 13th (3.75)
Hits- 30th (370)
Earned Runs- 26th (185)
HR- 22nd (51)
Walks- 26th (143)
Strike Outs- 25th (411)
WHIP- 6th (1.16)
AVG- 5th (.225)
A look at the numbers:
What do the numbers mean? A lot of good things happening on the pitching side. The Guardians aren't giving up a lot of hits, homers, or walks. ERA is average, strike outs are low. Again, this was not unexpected. Although, I am a bit surprised at the lack of punch outs. I expected Cleveland pitching to be average at worst and more likely top 10. That may still happen. We're only ⅓ of the way through the season.
Altogether, those offensive and defensive numbers are indicative of an average team, which is exactly what the 25-26 Guardians are. They're a very youthful average team with a lot of potential. I've mentioned before on social media that the Guardians are in an odd position, in that their top prospects in terms of the everyday line-up aren't quite ready for the bigs or were going to get a call up after opening day. This was always going to be a season fans would see a youth movement and most likely an average team. I'll say the same thing about the Guardians that I said about the Cavaliers: it's not about this year. Whatever is accomplished collectively this year is a bonus. It's more important to identify guys that can contribute every day.
All that being said, the Guardians are only 4 games behind front-running Minnesota in the AL Central and ½ game behind the Boston Red Sox for the 3rd Wildcard spot in the AL. Certainly not insurmountable by any stretch.
What's next?
What do the Guardians need to take a further step forward? I'll say this: I would be surprised if the Guards are buyers at the trade deadline. No, this is not because of ownership or spending. Forget about that. This franchise is not big into renting players unless they're close to contention. Even then, they like to have a few years of control on whoever they trade for if they can help it. Frankly, in order to get back a solid bat with remaining years of control wouldn't make much sense considering who they would have to give up. The Guardians have several bats with years of control in the minors. They're just not ready yet. To trade a significant prospect in order to get a major league ready outfielder is redundant. They already have who they would want to acquire.
What could happen is moving a guy like Amed Rosario, Oscar Mercado, Anthony Gose, Bryan Shaw. Those are names that could be moved for a AA prospect or 2. I wouldn't expect much more than that. No matter what their record is in late July, they'll probably roll with the roster they have and that's not a bad thing, it's quite smart.
It's difficult to preach patience, but that's what I'm doing in regards to the Cleveland Guardians. Enjoy this season just like you did the Cavs' season. It's house money.

NEO Sports Insiders Newsletter
Sign up to receive our NEOSI newsletter, and keep up to date with all the latest Cleveland sports news.