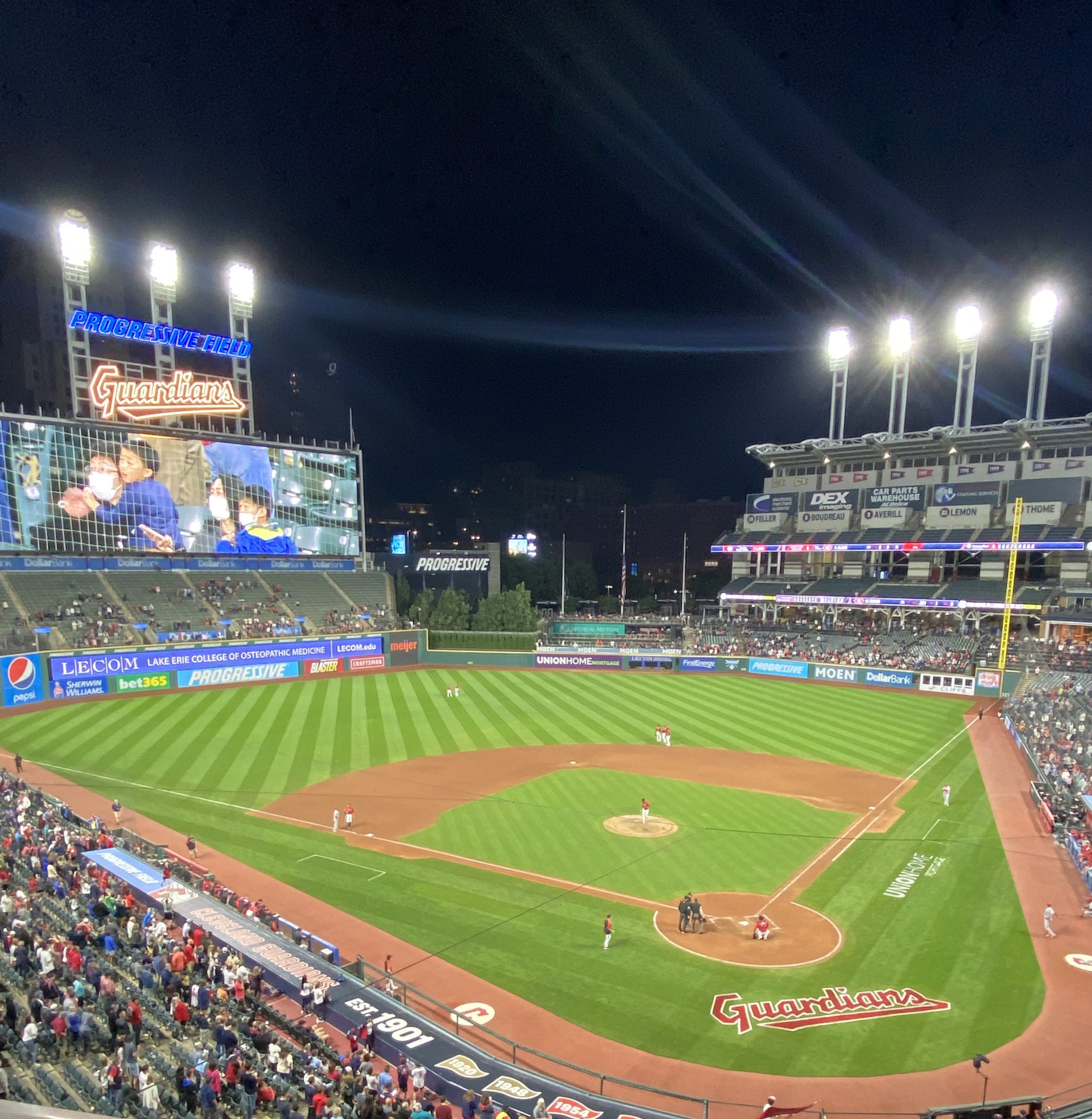 Cleveland, OH – The Cleveland Guardians today provided details about what's new at Progressive Field for the 2023 season. The start of the new campaign at Progressive Field brings with it new food and beverage options, exciting new partner activations around the ballpark and affordable ticket offers for fans to come visit Progressive Field throughout the summer.
New Food at Progressive Field
The Cleveland Guardians and foodservice partner Delaware North are excited to bring new food options to fans at Progressive Field this season. The new food items include:
Pepper Jack Bites
Crusted pepper jack cheese served with ranch dressing. FatHead's (Right Field District).
Melt Buffalo Chicken Mac & Cheese Bowl
Signature creamy macaroni and cheese topped with buffalo chicken. Available at Melt Bar and Grill (Right Field District).
Pimento Cheese & Bacon Burger
1/3-pound certified angus all-beef patty topped with pimento cheese, bacon and shredded lettuce on a freshly baked brioche bun. Available at Build a Burger (left field).
Hot Honey Chicken Tenders
Signature tenders, crispy fries and a hot honey glaze from the local establishment Akron Honey. Available at Fat Rooster (under the left field bleachers).
Crab Rangoon Nachos
Tostitos chips topped with white cheddar cheese sauce, sweet chili sauce, shredded crab, sesame seeds and green onion. Available at Loaded Nacho Stands (right field).
Mac & Cheese Brisket
Creamy mac and cheese topped with Montgomery Inn BBQ Brisket, with pickled & crunchy onions and a drizzle of barbecue sauce. Available at Throwin' Smoke BBQ (Third Baseline Concourse).
The Wild Thing
Field Roast Dog (Vegan), House made vegetable chili, shredded cheddar, diced onion, Flamin Hot Cheetos. Available at Happy Dog (Third Baseline Concourse).
Noodle Bowl
Ramen Noodles, Asian Sauce, Red Pepper, Carrot, Napa Cabbage, Sesame Seeds, optional ginger chicken addition. Available at Down The Line Bowls (Third Baseline Concourse).
New Guardians Apparel
The Progressive Field Team Store is full of brand-new Guardians apparel, including 2023 Opening Day product, the 2023 Nike on-field collection and some new brands like WEAR by Erin Andrews.
Fans will also be able to support Cleveland Metropolitan School District Chess Clubs, in partnership with Homage, through the purchase of the exclusive Guardians Chess Club tee, available for retail April 8th. The inspiration from this design stems from the growing relationship between the Guardians squad and one of the best youth chess teams in the nation.
Make sure to follow Guardians Team Store on Instagram to stay up-to-date with all the new Guardians styles. Fans can follow along all season long @guardiansteamstore.
New Partner News
bet365
bet365 and the Guardians have announced a multi-year partnership, making bet365 the exclusive mobile betting partner of the Cleveland Guardians. bet365 will have signage at Progressive Field as well as a large social presence with the team.
BetFanatics Sportsbook
Coming to Progressive Field summer 2023, BetFanatics will open a retail sportsbook located outside of the Right Field Gate in the former home of the New Era store. Fans will be able to place bets at the ticket windows off E. 9th Street before entering Progressive Field.
Fat Head's
Fat Head's Brewery is expanding its footprint at the ballpark, rebranding the Beer Garden in section 164 and updating the neighborhood stand in section 111 with new food lineups. Fans will be able to find Head Hunter IPA, Bumbleberry Ale and their new Juiced to Jupiter Tangerine IPA.
The Brew Kettle
The Brew Kettle is refreshing its neighborhood stand with an all-new look and updated food items like Smoked Chicken Wings. Brew Kettle's lineup includes White Rajah IPA, Major Lager and the redesigned Mexican Lager Los Colores.
Cutwater Spirits
As the Guardians newest ready-to-drink cocktail partner, Cutwater Spirits will be available at the Cutwater Cart in section 150, as well as various grab-n-go locations and premium seating areas throughout the ballpark.
Masthead Partnership
Masthead Brewing Co. will have a branded cart in section 117 and will also be available at various draft beer locations throughout Progressive Field.
Dollar Bank
Dollar Bank K's for Kids is back for the 2023 season. With each Cleveland Guardians strikeout, Dollar Bank will donate to the Boys and Girls Clubs of Northeast Ohio. Additionally, the official retail bank of the Cleveland Guardians will provide the following benefits to debit card holder's: 10% discount at the Progressive Field Team Store, 15% discount on mlbshop.com/Cleveland-Guardians, pre-sale links for single-game tickets and discounted tickets throughout the season, a physical Cleveland Guardians debit card and the ability to switch to Guardians checks.
 Wendy's Trigger Promotion
The Guardians and local Wendy's locations are teaming up this season with a post-game sweet treat with every win at Progressive Field. Whenever the Guardians win at home, local Wendy's fans will score a free small Frosty. No purchase is required and the offer is only available at participating Northeast Ohio locations. Fans just need to show the Guardians social post after the game and throughout the following day to redeem a free small Frosty.
Visual Edge IT
Visual Edge IT is the new copier solutions partner for the Cleveland Guardians. As the Guardians embark on renovations, Visual Edge IT is providing cutting edge solutions for the Guardians business and baseball operations teams.
Phantom Fireworks
Phantom Fireworks is the official celebration partner of the Guardians in 2023. Phantom Fireworks signage will appear around the ballpark, and exclusive offers will be sent to Guardians fans leading up to the Fourth of July.
RE/MAX
The Guardians are excited to announce RE/MAX as the proud real estate partner of the Cleveland Guardians.
Jackpot
Jackpot.com is providing a unique and modern solution to make the lottery more convenient and accessible to citizens all across Ohio. The Guardians are excited to partner with Jackpot for the 2023 season.
Affinity Whole Health
Affinity Whole Health will be featured across the Guardians Radio Network throughout the 2023 season.
NOCO
The Guardians are excited to welcome back NOCO for the 2023 season. Discover innovative jump starters, battery chargers and batteries from NOCO.
 McDonald's Trigger Promotion
Whenever the Guards steal a base at home, local McDonald's fans will receive a free 6-piece Chicken McNuggets with the purchase of a $1-or-more on the McDonald's app.
Circle K Strikeout Meter
Guardians fans who check in to the Ballpark app when the Guardians strikeout 7-or-more at Progressive Field will receive a free Polar Pop in their inbox the following day.
Digital Ballpark App Promotions
Sugardale Hot Dog Voting – Vote for your favorite hot dog through the Ballpark app
Liberty Ford Scratch and Win – Starting in May, fans can enter to win the Liberty Grand Slam Payoff inning by playing a scratch-and-win game in the Ballpark app.
New Era Bingo – Starting mid-April, play Bingo on the Ballpark app for a chance to win New Era prizes throughout the season.
Cashless Stands
Half of Progressive Field's concession stands will be made fully cashless for all home games this season. Fans will be able to purchase concessions at these locations with credit card, Apple Pay and Google Pay. All cashless concession locations will have signage near the menus indicating that location is cashless.
Cashless In-Seat Vendors
New this season, the majority of food and beverage in-seat vendors will be cashless – only accepting credit card, Apple Pay and Google Pay. Fans can differentiate between the cash accepting and cashless vendors by shirt color: Cashless in-seat vendors will wear yellow shirts and vendors that still accept cash will wear green. All in-seat vendors will also wear buttons indicating cash v. cashless.
New Ticket Offers
Progressive Field Ballpark Pass – Sold Out in April
The Guardians are excited to offer the all-new Ballpark Pass at Progressive Field. For just $49 per month, the Ballpark Pass includes a mobile Standing Room Only ticket to every Guardians home game in that month. The April Ballpark Pass is officially sold out. More passes will be made available for May, starting April 26. Fans who want to be notified when more Ballpark Passes become available can sign up at CLEGuardians.com/BallparkPass. Standing Room Only locations around Progressive Field include the Corner Bar, Left Field and Right Field drink rails, the Home Run Porch and Heritage Plaza.
Opening Day Tickets – Right Field Terrace
The Guardians have released additional Opening Day Tickets in the Right Field Terraces. Fans can purchase the tickets, while supplies last, for just $39 at CLEGuaridians.com/tickets.
Single-Game Suite Rentals
Single-Game Suite rentals are now available on CLEGuardians.com/premiumseating. Progressive Field offers a variety of premium suite locations for individuals and groups. Suite options combine premier hospitality with outstanding ballpark views. For the first time in franchise history, fans can now purchase various suite locations online.
College Student Offer – Coming Soon
Back for 2023, using Student Beans verification, current undergraduate college students can purchase $10 Upper Bleachers or Upper Reserved tickets to all regular season home games (excluding April 7). After a quick verification process, each student will receive a one-time-use code to purchase discounted seats. Fan can check CLEGuardians.com/students for more information.
2023 Special Ticket Packages
Special Ticket Packages are back for 2023. Special Ticket Packages include a limited-edition promotional item with the purchase of a select ticket. While regular promotions are available to a limited number of fans upon entry to the ballpark, Special Ticket Package items are ONLY available to fans who purchase a Special Ticket Package for that game. The following Special Ticket Packages have been announced for 2023:
April 23 – St. Ignatius High School Cap *SOLD OUT*
May 5 – Youngstown State University Cap
May 6 – Kent State University Cap
June 6 – Peanuts "Lucy" Bobblehead
June 8 – Educator's Night Corduroy Cap
June 9 – Pride Cap
June 9 – Baldwin Wallace University Cap
June 10 – University of Findlay Cap
June 24 – Ohio University Cap
July 7 – Tiffin University Cap
August 5 – John Carroll University Cap
August 17 – Healthcare Night Scrub Top
August 22 – Peanuts "Linus" Bobblehead
September 15 – Hispanic Heritage Night Flag
September 18 – Baldwin Wallace University Cap
More Special Ticket Packages will be announced throughout the season.
Promotional Items
The Cleveland Guardians recently announced these new player-inspired promotional items for the 2023 season:
May 13 – Mystery Gold Glove (10,000 fans)
May 27 – Josh Naylor Jersey courtesy of Bally Sports (12,500 fans)
June 10 – Triston McKenzie Jersey courtesy of Sugardale (12,500 fans)
June 24 – Andrés Giménez Bobblehead courtesy of Discount Drug Mart (12,500 fans)
July 8 – José Ramírez Reversible Bucket Hat courtesy of Progressive (15,000 fans)
July 22 – Steven Kwan Bobblehead courtesy of Sherwin Williams (12,500 fans)
September 2 – Emmanuel Clase Bobblehead courtesy of Bally Sports (12,500 fans)
Free Shirt Fridays
New for 2023, every summer home Friday will be a Free Shirt Friday presented by Phantom Fireworks. Starting in late May, every summer Friday will feature a different free shirt for the first 12,500 fans that enter Progressive Field.
Guardians Youth Summer Camps presented by Cleveland Clinic Children's
Cleveland Guardians Youth Summer Camps are back and better than ever! For $395 per camper, boys and girls between the ages of 5 to 14 can attend one of seven weeklong camps focused on providing an incredible Cleveland Guardians baseball and softball experience guaranteed to improve each young athlete's ability to play the game. For more information or to register online, visit CLEGuardians.com/camps.
Cleveland Guardians Official Press Release

NEO Sports Insiders Newsletter
Sign up to receive our NEOSI newsletter, and keep up to date with all the latest Cleveland sports news.