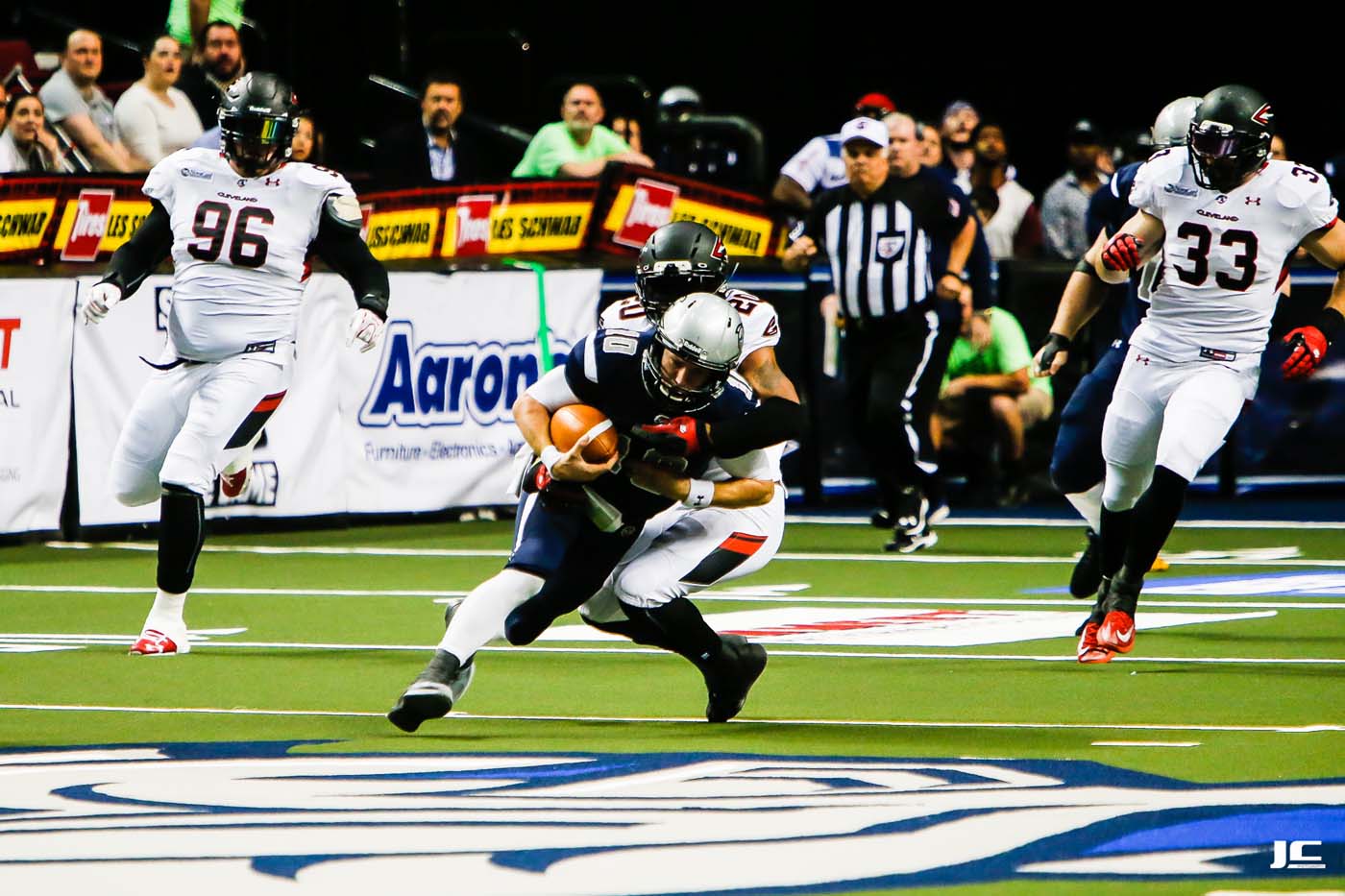 PORTLAND – Thanks to a seven-touchdown performance from quarterback Arvell Nelson, the Cleveland Gladiators defeated the Portland Steel in front of 4,516 fans at the Moda Center in Portland, OR on Saturday by a final score of 58-49. With the win, the Gladiators improved to 6-6 on the season and remain alone in second place in the AFL's National Conference standings.
Nelson got the scoring started early for Cleveland as the Northeast Ohio native connected with wide receiver Quentin Sims for a 35-yard touchdown early in the first quarter to make it 7-0 Gladiators. Portland responded with a 3-yard TD toss from former Gladiator Shane Austin to wideout Rashaad Carter to tie the game at seven before Cleveland WR Larry Beavers took a 23-yard Nelson pass to the house late in the opening quarter to help the Gladiators claim a 14-7 advantage heading into the second quarter.
Nelson hooked up with wideout Devin Wilson early in the second stanza for a 23-yard scoring strike to make it 21-7 Glads before a one-yard James Shaw touchdown run for the Steel drew Portland within seven at 21-14.
Later in the second quarter, Cleveland receiver Collin Taylor hauled in a nine-yard touchdown pass from Nelson to make it 28-14 Gladiators before a two-yard strike from Nelson to Sims gave Cleveland its largest lead of the game at 35-14 with just 18 seconds left in the first half. Portland's Austin orchestrated a buzzer-beating drive late in the second quarter, however, that culminated in a three-yard TD reception for Carter with no time left on the clock that drew the Steel within two scores at the half at 35-21.
In the third quarter, Portland started quickly with a 23-yard Austin-to-Shaw TD pass that drew the Steel within a touchdown at 35-28, but Nelson and Taylor hooked up for a 15-yard TD strike shortly thereafter to put the Gladiators back up by 14 points.
Portland's Austin and Carter then connected for the third time in the game to make it 42-35 Cleveland before the Gladiators closed out the third quarter with a 14-yard Nelson-to-Devin connection that made it 48-35 Glads heading into the final frame.
In the first minute of the fourth quarter, Gladiators DB Marvin Ross delivered the defensive play of the game when he returned an Austin interception 42 yards to the house to claim a 55-35 lead for Cleveland.
Portland hung tough though, as back-to-back touchdown passes from Austin, to Shaw and Jared Perry respectively, drew the Steel within six points at 55-49 before another Austin pick paved the way for a 22-yard Adrian Trevino field goal, the Gladiators kicker's first field goal conversion of the season, that iced a 58-49 Gladiators victory with 1:19 remaining in regulation.
Nelson completed 21 of 35 passes for 249 yards and seven touchdown passes while Taylor extended his franchise-record streak of now 28 consecutive games with at least one touchdown catch by virtue of 90 receiving yards on eight receptions with a pair of touchdown grabs to his credit. Sims finished with eight catches of his own for 83 yards and two scores while Cleveland WR Devin Wilson hauled in two catches for 38 yards and two scores. Additionally, Larry Beavers' two receptions resulted in 32 yards and one touchdown for Cleveland as wel
On the defensive side of the ball, Kelvin Rodgers, Ross and DeMarcus Robinson each registered one interception, while Rodgers led the Gladiators with seven tackles. With the win, Cleveland snapped a two-game losing streak and has now won five of the team's last seven games.
Next up for the Gladiators, it's a Week 13 road clash vs. the Jacksonville Sharks with full coverage, live from Jacksonville Veterans Memorial Arena in Jacksonville, FL, underway on Saturday at 7:00 pm on 92.3 The Fan and ESPN2.
Post-Game awards:
Under Armour Offensive Player of the Game: Cleveland QB Arvell Nelson – 21/35, 249 yds., 7 TD, 0 INT
Riddell Defensive Player of the Game: Cleveland DB Marvin Ross – 7 solo tackles, 1 INT returned for 42 yds., 1 TD
J. Lewis Small Playmaker of the Game: Cleveland WR Quentin Sims – 8 rec., 83 yds., 2 TD
Cutters Catch of the Game: 9 yd. TD pass from Cleveland's Nelson to WR Collin Taylor with 3:19 remaining in the second quarter to make it 28-14 Gladiators and extend Taylor's franchise-record streak of 28 consecutive games with a touchdown catch.
AFL Highlight of the Game: Cleveland DB Ross' 42-yard interception returned for a touchdown to make it 55-35 with 14-14 remaining in the fourth quarter.