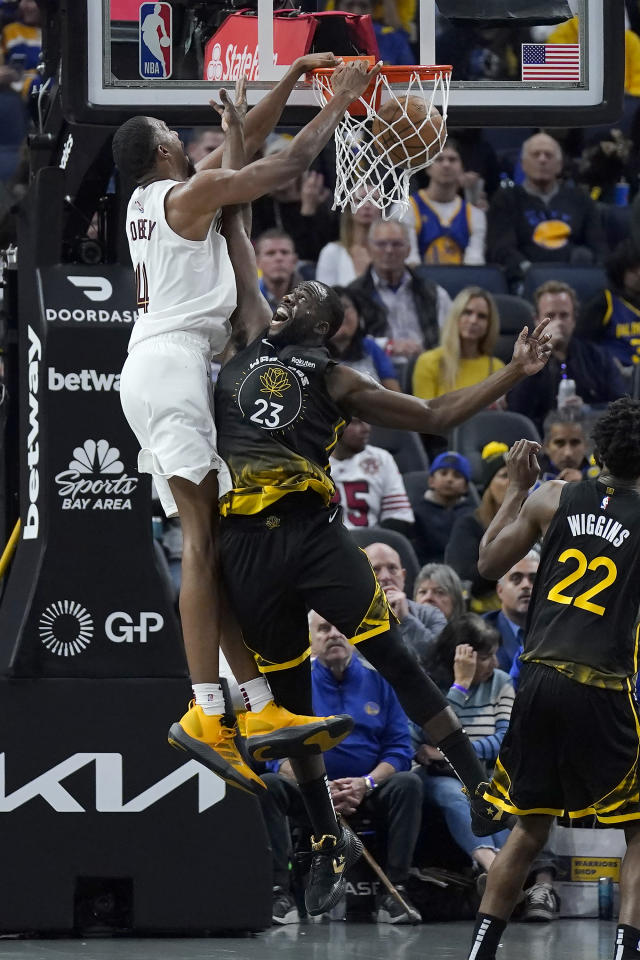 After a brilliant 8 – 1 start to the season, the Cavaliers just finished a five-game road trip with three straight losses. All three were close, and very winnable games.
In those three 4th quarters, the Cavs were outscored by one, three, and eight points. In the latest loss, after leading the Golden State Warriors through three quarters by three points, the Warriors blitzed the Cavs by eight points to win going away by five points.
Opponents are doubling up on Donovan Mitchell late and running a 2nd defender at him to force him to give up the basketball. It is to be expected, as Mitchell has been tremendous at scoring the ball in various and creative ways so far this season.
Darius Garland
Although Garland has had the ball in his possession trying to make things happen late in these games, he has been unproductive. Missed shots, turnovers, dribbling too much, and even a few critical missed free throws has been his story. Successful driving layups and floaters and connecting on three-point bombs have been non-existent for Garland. He looks a little lost and panicky, rather than cool and clutch.
Perhaps his eye injury has taken some confidence away from Garland. Although he shot the ball okay versus the LA Clippers, he is a combined 6 for 28 (21.4%) from the floor in the last two games. Ouch!
Big Men Allen & Mobley Ignored
Jarrett Allen and Evan Mobley were a combined 14 for 23 (61%) versus the Warriors, and 14 for 21 (67%) versus the Sacramento Kings. Mobley is shooting an excellent .576 from the floor in 12 games, and Allen is right behind him at .551.
Yet at crunch time, other than a late dunk by Mobley versus the Clippers, these big fellas are pretty much an afterthought on offense. If Coach J.B. Bickerstaff is calling plays for them, it clearly is not evident. Actually, any type of late game play isn't evident in Bickerstaff's offense.
Size advantages inside for the Cavaliers should be exploited, especially when opponents are covering the four players not named Mitchell with just three defenders. Back picks, pin downs, lob passes off rolls, and simply feeding the ball down low to either Allen or Mobley should be part of the offense. But unfortunately, it is not happening. There is a good reason to start, because the defenses are giving that to the Cavaliers on a silver basketball platter.
Out Of Bounds Plays
The Cavs called a full timeout at 34.1 seconds left, and down 103 – 99. They came out of that timeout and ran basically nothing for almost 13 seconds, when finally, Mitchell missed a 25' jumper. That means the Cavs used up almost 35% of the remaining time left and settled for a 25' jumper. That panic shot was available in the first 5 seconds.
More importantly, when was the last time you said to yourself: "what a great out of bounds play that was by the Cavaliers." I thought so. But you see other teams doing that, including the Warriors.
Everybody figures that Stephen Curry is going to receive the ball for a three pointer at crunch time, and low and behold, after three and four screens, and throw in a good back pick, Curry gets wide open for a three pointer. Time and time again, game after game. Yet the Cavaliers run nothing for either their big men with a size advantage, or Mitchell, or Garland.
Get the ball in bounds, and waste some shot clock seconds, and hopefully Mitchell or Garland – by themselves mostly, will get a bucket. That seems to be the way Coach Bickerstaff strategically plays after a timeout with the ball out on the sideline.
Too Early To Complain And Worry
I get it. The 82-game season just started, and we are 8 – 4. Heading home. The Cavs have plenty of time to figure things out. Yes, but three winnable games in a row with similar poor offense late.
It is a truism, however, that when playoff seeding occurs, based on the record earned over that same 82 game season, losses in November count the same as losses in March and April.

NEO Sports Insiders Newsletter
Sign up to receive our NEOSI newsletter, and keep up to date with all the latest Cleveland sports news.