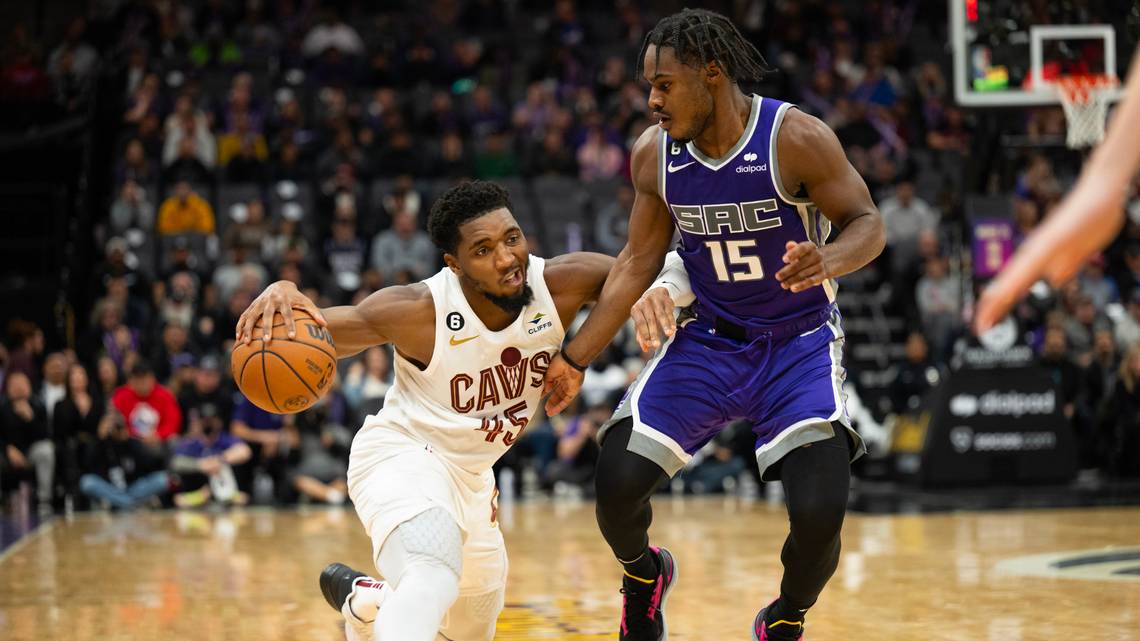 After the loss to the Clippers, the Cavaliers hoped to do what coach Pat Riley always preached to his teams:
"You have no choices about how you lose, but you do have a choice about how you come back and prepare to win again!"
But someone needs to tell the team that defense needs to be a 48 minute thing. Falling behind the Kings early and never getting a lead until the fourth quarter, the Cavs ended the game on the short end of the score last night. Sacramento (4-5), with their up-tempo play and balanced scoring, turned a one point fourth-quarter deficit into a seven-point win, 127-120, Wednesday evening in the California capital city. This marked the second straight loss for Cleveland (8-3) after eight wins in a row.
Cavs vs Kings Scoring
Domantas Sabonis had 20 while Harrison Barnes added 20. The balanced Kings lineup saw seven total players bag double digit points. 
Donovan Mitchell pumped in a game-high 38 points, Caris LeVert dropped 21 and Jarrett Allen dunked and tipped-in 20 with seven boards.
Darius Garland was held to just six points while battling an illness. Kevin Love and the bench struggled as they contributed only 19 total points.
First Half problems again!
JB Bickerstaff, in his conference afterwards, commented on what he saw was his teams shortcomings:
"We didn't come out and play the game purposefully. We were a disappointing basketball team tonight."
"That's arrogant basketball, and you can't survive in the NBA playing that way."

J.B. Bickerstaff wants his @cavs players to remember who they are after developing some bad habits recently.#LetEmKnow pic.twitter.com/bMykTmRI6Z

— Bally Sports Cleveland (@BallySportsCLE) November 10, 2022
The Cavs were behind from the beginning. They trailed by five at the end of the first and 11 at halftime, while never taking the lead at the time. 
It was the third game in a row on this trip the Wine and Gold allowed more than 60 points in the first half! The Kings pushed the ball at a quick pace whenever possible.
Asked to talk about the problems with Sacramento's first half push, Caris LeVert commented:
"A lot of it is communication. Tonight was (spent) a lot of transition. Sacramento is a fast team."
Mitchell's second half blitz!
Donovan "Spida" Mitchell worked to keep the Cavs in the game. He tallied 17 of Cleveland's 35 total points in the 3rd quarter. 
Donovan Mitchell is HOT in Q3 🥵

17 points
7-of-7 FGpic.twitter.com/mz720qMErd

— Cavs Nation (@CavsNationCP) November 10, 2022
Down by nine, near the middle of the quarter, Spida hit back to back threes to give the squad some much needed confidence. LeVert played the entire 3rd and contributed two late baskets in the quarter only to see it end on a running trey by Kings' aptly named Trey Lyles to stop the Cavs advance.
Fourth Quarter: Kings pull away late
The Cavs were able to take a lead finally on a Kevin Love bucket at the 9:18 mark to go up 101-99. Following a pair of freebies by Love and Jarrett Allen, the Cavs bumped it to a 6 point margin. But cold shooting set in and the game was back and forth until Sacramento pulled ahead around 2:29 left and never relinquished the hold on the game.
The Cavs lost to the Kings because they allowed Sacramento to shoot 52.6% from the field, make 17 of 39 triples, and convert 30 points on free throws.
Notable Quotables
"We can't just expect to come out and turn it on."
"[It's] simple things like keeping our guys in front, not foul and getting back in transition…we covered all that. And we didn't do it."
LeVert, who had a double-double for the night, on what happened:
"Slow starts, missed assignments…letting them get to our hill easily."
Former Cavs coach now Kings head coach, Mike Brown:
"For us to go down the stretch versus a good team and find a way to win, it continues to help the guys believe."
Last West Coast Game
The Cavaliers now face the Warriors in their last game out west Friday night before coming home. They need to win just to have a .500 record for the trip! 
California Cavalier fans, need tickets? You can always find them at SeatGeek!
Upcoming games:
November 13th: Home versus the Timberwolves. Tip-off 6:00 PM. Rocket Mortgage Fieldhouse
November 16th: Away versus Milwaukee! Tip-off at 7:00 PM at Fiserv Forum. 
Hopefully the missed assignments and slow starts will be forgotten by then! JB will work to get his team prepared like Riley always did!
Thanks for reading. Please follow me on Twitter: @Petrorock44
Photo courtesy of PAUL KITAGAKI JR. pkitagaki@sacbee.com

NEO Sports Insiders Newsletter
Sign up to receive our NEOSI newsletter, and keep up to date with all the latest Cleveland sports news.