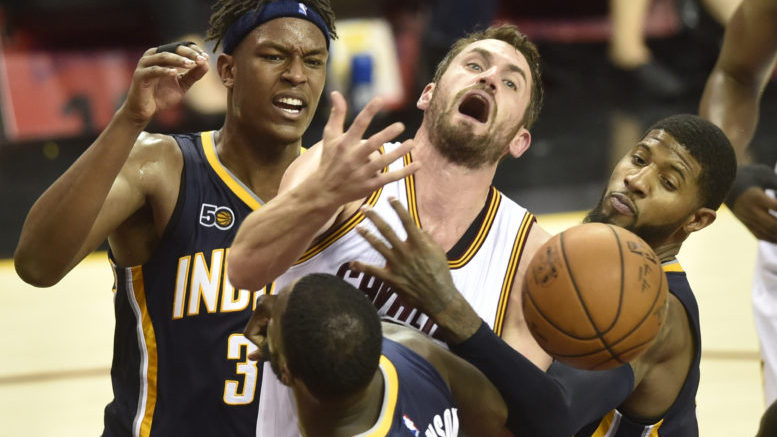 A few more random musings and notes on the Cavaliers and their 2-0 playoff series lead over Indiana.
1. As I wrote over on Amico Hoops, I'd like to see the Cavaliers try to make more of an effort to find Kevin Love on offense. That doesn't mean letting Love stand out on the perimeter and call for the ball. That doesn't mean turning Love into nothing more than a 3-point shooter. And it sure doesn't mean going to Love at the expense of LeBron James or Kyrie Irving.
2. But if Love is posting up, being aggressive and producing, keeping going to it until it doesn't work. That's a different philosophy than the one the Cavs used in Game 2. Instead, Love was dominating down low in the third quarter, and the Cavs stared dribbling out the shot clock and jacking up odd shots in the fourth.
3. Granted, the Pacers put more of an emphasis on double-teaming Love in the fourth. But even then, he was drawing fouls and making his free throws (he went 12-of-12 from the line). And again, there's nothing wrong with James and Irving driving the lane, creating and making winning plays themselves. There's a difference between that and playing smart basketball, though. And I think the reason the Cavs keep blowing leads is because they go through stretches where they don't play smart basketball.
Those boys in Cleveland put on for the Swoosh last night. ??⬇️ https://t.co/bDl1kGHnjp

— SLAM Magazine (@SLAMonline) April 18, 2017
4. The Cavs are 12-0 in series in which they win the first two games. They should indeed win this series. The Pacers have become Paul George and a bunch of role players. I wouldn't be the least bit surprised to see George force a trade in the offseason. Anyway, whether the Cavs win in four games of six will depend on if they can cut down on turnovers, make the extra pass, and share the ball.
5. On the even brighter side, the Cavs have indeed been defending better in the playoffs than they did at the end of the regular season. Not much, but every little bit counts. Eventually, they'll need to get back to keeping opponents in the 90's again. But small steps. There should be plenty of postseason left in Cleveland.

NEO Sports Insiders Newsletter
Sign up to receive our NEOSI newsletter, and keep up to date with all the latest Cleveland sports news.