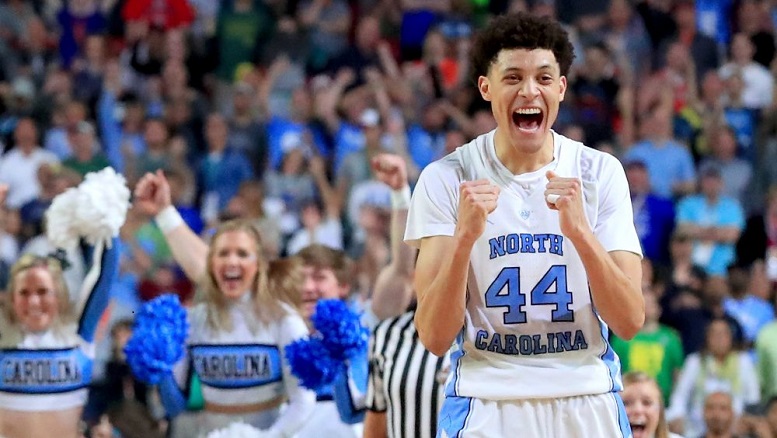 College basketball is severely lacking stars.
That's all I could think as I watched North Carolina defeat Gonzaga for the national championship Monday night.
OK, that's not all I could think. I also thought, "This is a great basketball game (aside from maybe the officiating). But it's too bad I don't really know any of the players."
I had heard of Justin Jackson from North Carolina. I'm a big fan of the smooth swingman and possible NBA lottery pick.
And I knew Gonzaga had some really big guy with a beard. Come to find out his name is Przemek Karnowski. But guess when I found out his name? That's right, not until Monday night.
Now, I'm not trying to diminish the accomplishments of these young men or how hard it is to play Division I basketball. And I'm not just talking UNC. I'm talking VCU, FGCU or even Alabama A&M.
Think about it. How many people do you know who have played college basketball — at any level? You need size, skill, and a little bit of good fortune. It's hard work, and those who have made the cut deserve high praise.
So this isn't about that.
It's about the steep decline in watchability of major college hoops.
Just the other day, I told my 12-year old son that North Carolina once had a lineup featuring Michael Jordan, James Worthy, Sam Perkins and others. And it took a last-second miracle shot from Jordan to win the title. My kid couldn't believe it.
Or how about Houston of the Phil Slama Jama era? Those teams featured Hakeem Olajuwon, Clyde Drexler and other future pros.
Guess how many titles Houston won? Yeah. Zero. College basketball was just that good.
I know what you're thinking. You're thinking, "Nothing like another column from some old dude pining for the good ol' days."
I admit, that's partially what this might be about. But that's not all it is about.
I've seen college basketball at its finest, the sport's golden era. This era just doesn't compare.
Oregon? I knew no one. South Carolina? I had heard of Duane Notice, but only because I thought his late name sounded cool. And those were Final Four teams.
Now, again, part of this has to do with the fact I cover pro basketball, and my time to view the college game is limited. Another part certainly has to do with having a wife and three kids. My free time just ain't what it used to be — at least not when it comes to setting aside time to watch college basketball.
And I do appreciate the talent of some of today's players. Jackson is a classy kid with a bright future. Same goes for Kentucky guard De'Aron Fox. Also, Lonzo Ball of UCLA and Markelle Fultz of Washington look like point guards who will make an immediate impact at the next level.
But most of these are one-and-done types, or players who merely stopped by the college game. They'll have no lasting impact on their programs. We're not talking Patrick Ewing (who played all four years at Georgetown) or Tim Duncan (ditto, at Wake Forest) here.
Basically, I don't understand the NBA rule that forces players to go to college for a season. What's the point?
How about a rule similar to baseball, where you can enter the draft immediately following your senior year of high school — but if you go to college, you can't enter until the completion of your junior year?
Granted, it's not the NBA's job to save college basketball. But I'm totally in favor of major college athletes getting paid (besides a scholarship). And by keeping kids in school and letting them develop, you're not just making college basketball better, you're making NBA basketball better.
You're creating ready-made stars, players who have already been marketed, and making them more ready for the pros once they get there. It's a win-win.
Believe it or not, this is something many NBA players would favor, too. Older veterans have no desire to lose their jobs to these flashy one-and-done types. They are trying to stay in the NBA and earn as much money as they can themselves.
Is the college game worthless as is? Certainly not. I thoroughly enjoy watching when I have the time.
But I've seen it look much, much better, and instead of forcing storylines and stars, maybe those in control of basketball can help make the college game great again.
Sam Amico is the founder and editor of AmicoHoops.net.