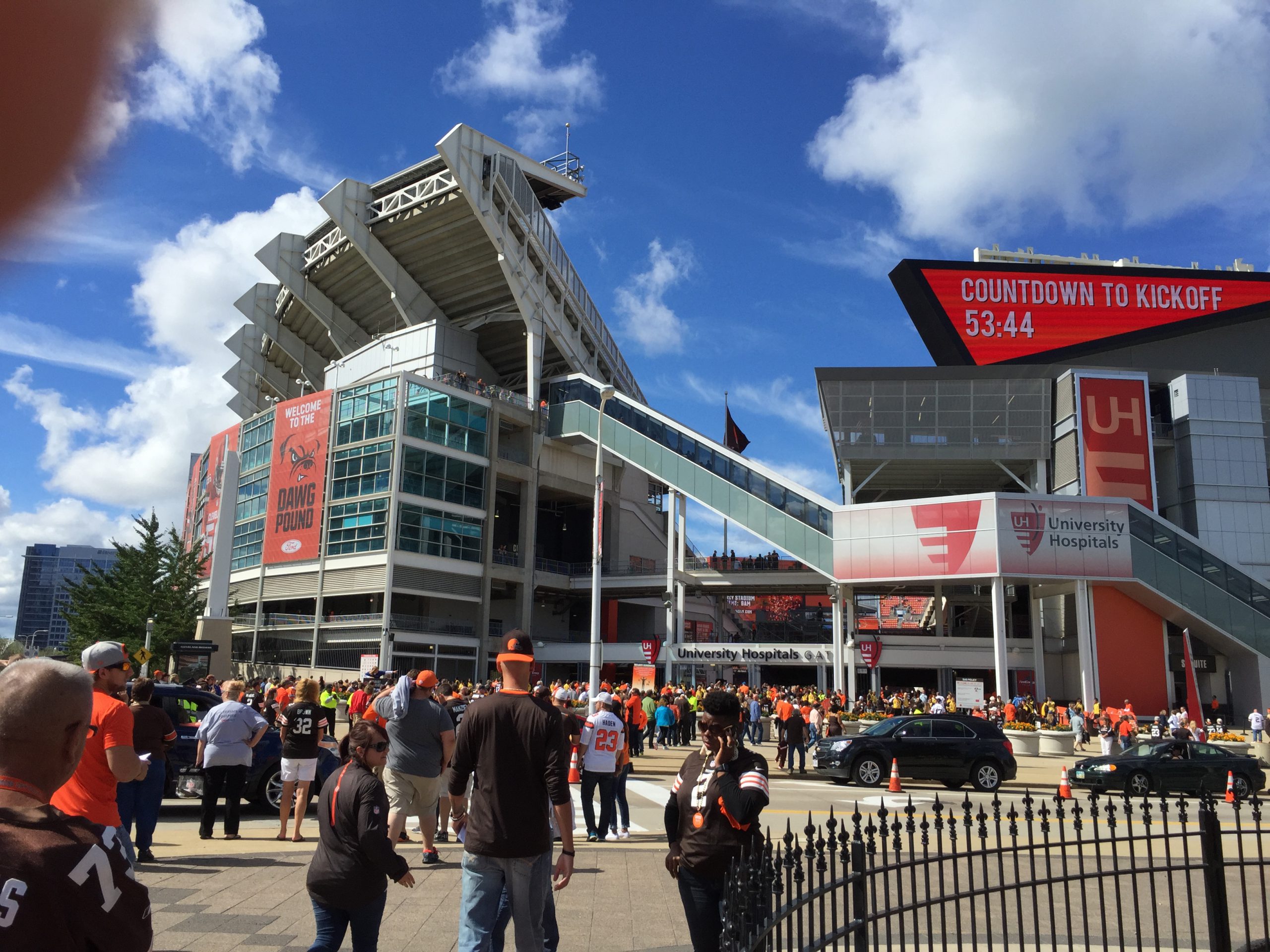 CLEVELAND — Thirty minutes until kickoff…Here are the main pregame storylines I'm looking at today: 1. Can Johnny Manziel prove that he can be a viable starting quarterback for the Cleveland Browns, and stay healthy enough to finish the game? 2. Can the Browns defense stop Marcus Mariota, who threw four touchdowns in last week's Titans victory over Tampa Bay? 3. Will Terrence West be a factor in this game? 4. Will the Browns be able to run the ball today, and can they stop the run?
12:54 — If the Browns win the toss, they should go on offense right away. Get J-FB on the field and passing as soon as possible.
1:00 — Kickoff
1:02 — Of course, the defense is on the field.
1:03 — Mariota completes first pass attempt with no one in the backfield…Holding call.
1:04 — I like that Terrance West got stuffed on the Titans' first running play. Can't let them run the ball. Make the rookie beat you through the air.
1:08 — Browns force a Titans punt…Benjamin goes down…Here comes Johnny.
1:09 — Crowell runs right into the pack in the middle. Could have gone off either end and had daylight.
1:10 — Manziel to Benjamin for 60-yard TD! Looked pretty damn good there. It was a tight spiral, right on the money (sign)! Browns up 7-0, with 12:59 left in the first.
1:15 — Gipson got away with one there. Could have been pass int.
1:16 — You need to hit Mariota when he decides to run with the ball!
1:17 — Terrance West coughs it up! Dansby with the hit. Browns ball. West is making the Browns brass look like geniuses. (well, maybe)
1:21 — Duke Johnson looked OK on the run to the left.
1:23 — Manziel looked great rolling right, and didn't take the run route…sees a receiver and hits him.
1:24 — Clipping? I haven't heard that call in decades.
1:26 — Crow with the 11-yard TD run. Good mix with the play calling on that drive. Browns up 14-0 with 6:33 left in first.
1:30 — Coons kicks another touchback.
1:33 — Harry Douglas gets hit with the PF after hitting Haden on the head.
1:34 — You need to hit Mariota like that every time he touches the ball and tries to leave the pocket.
1:35 — TO Titans, with 3:52 left in first.
1:38 — Browns hold on the return, which negates a good runback by Benjamin.
1:39 —
1:41 — Wasn't that a hit to the head on the QB slide???
1:42 — Browns have their first 3 and out
1:45 — McCluster goes untouched for a 34-yd gain.
1:47 — Mariota got knocked the **** out on that play. Browns get the ball. End of first, Browns 14, Titans 0
1:59 — Browns defense is giving Mariota fits and hits right now.
2:06 — Manziel slinging it sidearm looked weird.
2:08 — Johnson Jr. takes the ball within the Redzone. Crow moves the pile, and comes up an inch short.
2:11 — Manziel is a little small to do the QB sneak.
2:13 — Whitner needs to wrap him up.
2:14 — Bryant gets Mariota in the backfield.
2:15 — Mariota doesn't get touched, but still fumbles because the Browns are getting great pressure and penetration into the pocket.
2:16 — No fumble…delay of game before the snap. Boo
2:29 — Browns need to keep Tenn. out of the endzone before halftime.
2:31 — We need Josh Cribbs back…son, please. Benji with another return for a TD!!! Browns up 21-0 with 53 seconds left in the half.
2:34 — Meder get the sack on Mariota. Great coverage in the secondary.
2:35 — Halftime notes: Well, I was looking for Manziel to look like a NFL QB, and he does today! So far, he is 6 for 11, for 106 yards and a touchdown, with no interceptions. He has shown great restraint from running out of the pocket, and has found his secondary receivers after plays have broken down. After a shaky start, the Browns defense has shown up big-time. The unit has sacked Mariota three times in the first half, and has one more tackle for a loss. Haden and Christian Kirksey each have a fumble recovery, and four Browns have recorded four tackles each. Benjamin has made the Browns return game not just relevant, but explosive! He had another TD off a punt return (along with the 80-yard TD reception), this one for 78 yards. I'm excited for the second half; how about you?
2:52 — Manziel waited for his guy, and got him.
2:53 — Titans defense with a rare good play call on that loss.
2:54 — Good to see Manziel throw that one away.
2:55 — The Browns might have the best punter in the NFL.
2:59 — Who was supposed to cover that guy?
3:00 — A perfect time for another sack!
3:03 — A great first-half graphic from CBS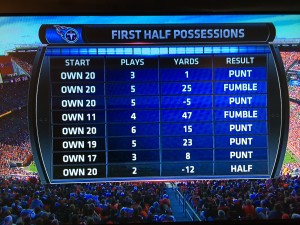 3:07 — Need to watch those throws into triple coverage.
3:08 — Browns are lucky that Mitchell Schwartz was right there on the fumble.
3:11 — Big third down for the Browns D right here. Needed to get the stop, but Titans FB gets it over the yellow line.
3:13 — Titans start to get the running game rolling. D-linemen need to get off those blocks quicker.
3:16 — Titans run that bubble-screen perfectly for a big gain. Thought there was holding down field, but no call.
3:17 — Anthony Fasano grabs a TD pass from Mariota. Browns 21, Titans 7, with 1:36 left in the third quarter.
3:21 — Alex Mack tripped over J-FB's foot on that loss.
3:22 — Manziel gets his first bell-ringer and fumbles, but Browns recover. End of third with the Browns up 21-7.
3:27 — Mariota has no one to throw to, but gets first on a nice run.
3:29 — Browns getting driven on right now.
3:32 — Browns secondary with good zone coverage, force the third and eight. Titans in the red zone.
3:36 — Poyer with the int., but taken back on the penalty. Titans get automatic first down.
3:39 — Titans with the fourth down play on the 13-yd line. TD Titans. Browns 21, Titans 14 with 6:42 left in regulation. Browns defense starting to look tired out there.
3:45 — Crowell with a nice run on first down, and smartly stays in bounds…tick…tick.
3:47 — Johnson Jr. with the first down! Tick…tick.
3:49 — Titans use first TO in the half with 3:02 left in regulation.
3:51 –Manziel with another TD toss to Benjamin! He looked like he was back at Texas A&M on that play, spinning away from pressure and finding the open guy downfield. Browns 28, Titans 14 with 2:52 left in regulation.
3:57 — 2:00 WARNING with the Titans just inside Browns territory.
4:02 — Browns getting penetration, force Mariota fumble. Titans recover.
4:04 — Mariota fumble! Browns ball with 40 second left.
FINAL — Browns 28, Titans 14
Final thoughts: What a difference a week can make! All the things I was looking for the Browns to accomplish in this game came to fruition. Manziel looked the best he has since he was playing in college. The rest of the offense did what was needed to be done for the Browns to win, with Crow running one in, and the other running backs adding to the mix. Obviously, today's MVP for the Browns is Benjamin. Two receiving TD's and another on a punt return. The Browns did a great job on pass rushing, but still needs to tighten up the run defense. All in all, it was a great victory for the 1-1 Browns, and it will be a victory Monday tomorrow!!!

NEO Sports Insiders Newsletter
Sign up to receive our NEOSI newsletter, and keep up to date with all the latest Cleveland sports news.