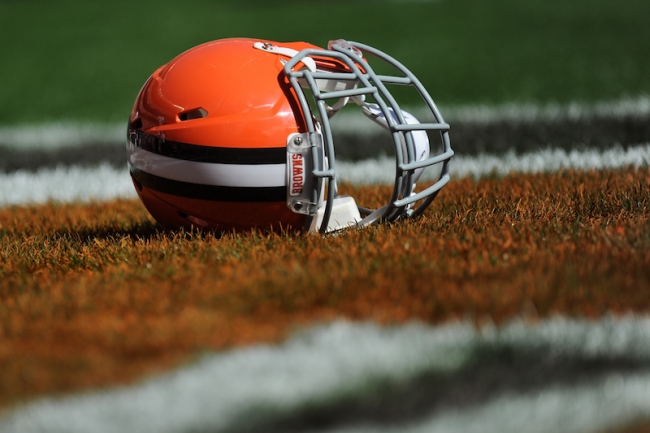 The NFL draft has been jokingly — well, maybe seriously — referred to as the Browns' "Super Bowl" by the team's frustrated fans.
For the first 20 or so years that the Browns were in the NFL, when the draft wasn't nearly as hyped as now, Cleveland's annual selection of college players was used to support an already strong roster. These days, the purpose of the draft for the Browns is more urgent — to build a roster.
Following is a ranking of the Browns' 70 best-ever draft picks in terms of value, not strictly in terms of production.
A player selected by the Browns with an overall 125th pick, say, and who went on to make a solid contribution for several years, might be ranked higher than a player who contributed somewhat more but was taken with, for example, a 50th pick. That's because in terms of draft value, that 125th pick turned out to be a better selection.
It's a list of 70, because it's 70 years since the Browns began play in 1946 in the new All-America Football Conference.
Players must have played at least four seasons with the Browns after being picked in the regular annual draft to be considered for this list. Those players acquired through one of the various supplemental drafts, such as Bernie Kosar, Kevin Mack and Mike Johnson, weren't considered because the mechanics of a supplemental draft are not comparable to the regular draft.
Browns greats such as Otto Graham, Marion Motley, Lou Groza, Bill Willis, Dante Lavelli, etc., aren't included, as they began their careers in the short-lived AAFC (1946-49).
Player performance with the Browns only is considered. Future Hall of Famers Doug Atkins, Willie Davis, Henry Jordan and Dick LeBeau were Browns' draft picks from 1953-59 but aren't on this list. LeBeau was cut by the Browns before playing for them. The other three were traded by the Browns after just two seasons each as part-time players.
Statistics refer to only what a player did with the Browns. Playoff game performances were factored into the rankings, too. Remember, the nature of statistics has changed over the years, one factor being that the game has become more pass-oriented in the last few decades.
Some players' values are enhanced by what the Browns eventually got for them in trades, or diminished by what Cleveland gave up to move into position to draft them.
Positions: Offense — QB, quarterback; RB, running back; FB, fullback; WR, wide receiver; TE, tight end; C, center; G, guard; T, tackle; PK, placekicker; P, punter; Rtn, kickoff and/or punt returner; LS, long snapper.
Defense — E, end; T, tackle; NT, nose tackle; LB, linebacker; CB, cornerback; S, safety; DB, cornerback and safety.
Key: ranking number, player, position, year drafted, round/overall pick number, college, years with Browns.
Click HERE to See Numbers 49 to 40
39. MILT MORIN, TE, 1966, 1/14, Massachusetts, 1966-75. Overcame a serious back problem to twice make first-team all-league and not miss a game in his last seven seasons. Big, strong blocker who averaged a remarkable — for his position — 15.5 yards on 271 career catches. Had 17 receptions for 230 yards and two touchdowns in seven playoff games.
38. MIKE PRUITT, RB, 1976, 1/7, Purdue, 1976-84. Third on the Browns' all-time rushing list with 6,540 yards. Had four 1,000-yard seasons. Often broke runs between the tackles. First-team all-league once. Usually thrown to in short-yardage situations, averaging 6.9 yards on his 255 pass receptions. Totaled 52 touchdowns; 47 of them running the ball.
37. DON COCKROFT, PK-P, 1967, 3/55, Adams State, 1968-80. Led the league in field goal percentage three times. Made 66 percent of his career attempts, a superb number for the era. First-team all-league once. His 1,080 career points ranked eighth all-time when he retired. The Browns' punter for nine years.
36. MILT PLUM, QB, 1957, 2/17, Penn State, 1957-61. Led the league in completion percentage three times. Twice, he had the lowest interception percentage. It became cliche to say that Plum benefited from short passes to Jim Brown and Bobby Mitchell. Well, of course he did, but he was also adept at hitting receivers downfield. Made two Pro Bowl teams.
35. ALEX MACK, C, 2009, 1/21, 2009-15. Mack, a three-time Pro Bowler as a Brown, signed with the Falcons as a free agent in March. He started his first 85 games with the Browns until he was sidelined for the final 11 games of 2014 with a broken leg. Immediately, the Cleveland offense stumbled in his absence. Made a solid comeback last season.
34. WEBSTER SLAUGHTER, WR, 1986, 2/43, San Diego State, 1986-91. Caught 305 passes for 27 touchdowns and a 15.8-yard average. A legitimate deep threat. Made first-team all-league once. Caught 23 passes for 381 yards and five touchdowns in seven playoff games.
33. JOHN WOOTEN, G, 1959, 5/53, Colorado, 1959-67. Never missed a game. Became a starter his third season and twice made first-team all-league. No team had faster guards to pull and get out on the sweep than did the Browns with Wooten and Hall of Famer Gene Hickerson.
32. DICK AMBROSE, LB, 1975, 12/290, Virginia, 1975-83. Made 103 starts, about half of them at middle linebacker in the 4-3 defense. When the Browns went to a 3-4, he played just as capably at either inside linebacker spot.
31. CHIP BANKS, LB, 1982, 1/3, Southern California, 1982-86. Would be ranked higher, but had some personal issues, and the Browns traded him, along with the 24th and 53rd picks in the 1987 draft, to the San Diego Chargers for the fifth and 32nd picks. The Browns took linebacker Mike Junkin with the first of the two picks, and center Gregg Rakoczy with the second one. Junkin flopped, and Rakoczy became an average starter for a few years. Banks played in four Pro Bowls while a Brown, and was a first-team all-league pick three times. Had 11 quarterback sacks in 1985.
30. JACK GREGORY, DE, 1966, 9/139, Delta State, 1967-71, 1979. A superb pass rusher who made second-team all-pro twice. Gregory and backup cornerback Freddie Summers were traded to the Giants for first- and second-round picks in the 1973 draft. The Browns spent the first-rounder on wide receiver Steve Holden, who totaled 62 career catches, but got star running back Greg Pruitt with the second pick.

NEO Sports Insiders Newsletter
Sign up to receive our NEOSI newsletter, and keep up to date with all the latest Cleveland sports news.