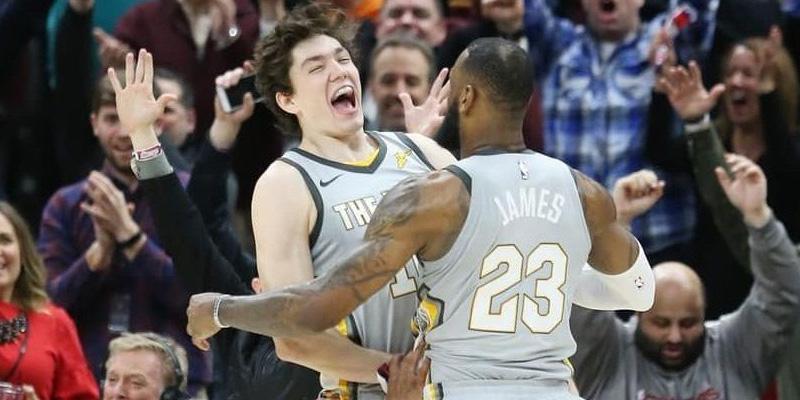 INDEPENDENCE, OHIO- Cedi Osman left UCLA last month, in fact he was talking and training with the best three small forwards in NBA.
The 23-year-old will be entering his second season with the Cavaliers. In Los Angeles, he worked out with former teammate LeBron James, Kevin Durant, and Kawhi Leonard. Monday, he still couldn't believe he was invited to go workout with best players in the league.
With Durant watching him, Osman said that his shots kept coming up short but he got some help from the former MVP and All-Star who encouraged Osman, telling him to (shoot up). Hoping the results will improve his game.
"It was a good moment for me," Osman said during Cavs Media Day on Monday. "Those three kept talking to me and it was an unbelievable experience."
During last season, both James and Osman developed a friendship on and off the court.
Osman was there for buzzer beaters – trying to be the first player to hug him or give him chest bumps from the air, the handshakes or even if it was the conversations.
Though he is ready to be one of the leaders for this Cavs team, also be involved in a big role.
"We were good friends," Osman said. "He helped me a lot during the season and supported me no matter what."
Also, wants to show what he learned from the best player in the league.
The small forward only averaged 3.9 points and 2 rebounds in 61 games seen in action during the regular season. But, in the summer league, we saw a different Cedi Osman. showing his promise of what he can bring to the team and what kind of player he can be. Averaging 20 points and 8 rebounds, also spent time with the Turkish National Team.
"He has great potential," Cavs coach Tyronn Lue said of Osman on Monday. "I'm very excited for his season. He's ready for it, and we're ready to see what he can do with consistent minutes."

NEO Sports Insiders Newsletter
Sign up to receive our NEOSI newsletter, and keep up to date with all the latest Cleveland sports news.