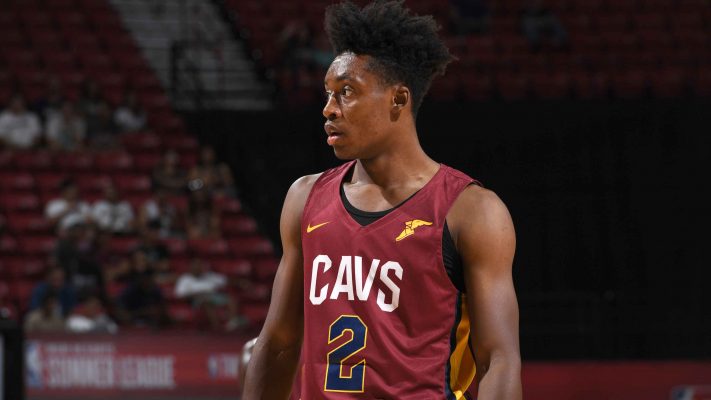 INDEPENDENCE, OHIO – Something is looking up for the rookie Collin Sexton in last two days of training camp. The success and the development.
In that case, what coach Tyonn Lue saw from his rookie from Alabama may have him thinking in next few days. Yes, watching him what he does during practices. Maybe that thinking time will happen when preseason hits.
"I thought he played like a veteran today," Coach Lue said following practice on Wednesday. "He's been here before and that's what the team and the staff need from him."
During the Summer League, Lue got a glimpse on what he can expect from Sexton as he said his game-by-game has improved as summer went along. Throughout the process, he helped the Cavs finish 5-2 and advancing to the semi-finals where they lost in double overtime to the Los Angeles Lakers.
Sexton is a player who is understanding what NBA is all about – understanding the game and the different rules.
"Understand where he can pick and choose different spots to score and make plays for others," Lue also said. "He wants to play."
Also, the rookie got a chance to be around with the whole group for the first time this week.
"It's a lot different, being around the whole team," Sexton said. "really the first time being together even though some of us was in Miami earlier but always good to have everyone in one roof working on things."
It all comes down to toughness and being aggressive wheather that's getting to the basket, free throw shots, and scoring. That's the expectations from Coach Lue on Sexton.
Looks like Sexton will be mentored, by teammate George Hill. Just a year ago when playing for the Sacramento Kings, Hill was mentoring De'Aaron Fox.
Hood as the second scorer?
Last year, it was Kevin Love as the second-leading scorer, but for the 2018-2019 season, things have changed. Who is the second scorer? Coach Lue gave that role to Rodney Hood.
"He's really good," Lue said. "Like scoring the basketball, attacking the basket and doing everything with pace and speed. Probably going to be our second scorer behind Kevin Love."

NEO Sports Insiders Newsletter
Sign up to receive our NEOSI newsletter, and keep up to date with all the latest Cleveland sports news.