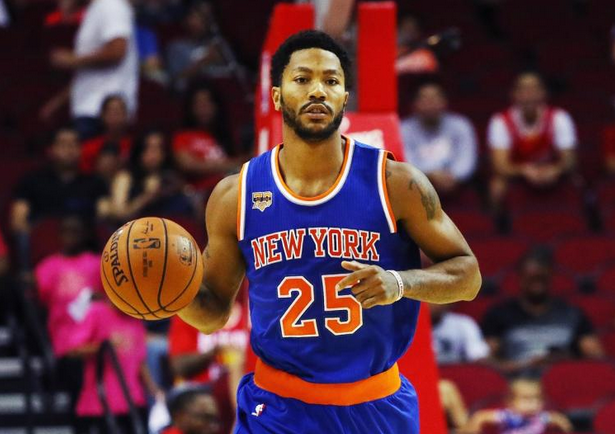 On Monday afternoon, Cleveland Clinic Courts was buzzing with media and players gathered for the Cleveland Cavaliers annual Media Day.
As both parties mulled around, Cavs head coach Tyronn Lue still found himself with a full audience as he answered questions about the neophyte Cavaliers, the strengths of the team, what he expects throughout the season and potential protests by the team in the wake of LeBron James retort to President Trump's tweet to Golden State Warriors superstar Stephen Curry.
Notable among the quotes from Lue was his answer to whether he believed Derrick Rose was a starting caliber point guard on a championship team.
"Yes, I do," Lue said, without any hesitancy or signs of being disingenuous.
When asked if Rose would then be the starter, Lue answered as expected. Yes.
Lue went on to discuss how Rose, like Kyrie Irving and Isaiah Thomas, is explosive in the pick-and-roll. Mentioning how Rose was able to still be an above-average scorer (18.0 points per game) in the New York Knicks' tough triangle offense.
Because of how Rose excels in that area of the game, a staple of any NBA offense, and Rose's inclination and ability to attack the rim, he'll open up plenty of looks for spot-up shooters and be able to hit rolling bigs more consistently than the iso-king Irving would have.
Or, at least that's the plan. J.R. Smith, who noted Rose's ability to keep others involved as a feature of his game that differed from Irving. Rose, who mentioned how people overlook how he's "a great passer", averaged 4.4 assists per game last season and has a career average of 6.0 assists per game. While those numbers would initially seem to pale in comparison to Irving's, it's important to note the talent difference between Irving's teammates and Rose's last year.
Rose's career-high of 7.9 assists per game (2011-2012) came directly after a season where he averaged 7.7 assists per game (2010-2011). In his rookie season (2008-2009), one in which the eventual league MVP won Rookie of the Year, Rose averaged 6.3 assists per game. Despite how negatively media has portrayed Rose, he's a naturally talented player who excels as both a scorer and a passer.
True enough, Rose has been unable to develop a consistent three-point shot. But there are other facets of the game where he can excel. One of those strengths is attacking the basket, which is essential to Lue's directive for the team to play fast, with pace and to score early in the offense.
Last year, Rose was fourth in points per game coming off of drives (8.2).
(Thomas was first, with 9.5 points per game coming from drives. James was eighth, with 7.8 points per game coming from drives. Irving was tenth, with 7.1 points per game coming from drives.).
Rose, like Thomas, will be able to come to the team and be himself. According to Lue, one of the greatest things about the team is that players can come in be themselves.
"Play how you can play, do what you can do."
Rose, like Jeff Green and Jae Crowder, is a versatile addition for the Cavs. It's more than likely he'll play a fair bit of shooting guard sharing the court with James (and possibly Thomas as well when he returns). While Lue notes that it will take time to find "who plays well with who", he does expect the Cavs to able to trot out a variety of lineups.
Rose's ability to succeed in Cleveland will be a major topic of discussion all season. Luckily, he has his teammates', his coach's and the organization's full support.

NEO Sports Insiders Newsletter
Sign up to receive our NEOSI newsletter, and keep up to date with all the latest Cleveland sports news.