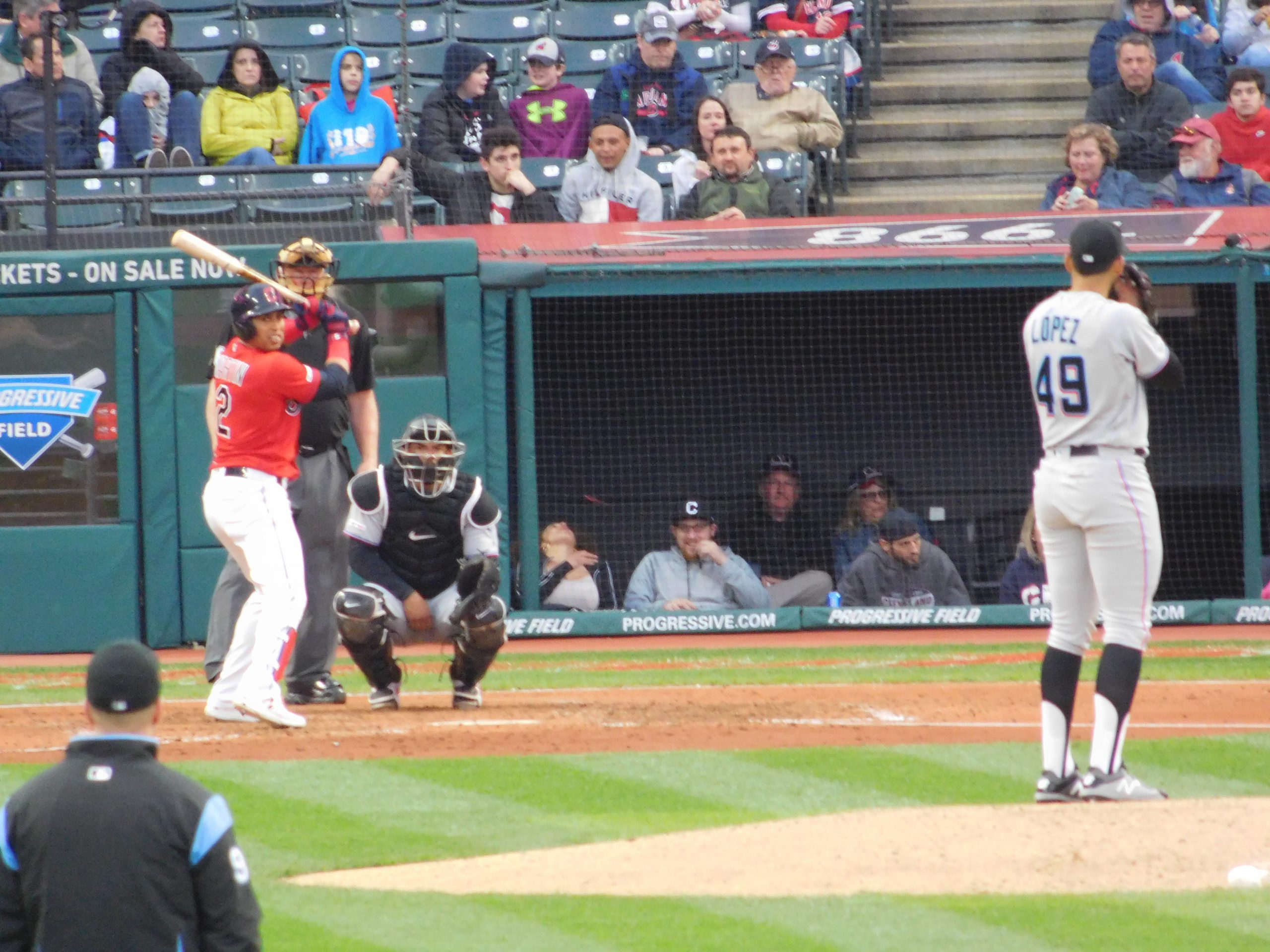 CLEVELAND – The Indians seemed to be on cruise control Saturday night after taking a 7-0 lead into the fifth inning of the second game of their doubleheader against the Atlanta Braves.
Since that inning, it's been a downright nightmare for the Indians, as they've now dropped three straight, and Tuesday night not only suffered a loss to the worst team in the Majors in the Miami Marlins, but also lost starter Carlos Carrasco.
'Cookie' got run over by Marlins DH Neil Walker in the top of the fourth, and left the game with what the team announced as 'left knee discomfort.'
The pitcher left the game in a scoreless tie, and after that Neil Ramirez allowed three runs the next inning in the eventual 3-1 loss.
Carrasco had a 'precautionary' MRI performed on the knee to make sure there was not any serious damage.
"He kind of bruised it," Indians manager Terry Francona said after the game regarding Carrasco's knee.
"He kind of fell on it, he initially said he felt it in the back (of the knee), that's why our medical people felt like 'let's get an MRI to rule everything out.'"
Since the fifth inning of the game Saturday, the Indians have been outscored 22-6 in two losses to the Braves and now this latest one to the Marlins.
Miami starter Pablo Lopez, who entered play with an ERA of 5.85 and a 1-3 mark, shut the Indians down, holding them without a hit till a Jose Ramirez single in the sixth.
Now at 12-10 on the year, here's a couple quick takeaways from the Indians two-run setback to the Marlins.
1. The Offense is Nowhere to Be Found
Like what happened during two of their three games against the Royals two weekends ago, the Indians offense seems to be back on vacation, as Monday against Lopez and the Marlins they put up just a single run on three hits.
Pablo Lopez seemed to have no issues in just overpowering the Indians, throwing lots of solid fastballs and once in a while using his change up to beat Indians hitters.
"He beat us with his fastball up, his change up down," Francona said of Lopez. "He just kind of consistently beat us with his fastball."
Lopez walked two, struck out six, and left the game allowing a run on two hits over 6.1 innings.
It was his longest outing of 2019, having not gone more than 5.1 innings in any previous start.
The Indians have now scored six runs over their last 23 innings, five of those in mostly garbage time after they were beat up early by the Braves on Sunday night.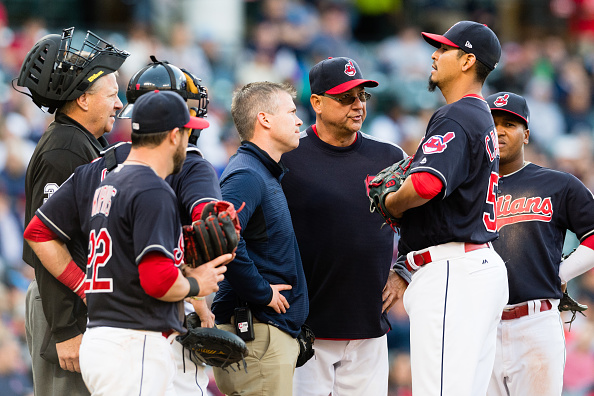 2. How Serious Is Carrasco's Knee
That will be the million dollar question as the Indians clubhouse opens on Wednesday morning prior to their game against the Marlins.
Carrasco just can't seem to ever shake that injury bug, and it came back again on Tuesday as he tried to make a play on a ball hit by Neil Walker, where he basically got bowled over at first base.
The team is already on one of their minor league starters, that being Jefry Rodriguez, who will get the start Wednesday in place of Mike Clevinger.
With Adam Plutko still having injury issues in the minors, it would be tough to have to find another starter right now if Carrasco is to miss any significant amount of time.
It was an impressive start until the injury for 'Cookie,' who now over his last five home starts owns a 1.93 ERA (8 runs allowed over 36.2 innings).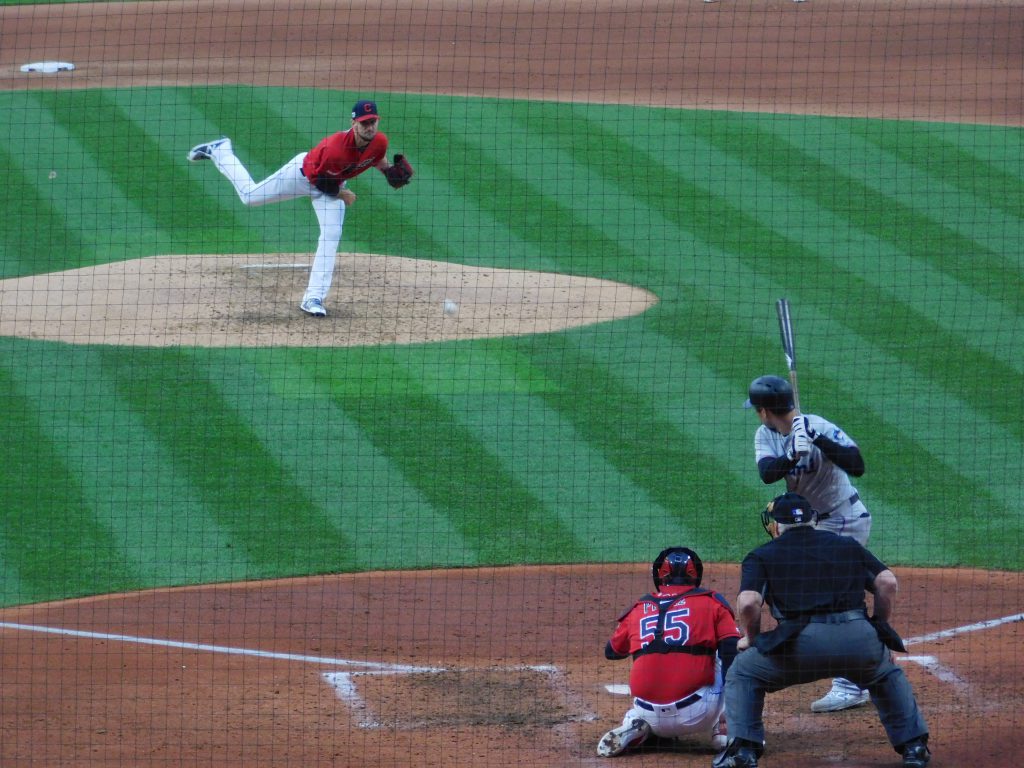 3. Otero and Cimber Step Up
After Neil Ramirez allowed three runs in the fifth to put the Indians in a hole, the rest of the pen did a nice job to at least give them a shot.
Dan Otero appeared to get in some trouble but worked out of it in the 6th. He gave up a Neil Walker double and Stalin Castro single to put runners on first and third with no outs.
He then worked some magic, getting three straight ground outs to end the inning without allowing a run.
Otero pitched the seventh as well, and in nine games he's allowed just two runs in 10.2 innings (1.69 ERA).
After an awful Saturday night in game two, Adam Cimber recovered and threw 1.2 innings after Tyler Olson allowed a hit and got an out.
Cimber also struck out three, and his ERA now sits at 4.50. His control was much better than that when he couldn't find the plate Saturday night.

NEO Sports Insiders Newsletter
Sign up to receive our NEOSI newsletter, and keep up to date with all the latest Cleveland sports news.