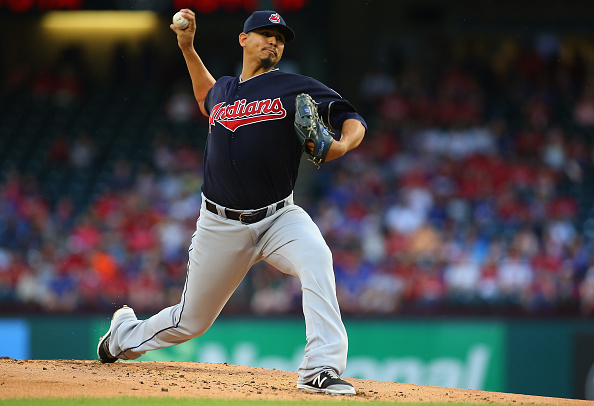 CLEVELAND – 20 days ago, Carlos Carrasco's season seemed in je0pardy after Joe Mauer ripped a line drive, comebacker off his elbow. Elbow injuries are a scary thing for pitchers, and initially, the Cleveland Indians feared that Carrasco's was shattered.
The initial jolt of fear dissipated rather quickly though, as the team diagnosed the 31-year-old righty with a contusion. Two days later, X-rays confirmed just that and disaster was averted.
Still, Carrasco's road to recovery took time. Bullpen sessions in late June, paved way for a rehab start in Akron last Saturday. The very next day it was announced that he'd rejoin the rotation, and lo-and-behold there he was on Friday night, pitching against the Oakland Athletics in front of a soldout, Progressive Field crowd.
A's center fielder Dustin Fowler didn't offer Carrasco quite as warm of a welcome back as the 34,633 fans in attendance did, depositing the fourth pitch he threw into the seats in right field. Not exactly the ideal way to start a game.
It was déjà vu in the second, as first baseman Matt Olson got that inning started with a dinger of his own, to the deepest part of the ballpark. Go ahead and chalk it up as Carrasco simply shaking off a little rust.
It took till the third for Carrasco to really settle in, striking out the side to bring himself within three strikeouts of 1,000 for his career. One inning later he worked out a minor jam by inducing an inning-ending double play to strand a runner at third base. He surrendered one more run in the fifth, but was able to work through more trouble to keep the Tribe in front 4-3.
Then Carrasco took the mound for the sixth at 90 total pitches and just two strikeouts away from that 1K milestone. Khris Davis quickly became strikeout No. 999 – the 12th most in franchise history – before Terry Francona took a stroll out of the dugout. No. 1,000 will have to wait another day. He left having yielded seven hits, three runs and striking out seven over five and a third innings. A far from perfect outing.
Francona was pleased with what he saw nonetheless.
"Early on, a couple fastballs got hit, but he kept it in check and he really found his breaking ball," Francona said. "I mean there was a couple innings there where he threw maybe six, seven, eight in a row but they were so good."
The curveball was good. Really good, actually.
Carrasco threw more curveballs on the night (47) than any other pitch in his arsenal and registered a whopping 24 strike calls with it – a symmetrical 12 swinging and 12 looking. Five of his seven strikeouts were by way of the curveball as well.

"The thing that felt different today was just [my] fastball command," the righty explained. "I saw more of my curveball and that slider, changeup working more. I just tried to command my fastball the whole game but I couldn't."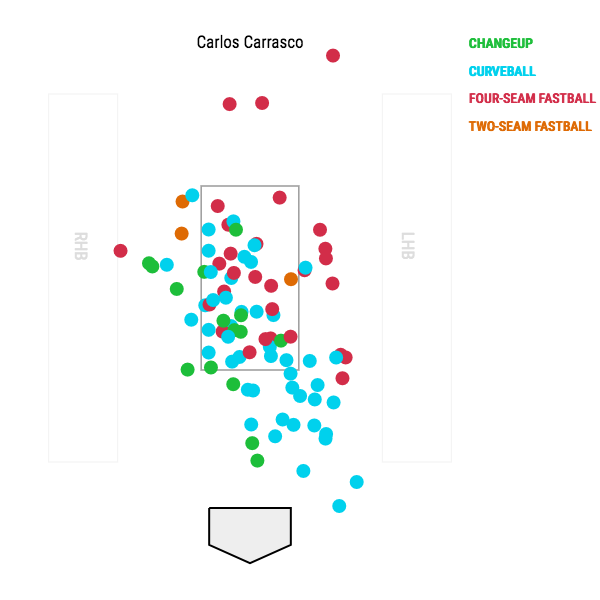 Without his usual fastball command, Carrasco kept the Athletics bats whiffing throughout the night anyway. Truthfully, the righty is at his best when the offspeed stuff is working. The fact that he found that in his first game back off the DL from a painful elbow injury is a great sign for the Tribe. So too is the expectation that he'll only get better from here, and assuming he does, just picture a trio of Corey Kluber, Trevor Bauer – two early AL Cy Young Candidates – and a healthy, vintage Carrasco. Talk about nightmares for any potential postseason opponents.

NEO Sports Insiders Newsletter
Sign up to receive our NEOSI newsletter, and keep up to date with all the latest Cleveland sports news.