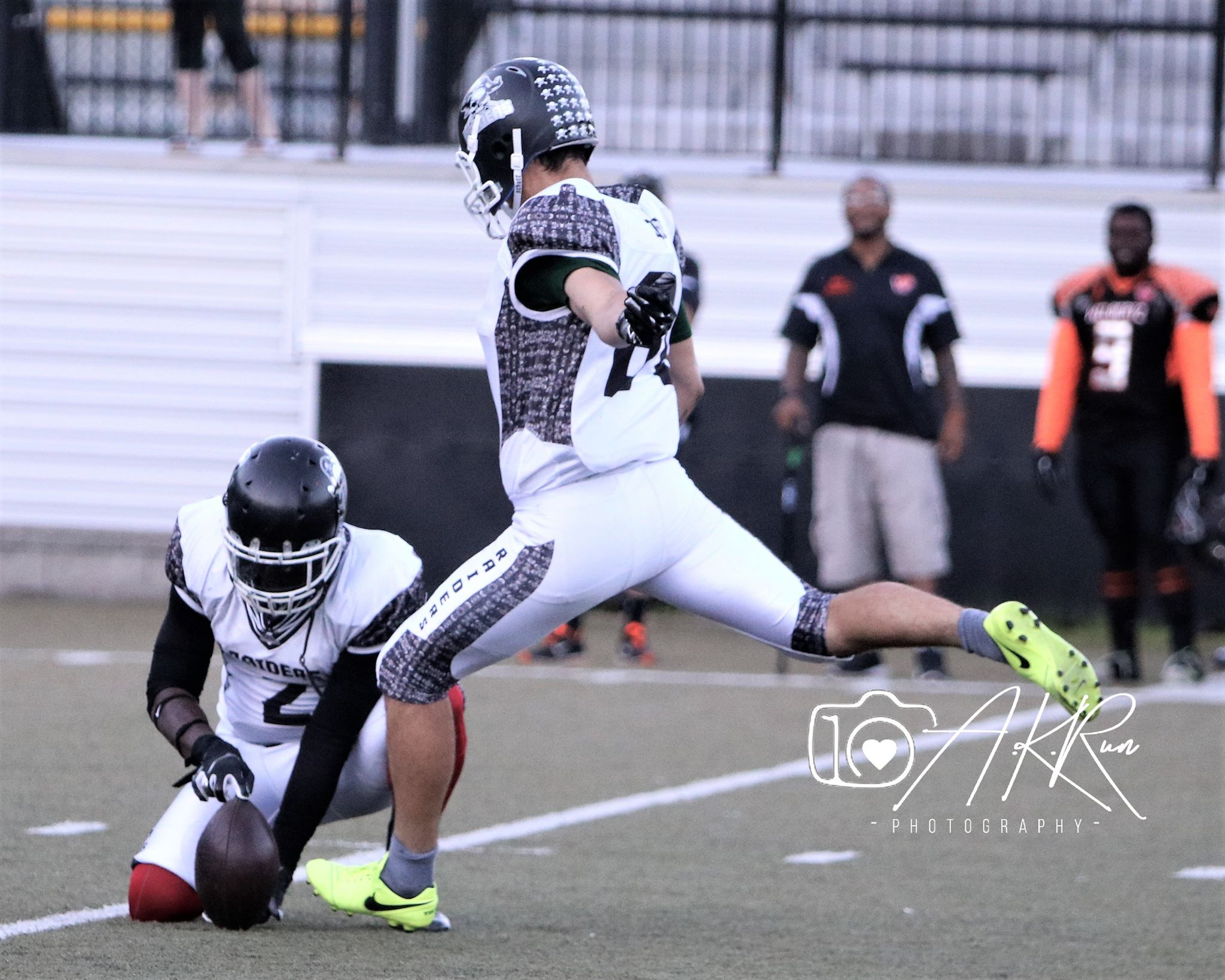 Pic Via Amanda K Rundle ( free lance photographer)
NEW KENSINGTON, PA – Saturday night's round 2 of WPA vs Ohio ended differently than the first time the two teams met in Medina with the exception of one thing, the final score which was a blow out win for WPA 35-12.
Western Pennsylvania QB Corey McWilliams carried over his mastery of the Raiders defense from his teams 26-21 victory the first time around where he threw for over 300 yards and led his offense to a 500+ yard day in this second go round as he hooked up on the second play from scrimmage with wideout Deshawn Coleman for a 79 yard score that gave WPA a 7-0 lead just four minutes into the contest.
After the WPA special teams tackled Ohio punter Josh Brebant at his own 12 on an unsuccessful punt attempt the Wildcatz wasted no time again as McWilliams rifled a pass through the secondary for a 12 yard hookup to Evander Wright and a 14-0 advantage at the 8:09 mark of the opening period.
Late in the first quarter the Raiders found themselves on the scoreboard for the first time as they capitalized on a WPA penalty and pushed across a 39 yard Brebant field goal to trim the lead to 14-3.
Carlos Alexander's third interception in as many games put the Ohio offense at their opponents 35 but despite a long drive that spanned across two quarters the Raiders again had to settle for three points on a 25 yard Brebant field goal with 9:54 to get within a score at 14-6.
Late in the opening half it was again McWilliams who pushed points onto the scoreboard for his team as he hit Bruce Thornton Jr. in stride for a 34 yard touchdown pass to break the PAFL single season touchdown passing mark set by former WPA QB Paul Jones just a season ago. A bad snap on the ensuing extra point attempt kept the score at a two score game 20-6 with 2:54 before the break.
A Brebant field goal with 8:43 in the games penultimate period cut the WPA lead to 20-9 but it would be a short lived 11 point game as the home team surged to 27-9 less than five minutes later on a 20 yard scoring toss to Jordan Lineburg from McWilliams.
For the final score of the game on their end the WPA offense would finish off a 41 yard drive that began in Ohio territory with a 7 yard run around right end by speed back Christian Jackson. Leading 33-9 with 11:37 to go in the contest the Wildcatz completed a two-point conversion pass to Darnell Harding who was minutes later declared an ineligible receiver. On their second try at two points WPA connected to Thornton Jr. and saw it deemed a successful try to pull ahead 35-9.
Unable to finish a drive with a touchdown the Raiders once again turned to the right foot of Brebant who connected on a 48 yard field goal to set a team record with his fourth connection of the game for the final marker in a 35-12 WPA victory.
With just a couple of minutes remaining in the game McWilliams would help break a second PAFL record as a 30 yard completion to Thornton Jr. that set a new single season yardage record.
In earning the victory the Wildcatz (4-1) put themselves in the drivers seat for the second seed in the Stars Division of the PAFL playoffs behind the NEO Predators while the Raiders see themselves likely fall to the third seed.
Ohio drops to 7-3 overall and will be awarded a forfeit victory from the Cleveland Patriots this Saturday before they finish regular season play on July 21st at Oberlin College against the Lorain County Nightmares.
Article content via Michael Hirn

NEO Sports Insiders Newsletter
Sign up to receive our NEOSI newsletter, and keep up to date with all the latest Cleveland sports news.