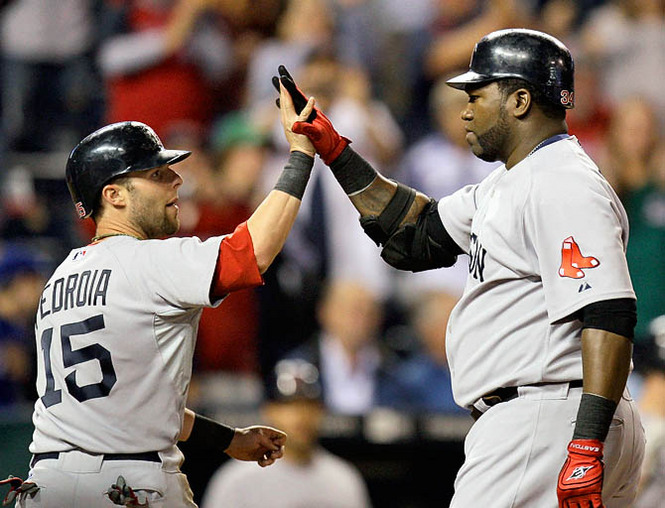 When analyzing the matchups between the Cleveland Indians and Boston Red Sox, the two teams are not far apart in hitting, starting pitching, or even the strength of their bullpens.
One area that appears to be a significant advantage for Boston is playoff experience.
The Indians are a mystery in that regard.
Looking at the Indians roster, here are the players with playoff experience, how many games, and how many World Series rings they have won:
Yan Gomes 1 game
Mike Napoli 51 games, 1 World Series ring
Jason Kipnis 1 game
Rajai Davis 3 games
Lonnie Chisenhall 1 game
Carlos Santana 1 game
Chris Giminez 2 games
Coco Crisp 31 games, 1 World Series ring
Andrew Miller 6 games
Cody Allen 1 game
Bryan Shaw 5 games
The Indians ALDS roster has played a combined 103 playoff games and has two World Series rings.
The Boston Red Sox on the other hand…
Hanley Ramirez 13 games
Xander Bogaerts 12 games,1 World Series ring
David Ortiz 82 games, 3 World Series rings
Dustin Pedroia 44 games, 2 World Series rings
Chris Young 13 games
Aaron Hill 5 games
David Price 14 games
Rick Porcello 8 games
Clay Buckholz 5 games, 1 World Series ring
Koji Uehara 17 games, 1 World Series ring
Craig Kimbrel 6 games
Joe Kelly 11 games
Brad Ziegler 2 games
The Red Sox have a grand total of 232 games of playoff experience and eight World Series rings on their ALDS roster.
This is not to say the Indians don't have a chance, but it's certainly one advantage on Boston's side.
One thing the Tribe does have going for them in playoff history is two-time World Series champion Terry Francona, who knows Ortiz and Pedroia as well as anybody.
John Farrell has one World Series ring as a manager and was a pitching coach on Francona's staff from 2007-2010.

NEO Sports Insiders Newsletter
Sign up to receive our NEOSI newsletter, and keep up to date with all the latest Cleveland sports news.