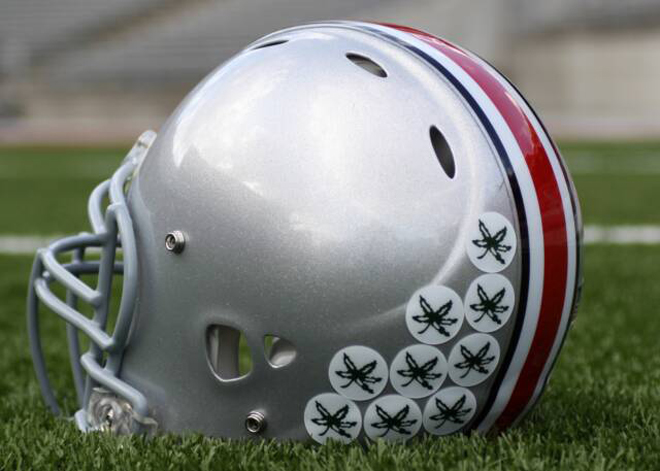 By Spencer Davies
After a quarter and a half, it was a game at Memorial Stadium.
Until the third-ranked Buckeyes decided to kick into gear.
J.T. Barrett made his first start since October 24th and even though he wasn't spectacular, it looked as if he didn't miss a beat.
From the opening drive, Ohio State's offense looked more in sync than it did during the entirety of last weekend's game against Minnesota. It was fast-paced, smooth and natural looking.
However, the Bucks were stuffed at the goal line and couldn't even manage a field goal.
On the following possession, it would only take three plays and 56 seconds for Barrett to put Ohio State on the board with a 24-yard connection to Michael Thomas–who had his fourth straight game with a touchdown catch–in the corner of the end zone.
But Barrett ran into some trouble again, as the Bucks were forced to punt the next two drives. He even fumbled the next time he got onto the field, giving Illinois some momentum with 5:40 left in the first half trailing 7-3.
Yet the Illini couldn't capitalize on the costly mistake. Taylor Zalewski missed a 50-yard field goal after the Buckeyes didn't allow Illinois to budge just past midfield.
After two straight three-and-outs by both teams, Ohio State got the ball in solid field position at their 40-yard line with 1:38 to go in the half.
Barrett hit Jalin Marshall for 23 yards on the very first play of the drive to kick start the stagnant Buckeye offense. Then, on 4th and 11 after a false start by Chase Farris, the redshirt sophomore swung the momentum of the game with a 16-yard pickup on the ground to advance Ohio State to the Illinois 22.
Following an 11-yard pass to Curtis Samuel and a holding call on the Illini, Barrett took it in himself to put the Buckeyes up 14-3 at half.
Ohio State wouldn't look back.
Ezekiel Elliot had his usual outburst, as he scored both of his touchdowns in the second half. The junior Heisman candidate finished with 181 yards–extending his streak of consecutive 100-yard games to 15.
Barrett finished 15-of-23 for 150 yards and a touchdown with an interception, as well as 74 yards on the ground with a score.
Ohio State's defense dominated the entire game, accounting for three sacks and two forced fumbles. After they ran for 382 total yards against Purdue last weekend, the Illini could only muster up 20 yards on the ground.
The Buckeyes now enter the toughest part of their schedule at 10-0 (6-0), heading into a matchup with the 13th ranked Spartans next week and #14 Michigan awaiting in Ann Arbor the following.