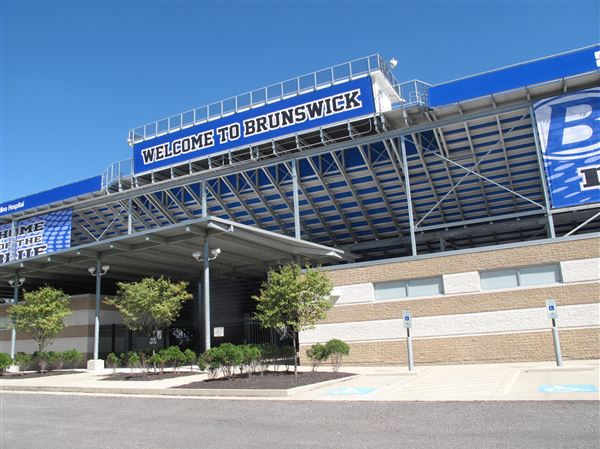 **My weekly Brunswick Blue Devils football coverage is sponsored by MDG Flooring America in Medina. Click on the link HERE to browse their site and download their coupon for either $100 off your purchase or 12 months special financing. Whether you need carpet or you need tile, they go the extra mile.**
BRUNSWICK, OHIO-Coming into tonight's game, the visiting Elyria Pioneers were still riding high after winning their first game of the season last week against Shaker Heights, whereas the Brunswick Blue Devils came limping in after getting mauled two weeks in a row by Mentor and Solon respectively.
Brunswick head coach Mark Pinzone knew his team needed tonight's game to not only get his players' trains of thought back on track, but to hold onto any chance of making the 2017 OHSAA playoffs. His players did not let him down.
After failed drives by both teams, Brunswick QB Cole Zamiska took off for an 83-yard touchdown run on Brunswick's first play of the drive. Once Zamiska got past the Pioneer's defensive line, he was off to the races to put the Blue Devils up by seven.
After a 24-yard field goal by Elyria's Caleb Lewis, the Pioneer defense allowed Brunswick's offense to march right down the field. Brunswick's Nick Demonte connected on a 20-yard field goal to put Brunswick up by seven after a drive that was highlighted by a 32-yard run by Brunswick's Ethan Flanigan.
Elyria proved on the very next drive that their running game is just as impressive, as quarterback Dontae Beckett hit paydirt on an 18-yard run to even up the score at 10 with just under three minutes to go in the first half. Beckett's run put him close to an impressive 100 yards rushing for the half.
With 30 seconds left in the first half, Brunswick's Zamiska hit Ethan Flanigan for a 14-yard TD pass in the deep corner of the end zone to put the Blue Devils up, 17-10. That reception gave Flanigan, a weekly player of the week candidate, an impressive 67 yards receiving, along with 48 yards on the ground.
Elyria took the second half opening drive and scored on a beautiful 36-yard touchdown pass from Beckett to Deviian Williams; however, the extra point attempt clanked off the left upright, to keep the Blue Devils ahead by a single point.
Brunswick's Ethan Flanigan once again proved that he is the one of the best not only on the Blue Devils, but in Northeast Ohio, when he took off on a 62-yard touchdown run untouched to put the home team up by eight points with just over four minutes left in the third quarter.
Midway through the fourth quarter, Brunswick started pouring it on as Dakota Lavinder ran in from 11 yards out to bring Brunswick's lead to 31-16. Lavinder went untouched all the way.
The man, the myth, the legend, Flanigan scored his third touchdown of the game as he scored on three-yard touchdown run to bring the score to 38-16 with just under six minutes to go in the final period.
Give credit to the Pioneers, as they just do not give up no matter the score. Adaveon Drummer scampered in from five yards out to bring Elyria to within 15 points of Brunswick with just under four minutes left in the game.
Brunswick's final drive took up the remaining time as the Blue Devils beat the Pioneers by a final score of 38-23.
Scoring Summary:
1st quarter:
B- Zamiska 83 yard TD run (Kick good)
E- Lewis 24 yard FG
2nd Quarter:
B- Demonte 20 yard FG
E- Beckett 18 yard TD run (Kick good)
B- Zamiska 14 yard TD pass to Flanigan (Kick good)
3rd Quarter:
E- Beckett 36 yard TD pass to Williams (Kick no good)
B- Flanigan 62 yard TD run (Kick good)
4th Quarter:
B- Lavinder 11 yard TD run (Kick good)
B- Flanigan 3 yard TD run (Kick good)
E- Drummer 5 yard TD run (Kick good)
Player of the Game: Brunswick's Ethan Flanigan, 21 carries for 172 yards and 2 TD, 7 receptions for 76 yards and 1 TD.
| | | | | | |
| --- | --- | --- | --- | --- | --- |
| |        1 |         2 |         3 |        4 |    Total |
| Elyria |        3 |         7 |         6 |         7 |       23 |
| Brunswick |        7 |         10 |         7 |         14 |       38 |
**Please visit MDG Flooring America for all of your flooring needs. They are located at 3812 Pearl Road Suite C in Medina. They can be reached at (330) 391-7184 or online at the link on top of this page.
Please help the Red Cross help victims of the recent hurricanes. Text REDCROSS to 90999 to make a $10 donation today.**

NEO Sports Insiders Newsletter
Sign up to receive our NEOSI newsletter, and keep up to date with all the latest Cleveland sports news.