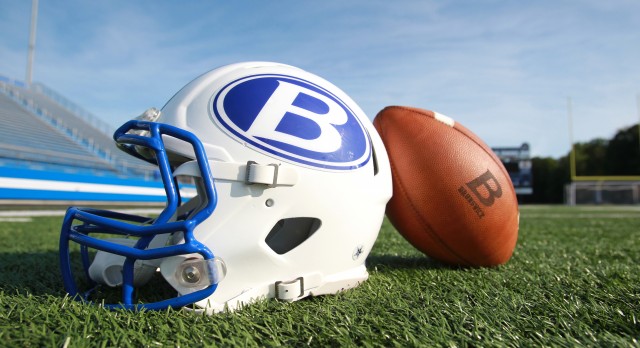 My weekly Brunswick Blue Devils football coverage is sponsored by MDG Flooring America in Medina. Click on the link HERE to browse their site and download their coupon for either $100 off your purchase or 12 months special financing. Whether you need carpet or you need tile, they go the extra mile!
SOLON, OHIO- On a cool Thursday night, the Brunswick Blue Devils traveled to Solon in hopes of getting the bad taste of their 62-0 loss at Mentor out of their mouths, while the Solon Comets were looking to go 5-1 on the season and to keep their playoff hopes alive. Unfortunately for the visitors from Medina County, the Comets of Solon won this battle.
After both teams offense struggled to move the ball on their first possessions, Brunswick put together a 52 yard scoring drive, capped off by a 45 yard touchdown run by Ethan Flanigan. He went right up the middle and appeared to be going nowhere, but suddenly appeared on the other side of the Solon defense as he romped into the end zone to put Brunswick up 7-0.
After a 61 yard pass from Solon's Pat McQuaide to Wes Whitham to the 3 yard line, Whitham fumbled the ball into the end zone, but Solon's Sam Bubonics pounced on the ball to score Solon's first touch down of the game to pull the Comets even with Brunswick 7-7.
After a Thomas Wilks 1 yard touchdown run that put Solon up 14-7, Brunswick's offense went to work , only to fall short of the first down marker after a good looking drive.
Solon, looking to possibly put the Blue Devils out of their misery before halftime, scored on their very first play of the next drive as Dominic McQuaide hit wide receiver Andrew Mason on an 80 yard touchdown bomb to put Solon up 21-7 with just over 5 minutes left in the first half.
Just before the half, Solon showed it wasn't done as JT Caver hit Sam Bubonics on a 68 yard touchdown pass to put Solon up 28-7. Solon really took advantage of Brunswick's secondary for their second easy score of the night.
The third quarter saw the defenses for both teams buckle down and kept the score at 28-7, both for different reasons. For Solon, it was to try keep Brunswick from making some sort of comeback. For Brunswick, it was in hopes to hold off the Comets so the Brunswick offense can try to mount a crazy comeback.
In the fourth quarter, it was more of the same for each team. Neither team moved the ball, but Solon knows at this point in the game that they don't have to and it is Brunswick's job to come back from a 21 point deficit.
Showing that they won't roll over, Brunswick went on a 61 yard drive that ended with an Ethan Flanigan 1 yard touchdown plunge to bring the Blue Devils within 14 at 28-14 with just over 2 minutes left in the game.
After a 3 and out by the Comets, Brunswick got the ball back with 58 seconds left in the game, but Solon's defense ended the game as Solon defeated Brunswick 28-14 to run their record to 5-1 on the season. Brunswick falls to 3-3 and more than likely sees their playoff spot disappear. Give credit to Solon's offense as they gained 336 yards through the air against the Brunswick defense including two TD passes of over 65 yards!
Scoring Summary:
1st quarter:
B- Flanigan 45 yd TD run (Kick good)
S- Bubonics fumble recovery in endzone (Kick good)
2nd Quarter:
S- Wilks 1 yd TD run (Kick good)
S- McQuaide 80 yd TD pass to Mason (Kick good)
S- Caver 68 yard TD pass to Bubonics (Kick good)
3rd Quarter:
None
4th Quarter:
B- Flanigan 1 yd TD run (Kick good)
Player of the game: Sam Bubonics (Solon) 5 receptions for 109 yards and a TD, and one fumble recovery for a TD
Runner Up: Ethan Flanigan (Brunswick) 121 yards rushing with 2 TD's and 5 receptions for 48 yards
| | | | | | |
| --- | --- | --- | --- | --- | --- |
| |        1 |         2 |         3 |        4 |    Total |
| Brunswick |        7 |         0 |         0 |         7 |       14 |
| Solon |        7 |         21 |         0 |         0 |       28 |
Please visit MDG Flooring America for all of your flooring needs. They are located at 3812 Pearl Road Suite C in Medina. They can be reached at (330) 391-7184 or online at the link on top of this page.
Please help the Red Cross help victims of the recent hurricanes. Text REDCROSS to 90999 to make a $10 donation today.

NEO Sports Insiders Newsletter
Sign up to receive our NEOSI newsletter, and keep up to date with all the latest Cleveland sports news.