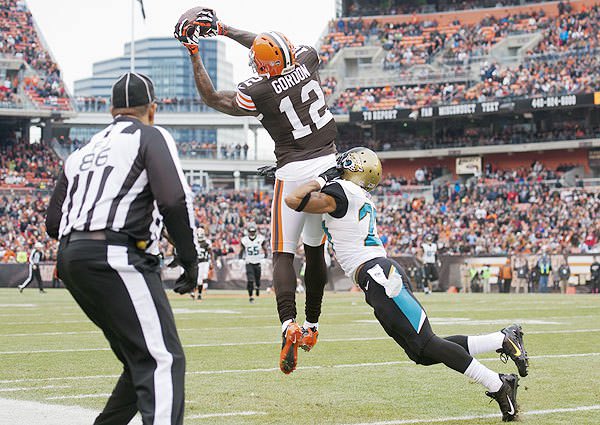 Browns wide out Josh Gordon is trying yet again to get back into the NFL to continue his playing career, as Adam Schefter today reports that the trouble receiver is applying for reinstatement.
Browns WR Josh Gordon, who has not played since 2014, is applying today for reinstatement, per his business manager Michael Johnson.

— Adam Schefter (@AdamSchefter) March 1, 2017
It was last September that the Browns stated that they were closing the chapter on Gordon, and even if the NFL does allow him back in the league, it's not likely the Browns will give him another chance based on his history with the team.
Gordon hasn't played since 2014 due to a lengthy ban from the NFL for multiple violations of the league's substance abuse policy.
In his career he has 161 catches, 2,754 yards with 14 touchdowns, including nine in 2013 when he had a breakout season with 1646 yards.
Folks on twitter are giving their opinions on if the NFL should allow Gordon back into the league.
FREE JOSH GORDON, IMPRISONED BY GOODELL IN HIS PRIME FOR YEARS JUST FOR BEING A MILLENIAL https://t.co/254Q8rfBFJ

— Wu-Tang Financial (@Wu_Tang_Finance) March 1, 2017
NFL spokesman said league has no comment on Josh Gordon reportedly applying for reinstatement. #Browns.

— Scott Petrak ct (@ScottPetrak) March 1, 2017
I'd be great if the league would actually give Josh Gordon a shot and reinstate him for a full offseason

— KeyKing (@JeremyinAkron) March 1, 2017
So we finally start 2 quell the Garoppolo talk (whether for or against) & now we're going 2 have 2 deal with Josh Gordon talk. Ugh. #Browns

— JaredL (@JaredL77) March 1, 2017
If Cleveland Browns WR Josh Gordon gets reinstated who do I now go through to buy a used Ford Tempo?

— Westernsubs (@Westernsubs) March 1, 2017
Can't wait to see how many people think Josh Gordon will be a top 10 player in fantasy IF he gets reinstated…

— Kyle V (@kverhulst288) March 1, 2017