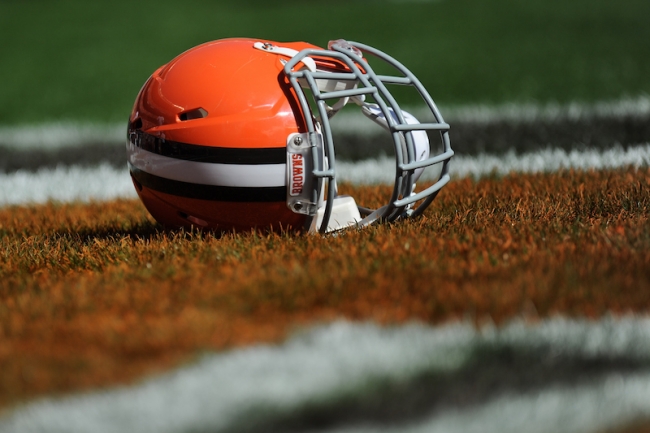 Last week, Cleveland Browns running back Isaiah Crowell shared a gruesome image of a man dressed in black cutting the throat of a white police officer on his personal Instagram account.
The timing of this picture cannot be any worse for Crowell. With the multiple shooting and protests happening throughout the country, people are quick to act on emotion and say radical and sometime offensive things. This could be one of those situations for Cleveland running back.
Since Crowell posted this picture, outrage from fans, the city and people from across the country has been well documented via social media.
The post has been taken down and Crowell has publically apologized for the illustration claiming that "It was an extremely poor decision" and that he apologized for "that mistake and for offending people."
He goes on to say that this wasn't about color but it's about what's right and wrong. The Browns have been quiet so far and have yet to comment on the situation.
With all of that being said, I'd like to give my personal opinion as a lifelong Cleveland fan. Social media gives people a chance to share their opinions and beliefs about things going on in this country and I have seen many post and comments saying that Crowell should be cut from the team, exempt from the NFL and never have a job again.
People that once cheered for the back are now calling him a thug and other terrible things I cannot put in this article. Although I agree that he should be punished, there is no way I can see Crowell as a thug for speaking his opinion. The only thing that he should be punished for is the image. It was over the top and uncalled for and the text from the post alone could've gotten his opinion out clear as day.
If you are a popular sports figure in a city where sports are a religion and you put yourself in a situation where you have half of a fan base calling for you job, and in some cases your head, there is no way you go unpunished.
But as I said before, every one of us has made a quick emotional post on Facebook or Twitter. He is obviously trying to show support for the men that were killed by police in Baton Rouge and Minnesota.
Crowell's post was up right before the shootings in Dallas where five police officers were killed while keeping protesters under control. He acted out of emotion like millions of others did and didn't think about the consequences of his actions because he was acting on emotion.
Athletes today are more accessible than ever before with non-stop television coverage and Twitter accounts where any fan can tweet at their favorite player and possibly even hear back from said player.
This also means that you need to be careful on what you post. Think of what one post like Crowell's could do for a career of an athlete.
You could be the best player on your team but you will be seen as a trouble maker and known as that guy who said that thing on social media that people didn't agree with. This isn't the first time Cleveland athletes have shown how they feel about current events going on in the country.
Browns wide out Andrew Hawkins and Cavs forward LeBron James have both worn the "I can't breathe" shirts to support Eric Garner after he was choked to death by a NYPD officer back in 2014 and people were outraged even then by the support these athletes showed for the victim.
I do think that Crowell should be punished.
A two-game suspension without pay seems fitting to me. He apologized and realized very quickly that he shouldn't have put such a hateful and disrespectful picture up on Instagram.
This is the first time that we've heard of any trouble coming from the young back since he came here two years ago.
I do not think that a man should lose his job and be run out of town for supporting victims even if he is an athlete. That being said, in the future, if a player, owner or anyone who is affiliated with a popular sport or team wants to show their support for a movement or victim, think about what you post before you post it.
Acting out of emotion is why we hear about so many terrible things happening in world today. Think logically and show your support the best way you can.

NEO Sports Insiders Newsletter
Sign up to receive our NEOSI newsletter, and keep up to date with all the latest Cleveland sports news.