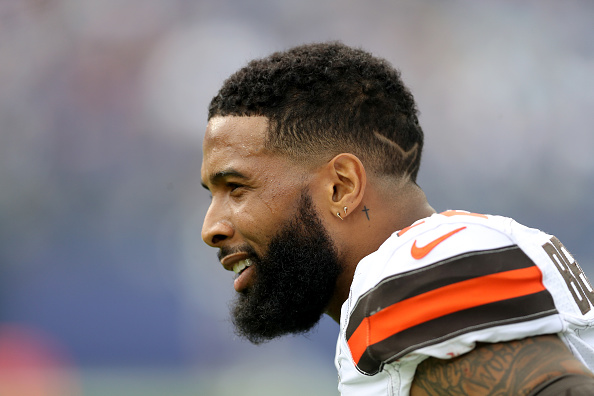 A few months ago, while he was still a New York Giant, I insisted Odell Beckham Jr. would be a great trade target for the Cleveland Browns. Said stance was met with its fair share of detractors, primarily for one reason.
He's just going to be a distraction.
Beckham carried with him this distinction that he'd be bad news for the Browns, that they're finally focused on winning, and bringing someone who cares only about himself isn't what they should be doing. Heck, even after Beckham came to Cleveland, many in New York continued to label him as a locker room cancer his former team was happy to oust.
Though we're only hitting the quarter mark of the season, it's fair to say these takes have gotten stale. If anything, Beckham has spent the bulk of his time in Cleveland putting the "he's a bad teammate" narrative to shame.
Sure, there have been some headlines he grabbed for the wrong reasons. I don't have any interest in dusting off the "he wore a watch on the field" story, but will admit it was unneeded. Beckham also spent a fair share of the summer talking primarily about the Giants, forcing you to wonder how focused he was with his new team.
Outside of that, though, anyone looking for some sort of trademark drama with him has seen that well go dry.
For proof of this, look no further than the press conference he held today.
To set the table, Beckham's stats to this point have been modest. Setting aside a breakout game against the New York Jets, he has just 15 catches for 147 yards. Despite flashes here or there, he's yet to consistently generate much on the field.
Based on what you heard about him from New York media, or even cynics within the Browns' fan-base, this would be the kind of thing that'd really set him off. Surely, a lack of big plays and targets is the recipe for him to go on a tirade, right?
Many expected this, but today's press conference was proof that narrative is a bit overstated.
"This game is not about one individual," Beckham claimed after being asked about his lack of production. "Everybody wants to be a part of the process, but sometimes it's a bigger role drawing two people, three people."
"There's just more to this game. This is a different Browns team. It's all about winning right now."
Yeesh, talk about someone who only cares about himself, am I right?
Pressed for more insight, likely to see if the blanket coverage he receives on game days is a point of frustration, Beckham provided more proof concerns about his character were overblown.
Asked about the double-teaming he gets, Beckham viewed it as "putting us in a position to get to the playoffs."
"Stats are only stats," he said. "I just want to get back to the playoffs. If teams are going to do that, we'll hang 40 and we'll walk out of there with a win and get back to work."
Sounds like the kind of guy whose anger is just boiling over, who just constantly demands the ball all game long…
That's at least what many expected upon Beckham's arrival in Cleveland. Yet, here he is, averaging just 14.7 receiving yards per game and explaining how it helps his team in the long run.
There's still a ways to go in this season, so you can argue he has time to prove his critics were correct.
For now, though, anyone who painted Beckham as a distraction, as someone who was going to command too much attention off the field with his me-first attitude, they're just being proven foolish. Instead of seeing this, we're watching a player explain why his modest stat sheet isn't a big deal if only because his value to the team goes beyond his yards per game.
It certainly doesn't sound like the player so many warned Cleveland about, now, does it?

NEO Sports Insiders Newsletter
Sign up to receive our NEOSI newsletter, and keep up to date with all the latest Cleveland sports news.