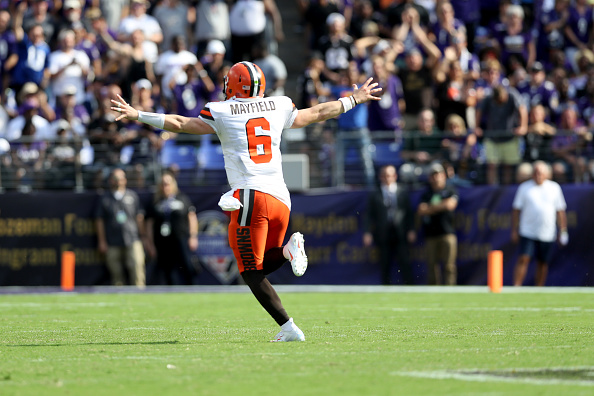 It was a relatively quiet week as far as the Browns go this season. Aside from an early week back-and-forth with the Ravens over what exactly happened between Odell Beckham Jr. and Marlon Humphrey last Sunday there was drama, no big headlines, no criticism to be found.
That's probably because the Browns, after an unexpected slow start to the season, find themselves in first place in the AFC North coming off a statement 40-25 win over Baltimore to wrap up the quarter pole of the season. The long bewildered franchise is right where most people expected them to be. When you're meeting expectations there is far less to criticize and far less to talk about.
Everything is good right now in The Land after last week's huge win. But a win over San Francisco on Monday Night Football would be an even bigger statement for the Browns.
Think about this…the last time the Browns pulled off victories in back-to-back road games was 2002. 17 years ago. Back then, the Harry Potter movies were only on book two. Myspace hadn't even been created yet. A gallon of gas cost less than $1.50. American Idol debuted that summer. And the iPod was just a year old.
That's how long it's been since the Browns won road games in consecutive weeks and it's ironically the last time the Browns made the playoffs as well. All this isn't to say pulling off back-to-back road wins has a direct correlation to making the playoffs but it will tell us a lot about this Browns team.
Winning on the road is important in the NFL and good teams can go into a hostile environment and walk out with a win. The Browns have done that twice this year already, yes. But the Sam Darnold-less Jets were hardly a challenger and Baltimore may have been a little overhyped. This next road contest comes in primetime, against a 3-0 49ers team that's coming off of a bye week.
There's something about pulling off something that hasn't been in nearly two decades that says "we're here."
There's more to it than that though too. Two weeks ago the Browns were featured in primetime for all of America against the Rams and walked away looking foolish after a some questionable play calling from Freddie Kitchens. The first year head coach looked in over his head, a concern some people predicted would hold the Browns back this season. Prior to last week's offensive explosion is was. But if they can replicate what they did last week in Baltimore against San Francisco and lets call it was it was –pure domination – now that would be quite a statement for America.
A win over the 49ers would give the Browns their first win streak of the season. Push their record to over .500. Keep them securely in first place in the AFC North for at least another week. And it would let NFL fans know that these Browns are for real.
It's been 17 years since the Browns won back-to-back road games, which is around the last time the Browns were one of the NFL's most respected franchises in the NFL. In a season with high expectations a win on Monday night would be a massive step in returning the franchise to glory.

NEO Sports Insiders Newsletter
Sign up to receive our NEOSI newsletter, and keep up to date with all the latest Cleveland sports news.